Weather wise the past weekend was picture perfect here in northeast Wisconsin.  I spent some time both Saturday and Sunday outside on the deck hand stitching the binding on my Robbing Peter to Pay Paul Quilt.  It's taken me just about a year to finish this quilt.  It wasn't at all difficult, it just hasn't been a priority.
This was my first experience sewing blocks that had been cut using an AccuQuilt and I was sold on it.  I purchased a "Go" cutter a few months ago along with some dies to cut more irregular shapes.  Cutting strips, rectangles and squares is still way faster with the Shape Cut ruler, but pieces like this that are curved go together beautifully when cut with the AccuQuilt.
While I was stitching I started thinking about how everyone seems to do binding differently.  Last week my sewing group was here and several members were working on binding.  I don't think any of them do it like I do.  Most really like the Clover binding clips and clip the binding down before hand stitching it.  The way I work, the clips are just in the way so I don't clip or pin any of it before sewing.
I hold the quilt face up on my lap and fold the edge back so there is just 3-4 inches of the back and binding facing up.
I stitch from right to left and turn the binding under and hold it down with my thumb as I go along.  When I insert the needle, I go through the backing and catch the batting, making sure I don't go all the way through to the quilt front.  Then I just catch a small bite of the binding before taking the next stitch.  I like to make sure the binding is "full" as I go around.  Unlike many quilters I don't trim my quilts until after the binding has been machine sewn to the front.  I like to make sure there is plenty of batting in the binding so they aren't skimpy.
I use a double strand of thread for binding and I "split" the strands as I stitch to help prevent the thread from knotting and tangling.  Since I've been doing this, I rarely have problems with any thread.  By splitting the strands, they separate and don't tangle as you draw the thread through!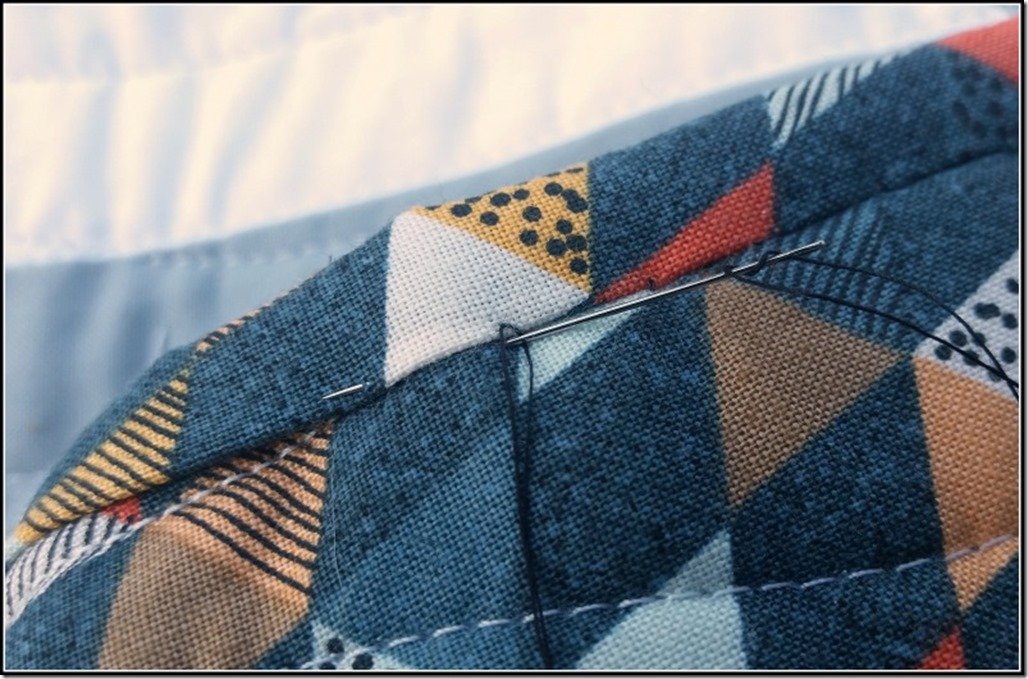 So ta-da, the quilt is finished!  This is one I'm planning to keep at least for awhile.  It will hang in my stairwell.  When we bought this house 21 years ago, I thought that would be the perfect place to hang quilts and I've never had one there.  In my defense, it's not very accessible, but I'm going to figure out a way to do it because the colors in this quilt will be perfect there.
This must be the latest "first finish" of the year since I've been quilting.  Not very encouraging given that I'm trying to use up stash and finish UFO's.  I have been quilting, just not getting anything finished. Hoping the warm weather continues so I can happily finish bindings while sipping mojitos on the deck!