September Challenge
Do you have a collection of 2-1/2″ strips? Is there a jelly roll in your stash that is ready to be turned into a quilt? Do you have scraps that you can cut into 2-1/2″ strips? If you answered yes to any of these questions, you are ready for the September Challenge. All you have to do is make a quilt from jelly roll strips.
Personally, I love 2-1/2″ strips because of their versatility. You can cut so many shapes from them and create so many different patterns. There are dozens of books and hundreds of patterns with jelly roll designs. Hands down, my favorites are the Scrap-Basket books by Kim Brackett. If you don't own any of these books and would like to, I recommend getting them as soon as possible. Since Martingale (That Patchwork Place) closed, these are now out of print. Most of the available books are used and selling for a premium.
I selected jelly rolls this month for two reasons. First, I have thousands of them. This is just part of my 2-1/2″ strip collection. I've been cutting scraps into strips for over 20 years and it's so convenient to have them ready to go for a project. And the second reason for jelly rolls is that Moda's Project Jelly Roll is in September. National Sew A Jelly Roll Day will be on Saturday, September 16. If you need a little inspiration, check out Moda's free pattern page here for Project Jelly Roll (PJR) patterns. Patterns for 2023 should be added to this page very soon.
You don't even need to make a quilt for the challenge–make a bag or a placemat–anything you want. The goal is simply to use some scraps or stash!
Friday Finish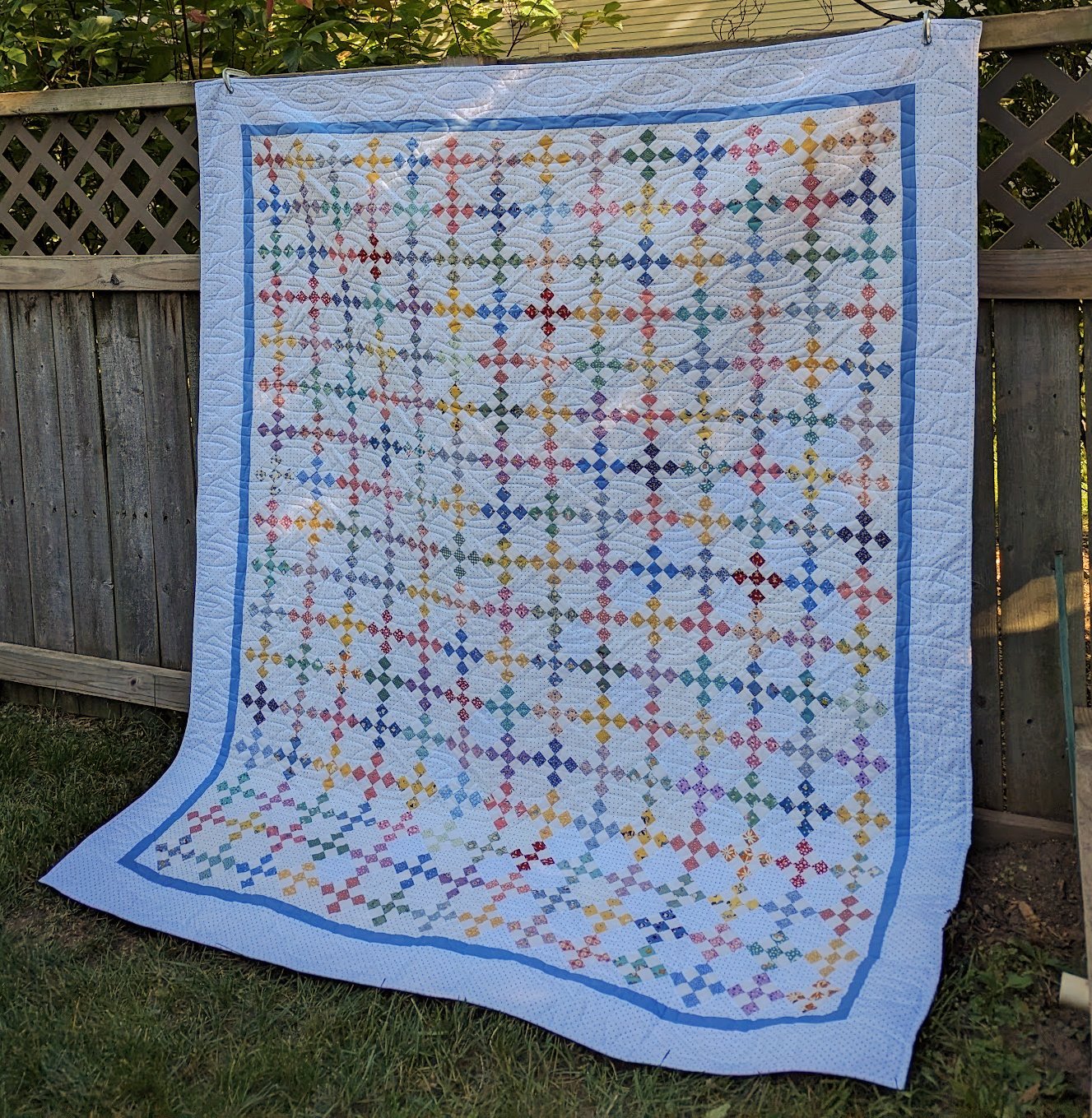 I am so excited to share this project with you. It's a 30's Nine-Patch! This was such a fun quilt to make and do you know why? I made it while sewing with friends! Two friends from Minnesota came to my house in June for a mini-retreat. The priority at these little retreats is not sewing, but instead, laughing and chatting. It is the best time and the quilts we make are just a lovely reminder of our friendship.
Each time we pick a common pattern and work on our own projects. These have become some of my favorite quilts. In past years we made Rectangle Wrangle, Scrappy Pineapple, and Plaidish. I can't believe I have never posted either the Scrappy Pineapple or Plaidish on the blog so I will have to dig those out and post them soon.
When we picked the 30s Nine-Patch, I was sure I didn't have enough 30s fabric to make a full-size quilt so I did a little stash enhancement. That was completely unnecessary as I still have a couple of tubs full! These are little 3″ finished blocks set on point with a plain alternate square between them.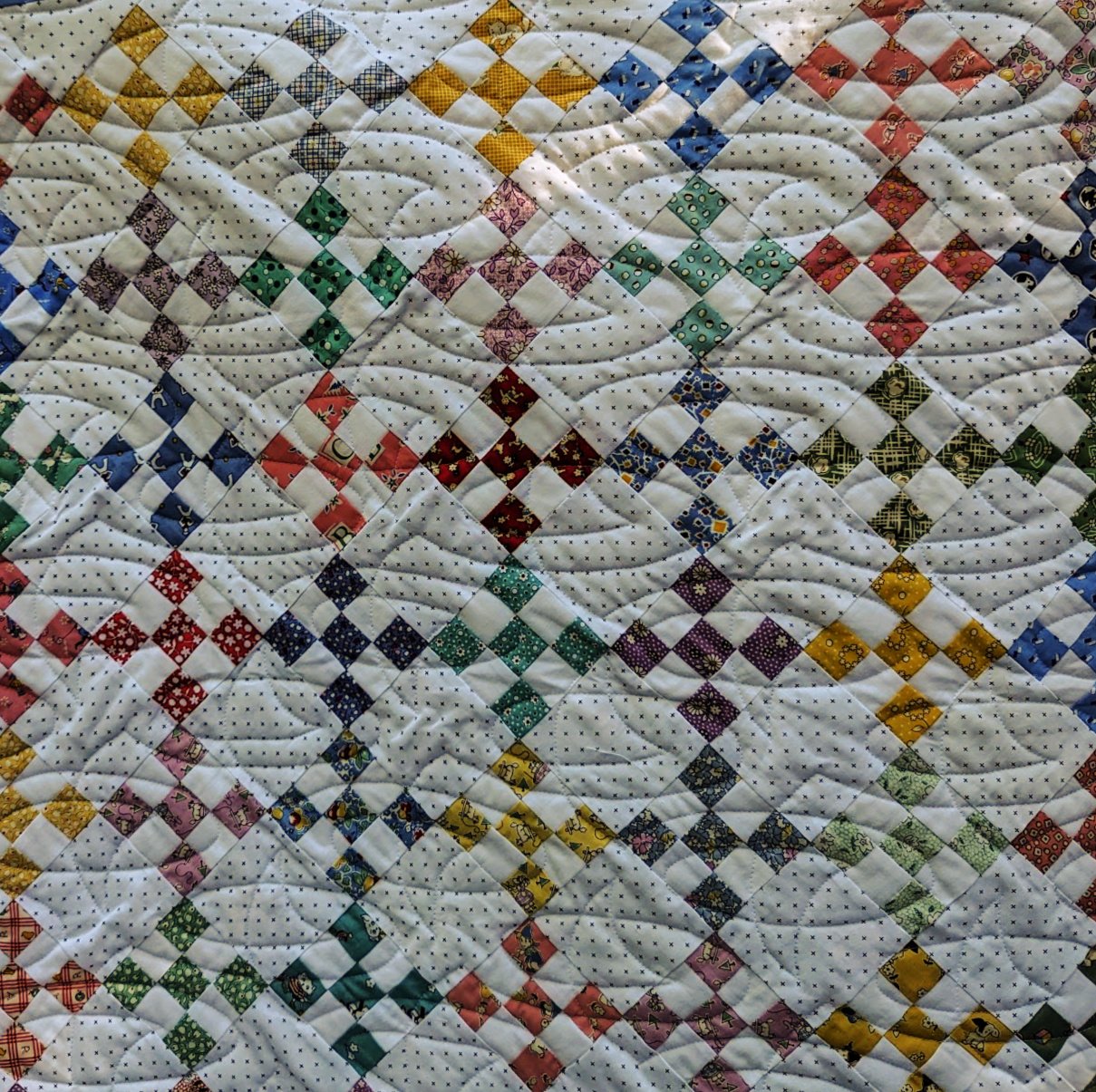 I don't often work with 30s fabric, but it was so fun to see all the cute prints. Surprisingly, none of the three of us has many duplicates. Who knew there were so many 30s prints? The quilting is an allover pantograph by Melonie J. Caldwell called Jester. It is an easy, whimsical design that worked well with this quilt.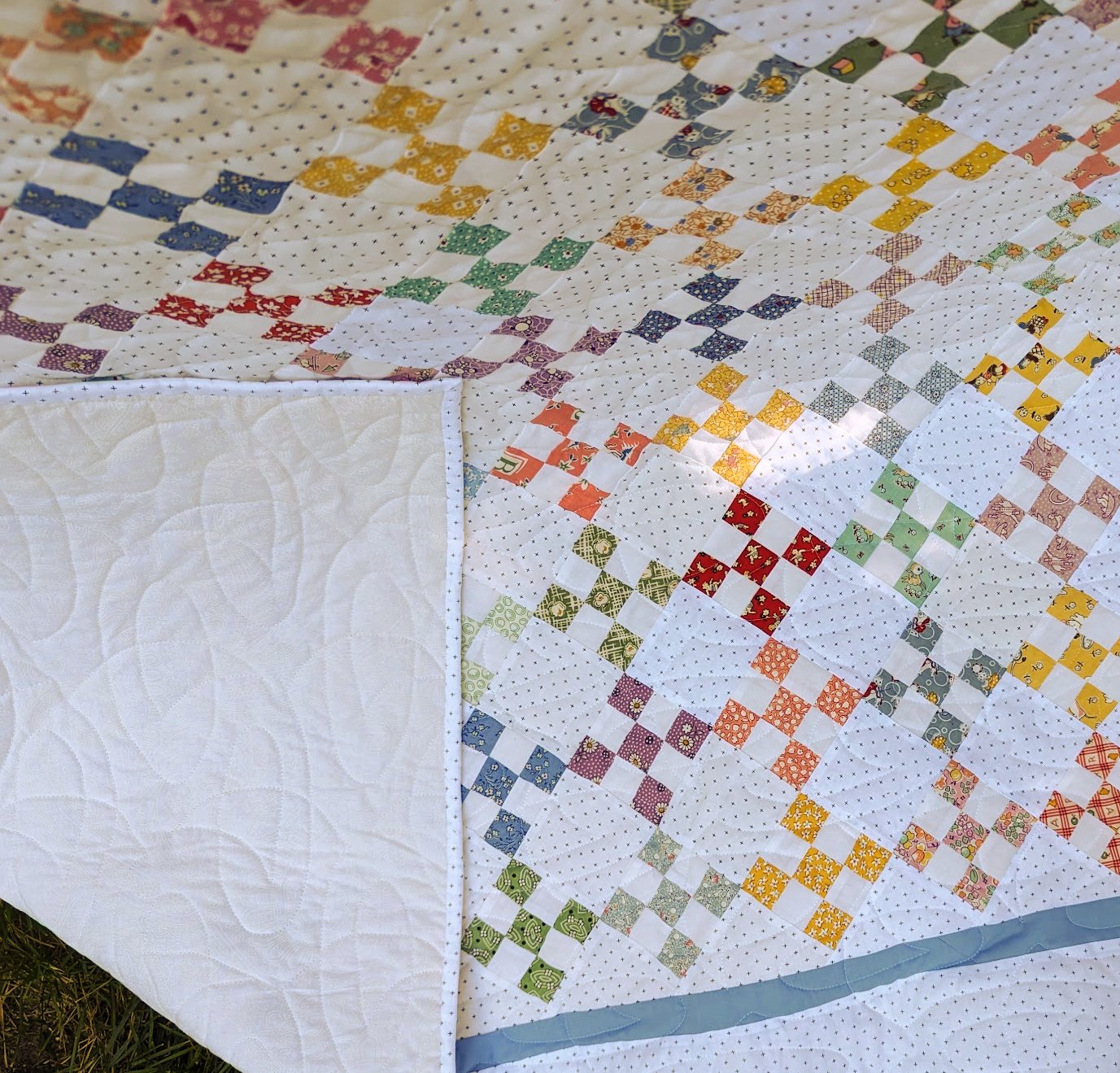 The back is a wide tone-on-tone print. I love this quilt, but I love thinking about the days spent sewing with my besties even more!
Have a great weekend and remember to use fabric, make quilts, and have fun.