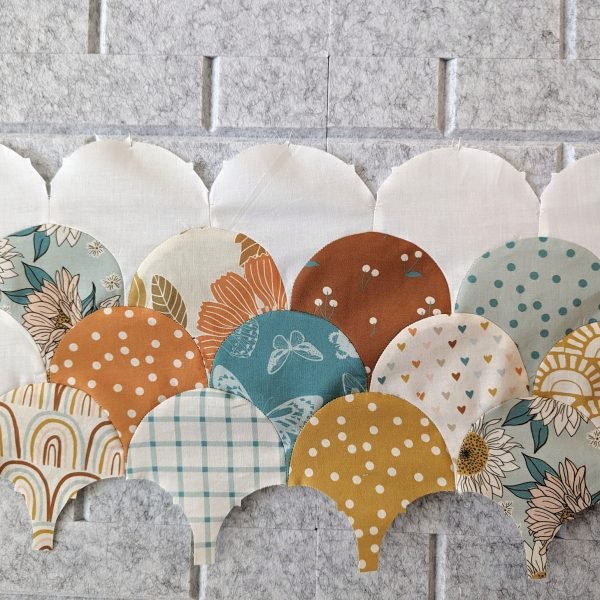 Did you try something new in October? The challenge was to try a new technique, ruler, use a color palette that you don't typically use, or anything else new to you.
I tried making clamshells. One of my quilty friends has been showing progress on a clamshell quilt she is making and I could not resist trying one of my own. There is a big difference between hers and mine though. She is making big clamshells with the Clammy Ruler and mine are just a little bitty four-inches. I love her quilt and love curved piecing so thought it would be an easy, straightforward project. Boy was I wrong.
My initial plan was to use scraps but then found a stack of fat quarters that I thought would work. These fabrics are digitally printed by Hawthorne Supply. The prints are so pretty, but the fabric doesn't have the same feel as quilt shop-quality cottons. I have been hesitant to mix them with other fabrics in a quilt because of this difference, but thought it would be fine to use them all together in this clamshell quilt.
I started by cutting five clamshells from each of the 29 fat quarters. After the cutting, which the Accuquilt made very simple, the whole project went south.
First, it took quite a bit of searching to find the best way to piece these. On my first attempt, I made the top seams too long and it didn't lay flat. Using a shorter seam on the second attempt solved that.
Next, I did not realize just how time-consuming it is to piece such little shapes. I was piecing on my Juki, but it sews too fast for this. I pulled out the Bernina and it worked much better, but it is still a very slow process. It is common to pin when sewing curves, but you know how I hate pinning. I have much better luck just slowing down and holding the edges together while sewing a very accurate 1/4″ seam.
Since this isn't pieced in blocks, I discovered you have the bulk of the whole piece to deal with on every seam. It is not that bad now, but it will be a lot to deal with as the top gets bigger.
Finally, I realized that even though the clamshells are 4″ x 4″, because of the staggered piecing, each row only adds two inches to the length of the quilt. Ugh! That may be the nail in the coffin on this project!
So right now, there are four rows pieced. I have enough clamshells cut to piece five more rows. Even if I cut all the remaining fabric into clamshells, the top would only end up about 54″ square. In the end, I don't think it's worth the time or fabric. I may repurpose the clamshells that are cut…it's just so hard to let go of them.
I tried something new this month. It didn't work out as planned, but I learned a few things and still have plenty of ideas to keep me busy!
Be sure to come back tomorrow to find out November's challenge..