Have you heard any of these expressions?
"If you can't see it from a galloping horse, don't worry about the mistake."
"If you aren't wearing it to church, then don't worry."
"It looks good from Texas!"
"Quilters don't make mistakes. We make variations."
Or maybe you go by the 3-foot rule: Stand back 3 feet and if you can't see the problem, it is okay.
Why do you make quilts? Is it a creative outlet? A fun way to spend time with friends? To make a special gift? To add some warmth or color to your home? Or is it to make a perfect quilt?
This Savannah Squares quilt has been in progress for several years. I love both the pattern and fabric, but after the blocks were pieced, the finishing process became tedious. Typically when I make a quilt with sashing I use cornerstones to make the row alignment easier and more accurate. This pattern did not call for cornerstones and I was not as careful as I should have been in matching the rows. I know a nearly foolproof way to align the blocks, but did not take the time to do it. In the end, I decided that finished is better than perfect.
I listen to a lot of podcasts while I sew. As I was piecing the border triangles for this quilt, I was listening to Erwin McManus on The School of Greatness podcast. I nearly sewed through my finger when I heard him say, "When you pursue perfectionism, you're pursuing the outcome. When you pursue the beauty of the process, that's when you give yourself grace."
He went on to say, "The way I know I'm not a perfectionist is that when something's done, I move on. I don't obsess about the outcome because once it's done, it's done. I want the process to be true and honest and real and excellent."
These words could have come straight from my heart. It has never been my aspiration to make a perfect quilt, but it has been a 30-plus-year pursuit to become a better quilter. I love everything about the process. It is still (too much!) fun to shop for fabric, then bring it home, chop it into little pieces, and sew them back together. It is still all magic to me.
The pattern called for another small border after this pieced border. This quilt was already bigger than I wanted so I left that border off. I usually piece my binding seam a little wider than 1/4″ so a few triangle points are cut off.
The mistakes just kept haunting me on this quilt. As I was stitching the binding, I found one of these border triangles turned. That was something I couldn't let go. I ripped, fixed, and requilted!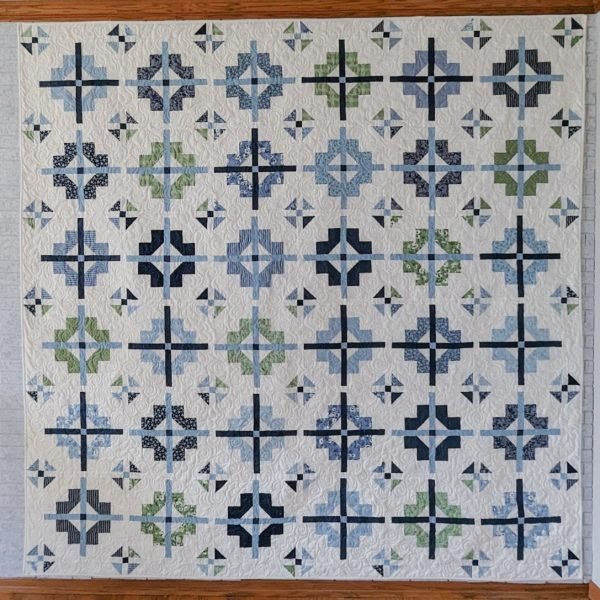 So here is the whole quilt. I still love it even though it is not perfect. The fabrics, Nantucket Summer by Camille Roskelley, are so pretty. The pattern is a free pattern by Moda called Savannah Squares. Moda's website is down right now, so I will add the link to the pattern later.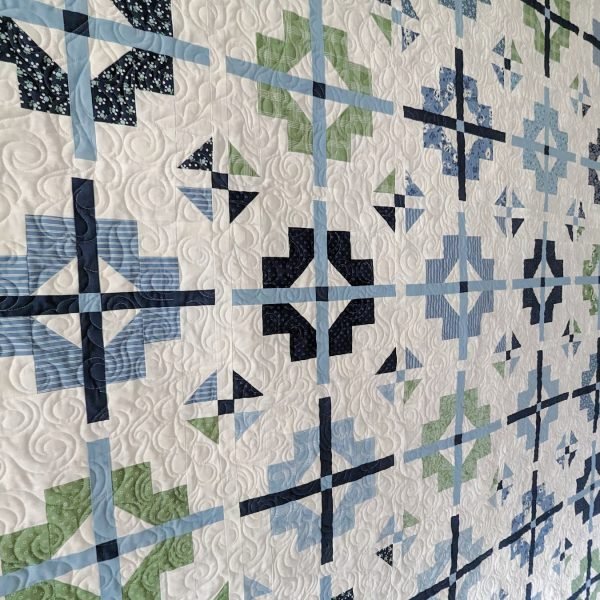 The quilting is a freehand allover feather and swirls design.
Another UFO has been crossed off the list. I only hope this old quilter's saying is true: "When you shake it, all the mistakes fall off." Even if they don't, I'm moving on!