april challenge wrap-up
How did you do on April's Challenge to make something with half-square triangles? It was a struggle for me, but I managed to finish a quilt top. My original plan was to make some progress on Carpenter Star blocks. I am not sure what I will do with that quilt so I once again, put that project on hold. Instead, I made split nine-patch blocks.
The block is simple–three light squares, three dark squares, and three light/dark half-square triangles. This block has some variations. One is Block #8 in the free Saturday Sampler series (available in the Resource Library). Another has a solid dark square as the center block. What I love about this block is the number of ways you can set it.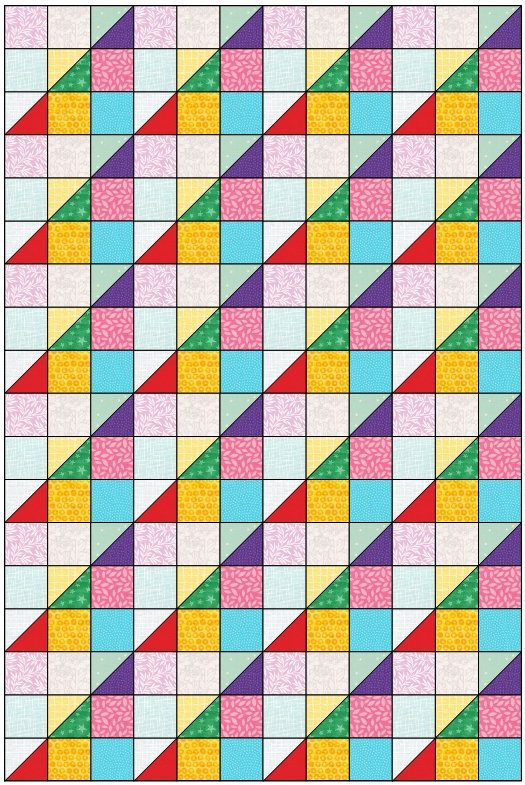 The first is this is a straight side-by-side set.
Next is diagonal set rows.
Or you could set the blocks into square featuring either the light half or the dark half.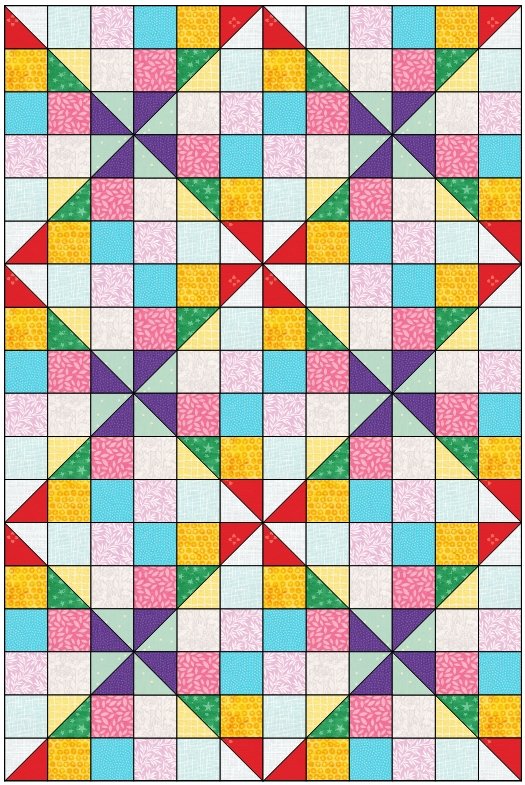 You can make pinwheels from the blocks.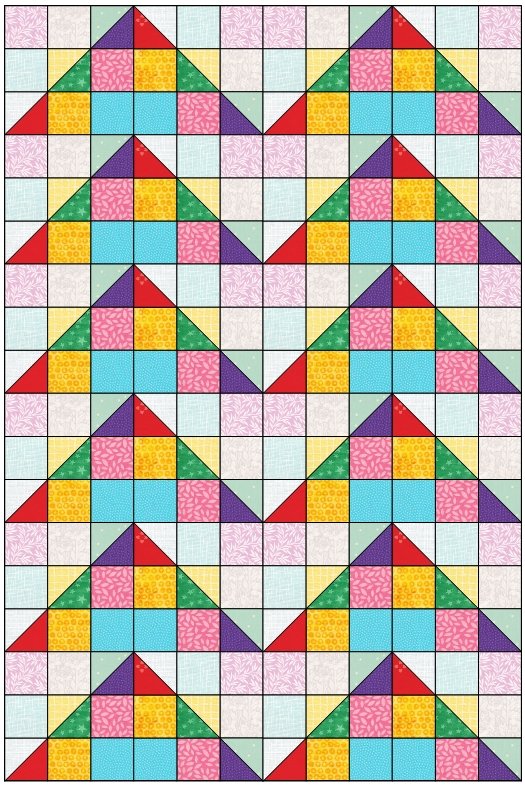 Or mountains. You can even alternate every other row to create chevrons. This block has so many possibilities.
I set my blocks into a giant X. I really love this top now that it is together. There are 120 six-inch blocks in this quilt and it measures 60″ x 72″. It will be a donation quilt, so I think I need to add a row to both the top and bottom so it measures 60″ x 84″. That is a better size for donation. There are plenty of squares and HSTs in my parts department so it's just a matter of finding time to piece another 20 blocks.
I am not the only one who moved a half-square triangle project forward this month. I received this email from Carrie:
"Thanks so much for your monthly challenges!! I love them! This has been something I wanted to do for sooooo long with some leftover blocks and I love how this turned out. It may become a table topper or a doll quilt. Anyway, thanks for helping me complete a UFO!"
This is the little quilt she made. It's so cute! Even better, she put some leftover blocks to good use.
The goal of the monthly challenge is to move a project forward. I give a category, but really, you can work on anything you like. My project was a block of the week from WAY back when the brick-and-mortar Patchwork Sampler was open. I had those little kits in bags for about 15 years. This project was overdue and I am so happy with the result. I think someone will really love that quilt!
the may challenge
May's challenge is Holiday Quilts. Make some progress on any holiday project you have. It can be a pillow, a table runner, a quilt, or whatever, for any holiday. Have some old stash fabric you want to use up? Make a little wall hanging for summer.
So why did I choose holiday quilts for May? Because this little Mini Brick Road table runner has been hanging in my sewing room for over a year. It's time to take an hour or so and FINISH IT!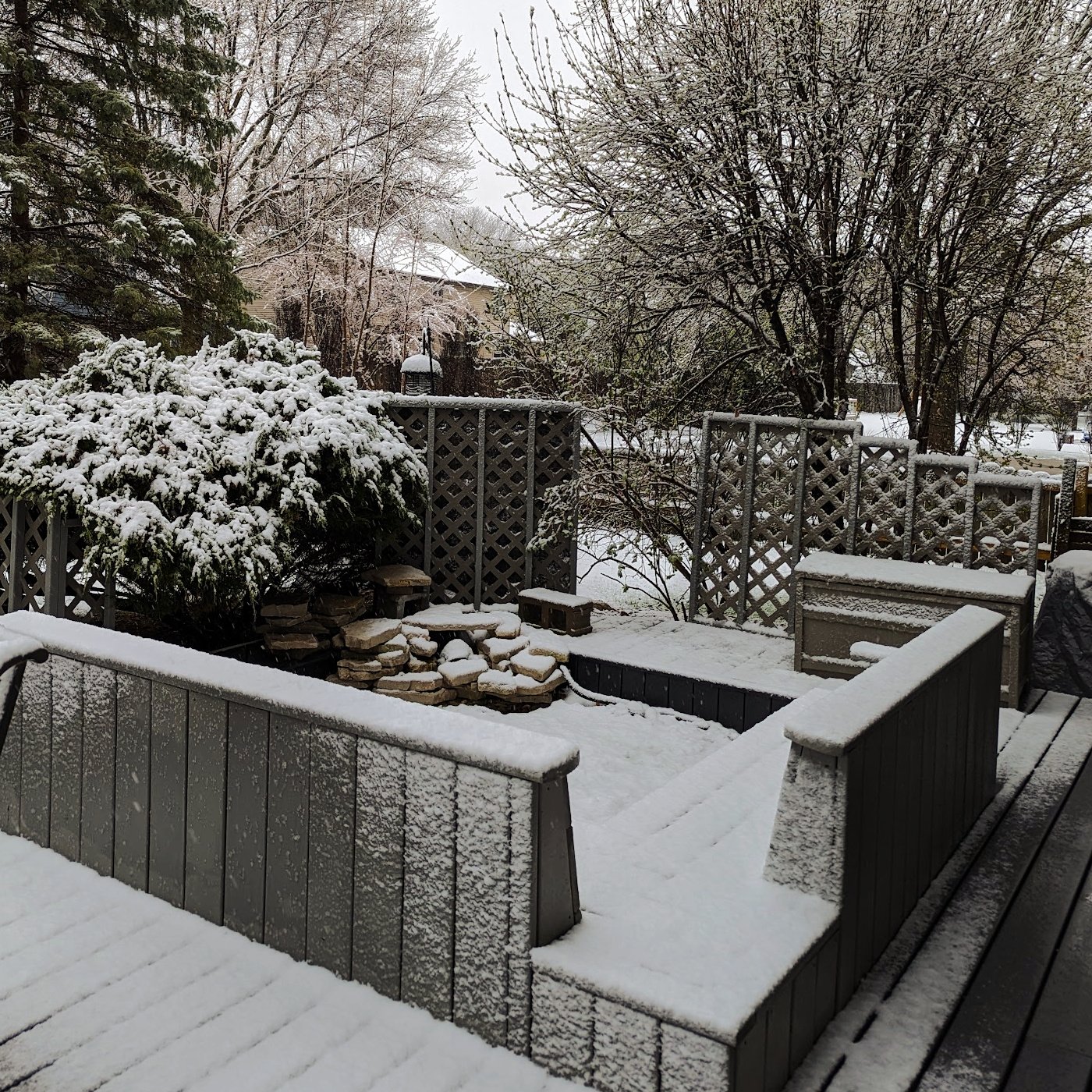 Also, and this is pure coincidence, Mother Nature is confused here in northeast Wisconsin. The calendar says May 1, but the weather is stuck in January. Haha! It's still coming down so I guess I'll spend today in my cozy sewing room!