On the Instagram takeover I did last weekend for Quilters Candy Membership, someone recommended the Creative Curves Ruler by Sharon McConnell of Color Girl Quilts. I love curved piecing but have primarily used the Crazy Curves and Rainbow Curves rulers from Elisa's Backporch Designs. I own the Creative Curves Ruler and a handful of patterns that require this ruler but have not used it, so I pulled it out along with this pattern and took it for a test drive.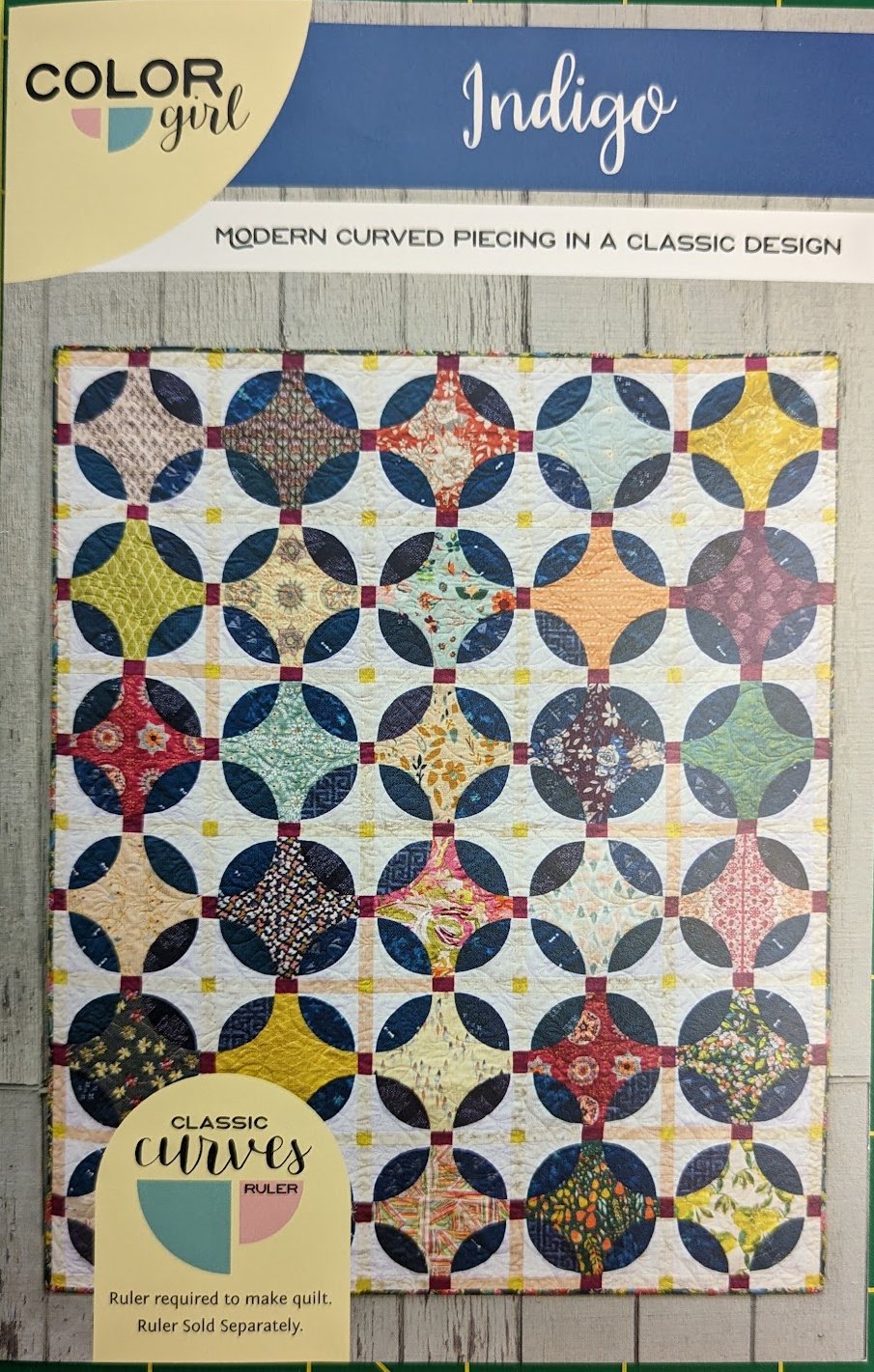 I did not want to commit to a big quilt before trying this new technique so decided to make only four blocks. That will end up about 24″ square. That will be a good size for a pillow, table topper, or wall hanging (or I can put it in my parts department as a future sampler quilt block).
The Preparation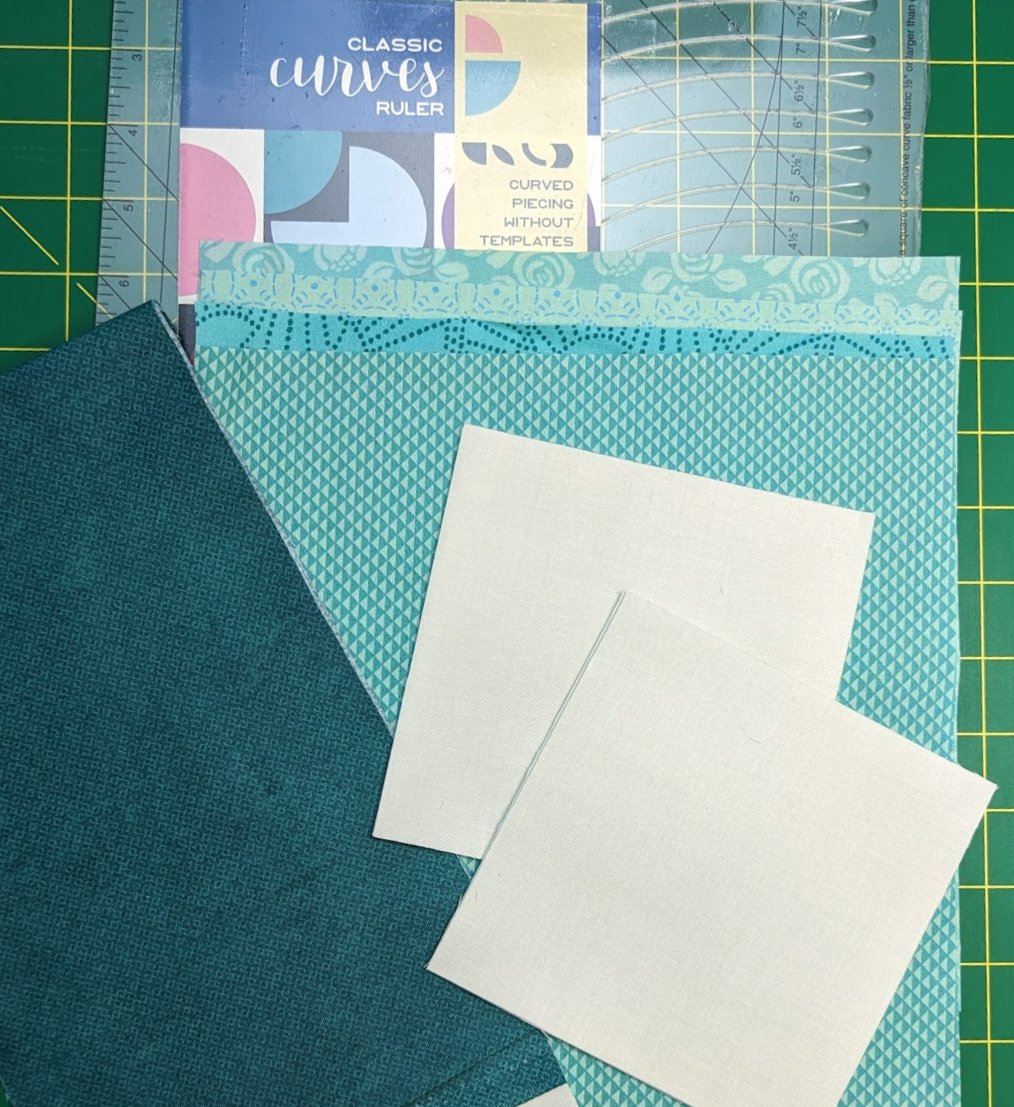 These are the fabrics I collected to make the blocks. All are from my scraps and stash.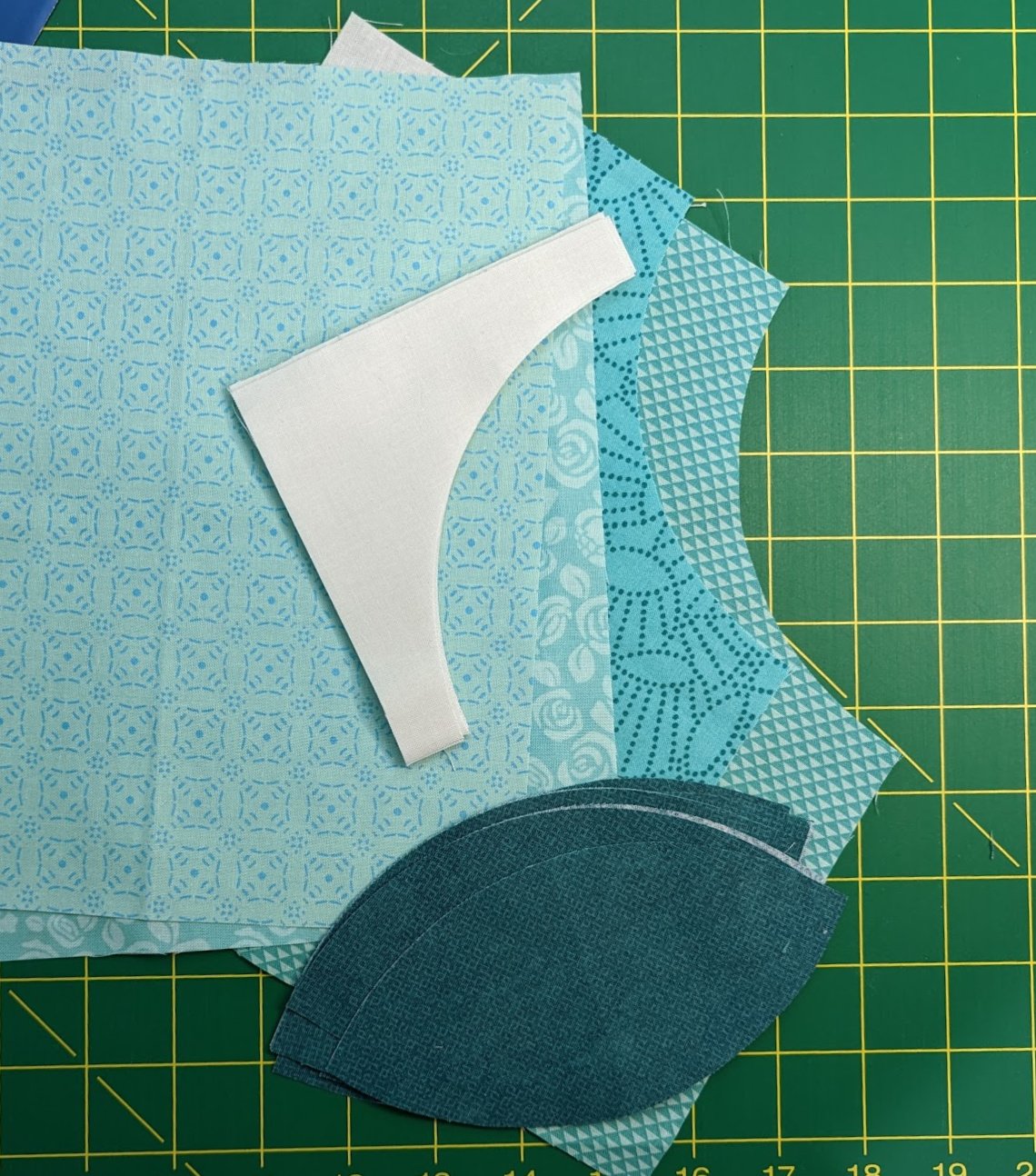 Next, was the cutting. The pattern directions are excellent, but I still got a little confused and goofed up a couple of times. Once I got the hang of it and figured out the logic, the cutting went fine. The nice thing about this ruler is that you can cut both the convex and concave curves with it.
The Sewing
This is where the true test comes in. If I sew slowly and am careful to line up the raw edges and sew an accurate 1/4″ seam, I don't have to pin when I make the Crazy Curves blocks. Since I was testing this ruler, I pinned as instructed at first. Everything lined up beautifully and matched at both ends, which was a big win. After a couple of blocks, the pinning was abandoned and everything still fit together perfectly. Truly, if you maintain the 1/4″ seam allowance, the accuracy is amazing!
I pieced all four blocks and really like how they turned out, except for one thing…
I have a little bit of puckering in the melon shape. It is very frustrating because I cannot figure out what is causing it. The cutting is accurate and the piecing is accurate. I did not stretch it while pressing. I tried pressing with steam, without steam, with starch and without, first to one side and then to the other, but could not get it smooth. Maybe it is that particular fabric that's causing the problem. I hope it will not be noticeable when there is batting behind it and it's quilted.
This was a fun little afternoon project and I really like using the Creative Curves Ruler. One big advantage of this ruler over the Crazy Curves is the ability to cut ten different sizes with one ruler. That is a big savings of both space and money. The Creative Curves Ruler comes with a pattern included that has complete instructions for using the ruler. I look forward to trying it again to see if I can get some smoother curves. This will not defeat me-haha. Stay tuned!