Are you familiar with the Hands 2 Help Challenge that Sarah runs at Confessions of a Fabric Addict?  I joined the challenge and have committed to making six quilts.  It would benefit both the recipients and me if I could finish some UFO's for donation.  They would receive the quilts faster and I could get a few projects out of the UFO bins.  Awhile back I found some blocks of the month from my former quilt shop.  We were either stupid or crazy but for several years we cut all the pieces for each block so our customers could take them home and immediately start sewing.  I'm not talking about an easy four patch block either.  Recently, I found these blocks clipped on a skirt hanger.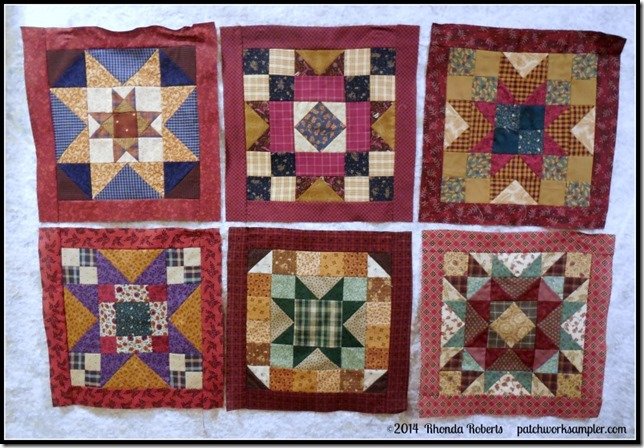 There are a lot of pieces in each of these blocks and our tireless staff cut hundreds of them every month.  No wonder I have so many UFO's, I spent way too much time cutting blocks for other people instead of sewing.  There were only ten blocks so I'm hoping to find the other two in my orphan block bin.  If not I'll have to figure something else out.
Coincidentally I found  a set of block kits from this same series.  They are all the same block so I started putting those together.  So far, I have three made but haven't sewn the red frame around them. 
This block of the month series was from 2001 so it will nice to finish these projects from way back.