A couple of things that have held my interest in quilting after 30-plus years (besides new fabric, of course!) is there is always something new to learn and you can always get better. I am not a good machine quilter. I learned on a domestic machine and became proficient enough, but basting is a hassle and it is tough on my shoulders to maneuver a big quilt under a small harp.
I have owned my mid-arm Voyager machine for around 18 years and have quilted hundreds of quilts on it, but I am still not good at it. My quilting repertoire is minimal. When I look back at the quilts I've made, probably half of them are quilted with swirls. Why? Because they are fast to quilt and they look nice. But it is monotonous. For me, quilting is not as fun as piecing and usually, I am just quilting something to donate or gift. Most of the recipients of my quilts would not even know good quilting from bad. I will never make show quilts. But sometimes when I finish a quilt, I think the quilting does not do the quilt justice.
That happened this week when I was quilting. I had no inspiration for a design and ended up simply quilting wavy lines. This quilt, which I hope to finish and share tomorrow, is one of my favorite quilts I've ever pieced. The quilting did not enhance the piecing and I am disappointed in it. So, I did what everybody does to learn anything new, I turned to YouTube; specifically to Angela Walters from Quilting is My Therapy.
Angela is one of the best in the business and also one of the most generous teachers. Did you know she has several series of machine quilting lessons that are FREE? They are all available here. She not only shows you how to quilt but also what to quilt in various blocks or borders. She demonstrates the techniques on both a domestic machine and a longarm. Many also have downloadable guides so you can see the designs and draw them to develop muscle memory.
I am trying some of Angela's techniques on the table runner I pieced a couple of weeks ago. This is a small project that is perfect for a practice piece. I decided on a few designs and just started quilting. As you can see, consistency is not my strength! This is fun but truly has been trial and error. I am much better when the stitch regulator is turned off. Just like quilting on a domestic machine, slow hands with a fast needle gives me the best results. With the stitch regulator, slow hands mean slow needle and it doesn't work as well.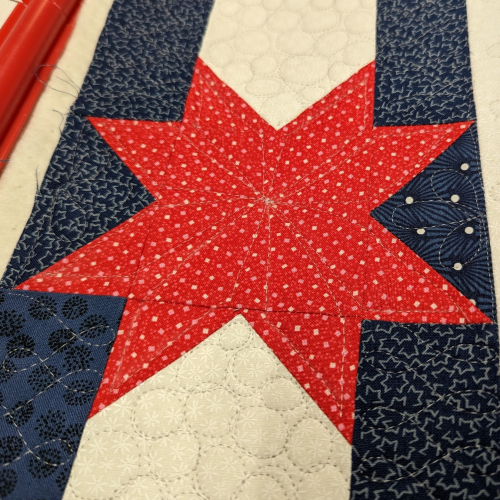 Over the years, I have quilted thousands of variable star blocks. The technique that Angela shows in the "Help! How Do I Quilt This Series?" is brilliant. It doesn't show up very well here because the thread matches the fabric, but that is probably a good thing. Angela uses a ruler, but I need three hands to do ruler work so I winged it. Learning this one technique makes the whole process worth it. I am excited to finish this table runner and bring a couple of new techniques to my next quilt.
Is there a particular area of the quiltmaking process where you would like to be more proficient? Let me know and I will try to help. I want everyone to find joy in the journey!