My February OMG project, Unteraegeri Log Cabin, was a UFO for over 15 years but is now finished. Hooray for challenges that get things moving! It was the only thing I finished this month, but I'm happy for any progress. I'm just sorry it took so long to finish. Log cabin quilts are among my favorites and this design is very striking.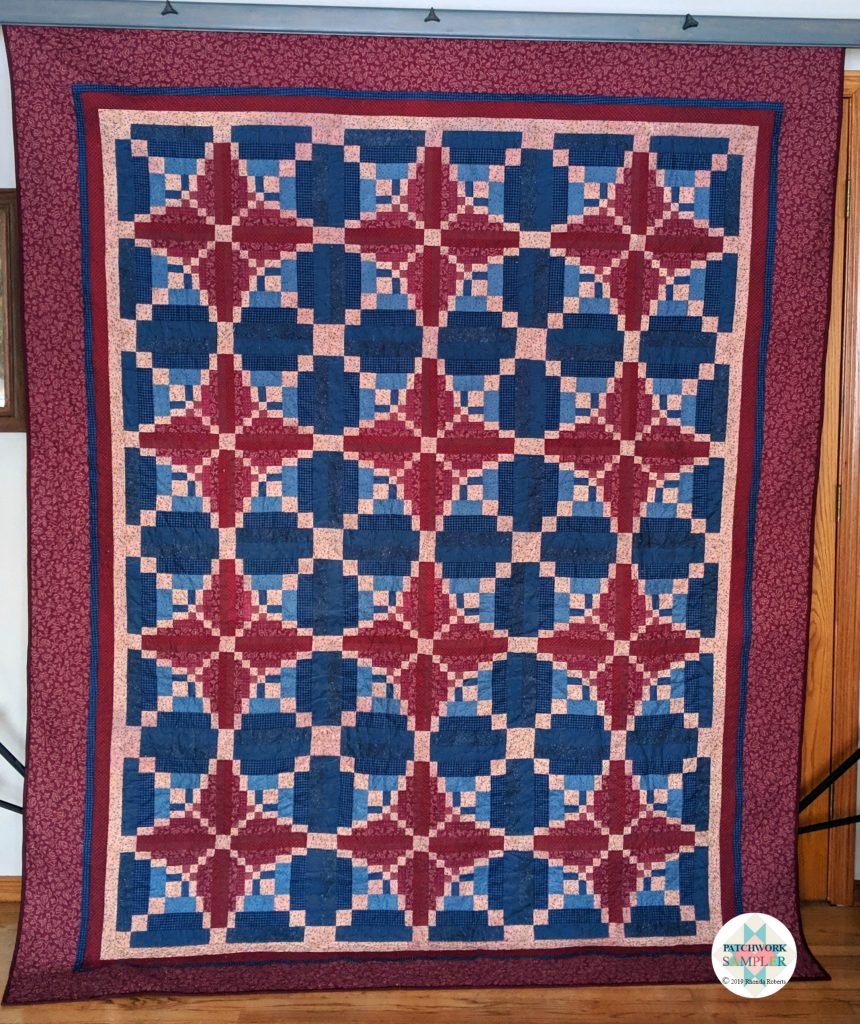 At the beginning of the month, the quilt was sandwiched and a little quilting completed. I finished quilting the top, quilted all four borders and added the binding. Since my longarm is still not working, I quilted this on my Juki. Last month, I got very frustrated with quilting on the Juki. I experimented with different needles and found one that the machine really likes (Organ, size 16). This one simple switch made all the difference in the world. The tension was good, thread didn't shred or break and I could stitch fast enough to get smooth lines. So, so much easier than last month. I still hope to get my longarm fixed, but it's good to know I can quilt on a sit down machine if necessary.
I really like the design of this quilt–the movement and the way circles appear from straight lines. Unfortunately, I don't think the designer, Mary Ellen Hopkins, officially published this pattern so I can't provide a link to purchase it. Mary Ellen was the queen of designing great quilts from simple units. This is a wonderful example of that as the entire quilt is simply squares and rectangles.
At the risk of being like some food bloggers who show 20 pictures of a spoon in a bowl before they get to the recipe, I'll show pictures of how I quilted this.  I almost always look online for quilting inspiration before I decide on a design so I try to return the favor!
In the blue areas of the quilt center, I quilted concentric circles to highlight the appearance of curved piecing. In the squares, I quilting straight lines to accentuate the chain that runs on the diagonal.
The quilting doesn't show up very well against the red prints, so I quilted a medium-sized overall meander. I liked this (and didn't think it was a cop-out!) because it created a little texture.
In the light border I quilted small swirls and the first red border has little "L's".
The blue border just got a simple curve (it is only 1″ wide) and I repeated the meander in the outer border.
All the quilting was pretty simple, but it is effective.
I am so thankful for the motivation that One Monthly Goal provides. Even in busy months, I make it a priority to meet the goal and move one project forward. Thanks to Patty at Elm Street Quilts for all the time and effort she puts into hosting this challenge each month. Be sure to stop by her blog to take a look at all the beautiful projects completed in February (links are here).