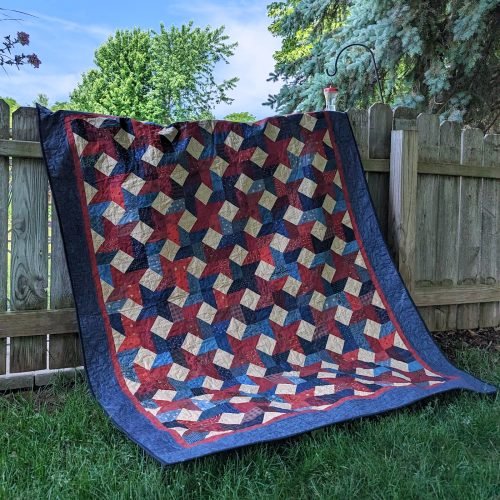 This red, white, and blue quilt is another project from "the basket" I have been clearing out this month. It is just a coincidence that it is a holiday quilt that qualified for the May challenge. This project was abandoned who knows how long ago with only quilting the borders and binding left to finish. That didn't take long and now I have a patriotic quilt to display for the summer.
I don't know the name of this pattern, and a Google search did not turn up anything. I thought it was from one of Kim Brackett's Scrap-Basket books, but I don't see it in any of those. The search continues, so if you recognize the pattern, let me know, and I will update the post. It is such a simple design–just chisels and half-square triangles.
The quilting is enhanced meandering. Throughout the center, there are random double circles.
The border has meandering stars. So simple, but it adds a little bit extra to a basic quilting design.
There are a few more quilts to finish from this basket and I am determined to get them done in June. It will be very exciting to empty a whole UFO basket. I can't wait to celebrate that!