Do you have fabric scraps and stash you are trying to bust? Then collect (or cut) some five-inch squares and join the August Charm Square Challenge!
This month's challenge came about from my organizing and de-stashing efforts. When the Patchwork Sampler brick-and-mortar shop was open, we cut charm packs every month from 25 new fabrics. One of the stash boxes I opened held dozens of these charm packs. 42 packs to be exact.
This photo shows 1,050 charm squares. That is over 18 yards of fabric in two little 5″ x 6″ stacks! So it is time to whittle down these stacks. I am excited about this challenge because looking through these fabrics is a fun trip down memory lane. Just in case, these don't give me enough variety, I can always tap into my other drawer full of charm packs. I am not yet sure what I am making, but hope to finish at least one donation quilt.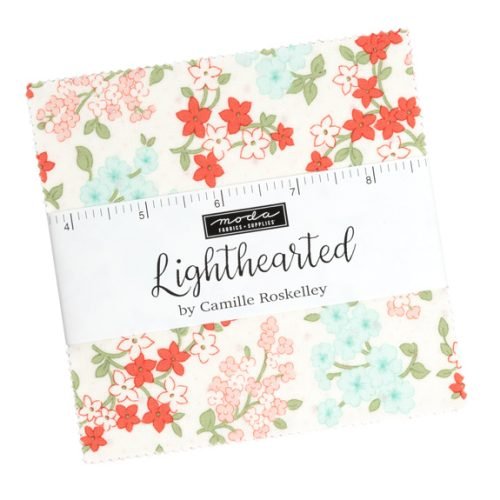 Once the stash charm quilt is finished, I plan to break open one of the Lighthearted charm packs that came yesterday.
These are such beautiful fabrics and I can't wait to use them.
I hope you join me in the Charm Square Challenge. August looks like a great month to use fabric, make quilts, and have fun!