No sewing this week as we are officially on vacation. Winter became unbearable a few weeks ago so I did what I should have done last fall—plan a trip to get out of town. Every year I'm hopeful that it will be a mild winter so I almost never plan a vacation until it's too late to score a good deal on a tropical destination. Coincidentally, about the time I was desperate to go somewhere (anywhere!) TripAdvisor sent an email linking readers' photos of the year. Several winning pictures were taken in Page, Arizona. Hmm, I've been to Arizona several times but had never heard of Page. How did I miss such a beautiful place? I looked it up in the atlas that permanently resides by my reading chair and realized it was very close to another place on my travel bucket list: southern Utah. I'd been thinking about a hiking trip to Zion and Bryce Canyons National Parks for awhile but the opportunity hadn't presented itself. After confirming that we could fly into Las Vegas, drive east to Page and catch both Zion and Bryce on the way, my next online stop was weather.com to check out the temps. It looked promising with daytime highs of around 65. That sure beat the subzero highs we were experiencing in northeast Wisconsin. I found a reasonable airfare on a non-stop flight out of Milwaukee and sealed the deal with a couple of clicks (and a credit card).
So, for the past six weeks or so I had been checking the weather daily to see if it was still warmer in southern Utah than in Wisconsin. Every. Single. Day. It has been until last Wednesday. All of a sudden temperatures in the forecast dropped and the little sun symbol disappeared behind clouds and raindrops. Boo hoo! It is really disappointing to plan a trip to the desert and have worse weather than Wisconsin. Ever the optimist, though, I packed some capris and t-shirts along with the sweatshirt, winter coat and gloves. Here's hoping the forecast is wrong and we really will have some warm sunny days. But just in case, I booked a flight to Florida for later in the month.
A stop in Las Vegas just long enough to pick up a car.  Jim is smiling because he's away from work—palm trees, short sleeves and no coat!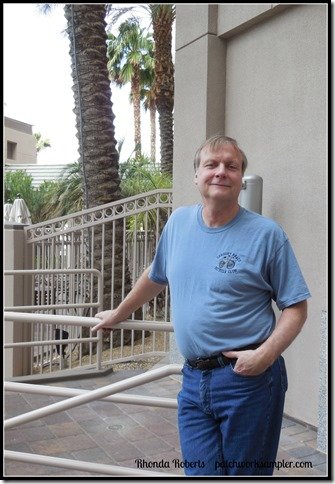 A couple of pix along the drive to Zion National Park.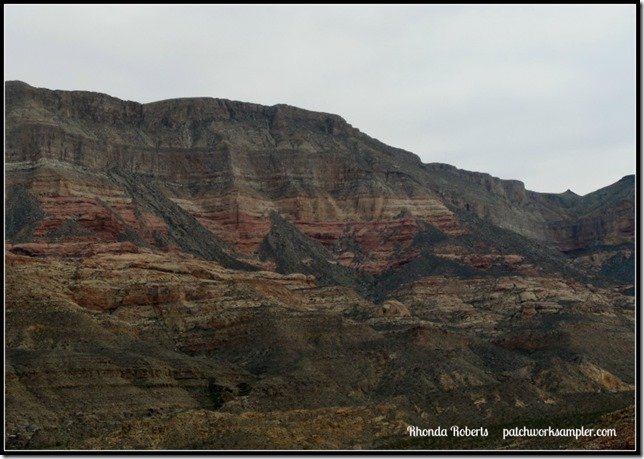 So nice to see mountains!
Right before we left, Bryan called to say that he and Laura were coming to Appleton for a few days and Jim's brother Chick, who lives in Michigan called to say that he and his wife were coming for a hockey tournament in DePere.  They will all stay at our house so that worked out well for the cats!  We won't get to see Bryan and Laura, but will come back early so we can see Chick and Val.