I've had these quilts for Quilts Beyond Borders for awhile and it was time to finish them and get them sent off.  I quilted two of them a couple of weeks ago so today I quilted the third one and sewed the binding on all three.  These quilts were pieced by others and they come to me with the backing and binding pieced cut so I just have to add batting, quilt and bind.
This one has a fun center panel.
It is quilted with an overall "dwirling" pattern that I learned from the Pajama Quilter DVD.
This one is pieced log cabin style with random width logs.  I like this technique and may have to raid my strip bins to make one like it.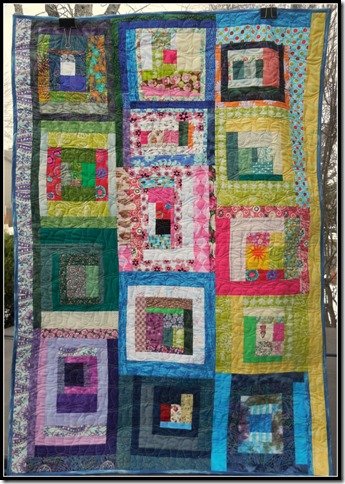 This overall quilting design is also from the Pajama Quilter.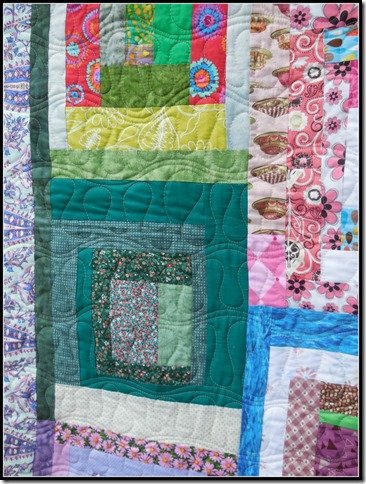 The third one is a tumbler quilt.  I just love these.  Recently I made one as a shop sample but I sure would like to make one for myself.  It's a great design for scraps and busy prints.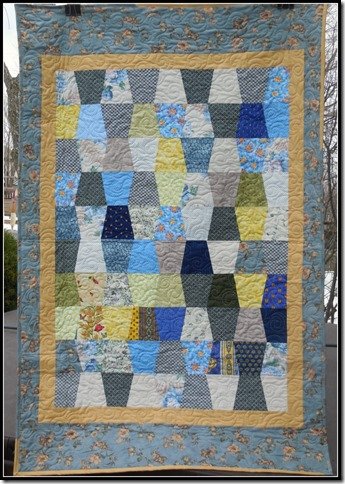 This one is quilted with my go-to design—overall swirls.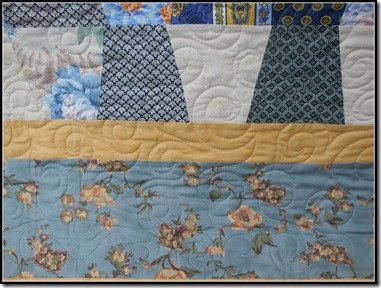 The border on this quilt is one of those older Robin Pandolph prints when she was designing for Moda.  These were always such gorgeous lines and it looks really nice on this quilt.  It makes me want to go digging through my stash to see if I have any of it left!
These quilts are now boxed up and ready to drop off at the post office on my way to work on Monday.  It's nice to get that accomplished.