When you're quilting do you watch TV, listen to audiobooks or sew in silent bliss?  My confession: I was usually watching the worst reality TV.  Last week though, while piecing the Generations quilt, I came to the decision to delete it all from my DVR.  It was full of shows like Real Housewives, Dance Moms, Millionaire Matchmaker, and Hell's Kitchen.  Those shows seemed perfect because generally there is no plot and I could follow along by listening rather than watching.  Obviously, much of the drama is staged but I came to the realization that I just can't watch people treating others badly anymore.  I don't need to see grown women in a cat fight, children being used as pawns or Gordon Ramsey verbally abusing ANYONE!  I'm trying to eliminate as much negativity from my life as possible and watching people behave this way was bringing me down.  The added benefit is not listening to people who are incapable of uttering a grammatically correct sentence.  I'm not sure where they find these people, but almost every "real housewife" I talk to here in Appleton knows when to properly use  "I" or "me" in a sentence!!
Despite not watching TV, I've almost finished this quilt.  It helps that I'm listening to a good audiobook (Under the Wide and Starry Skies by Nancy Horan).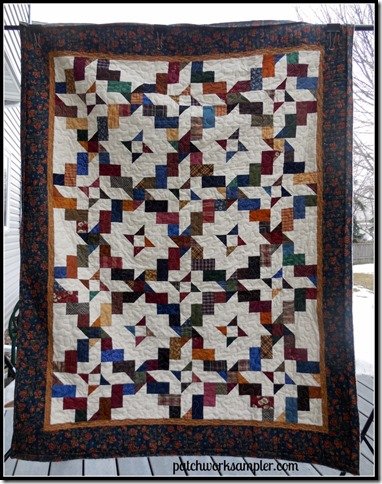 This will probably be a donation quilt so the quilting is pretty utilitarian:  meandering in the center, two squiggly lines in the inner border and up-and-down continuous straight lines in the outer border.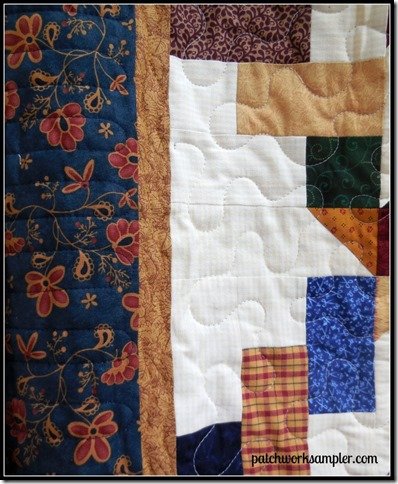 There's still a little hand stitching to finish on the binding but it should be completed today.  Yay! Another quilt made entirely from stash.
I'm linking up with Sarah over at Confessions of a Fabric Addict for Whoop Whoop Friday.  Help others celebrate their accomplishments this week by checking out the links.