We left Kanab and drove west to Page, Arizona.  There are a few very interesting sightseeing destinations in Page.  First is Lake Powell, a reservoir on the Colorado River, which is part of the Glen Canyon National Recreation Area.  It is a huge area that straddles the Arizona/Utah border and offers 1,560 miles of shoreline.  It is a man-made lake that was formed in the early 1970's when Glen Canyon Dam was built.  This lake is very different from those we see in Wisconsin.  It is WAY down in the bottom of a canyon and is very narrow with hundreds of little inlets.  Unfortunately, this is still the "winter" season and there were not many boat tours operating so we didn't take a ride on the river.  From the photographs you really can't tell how high we were above the water.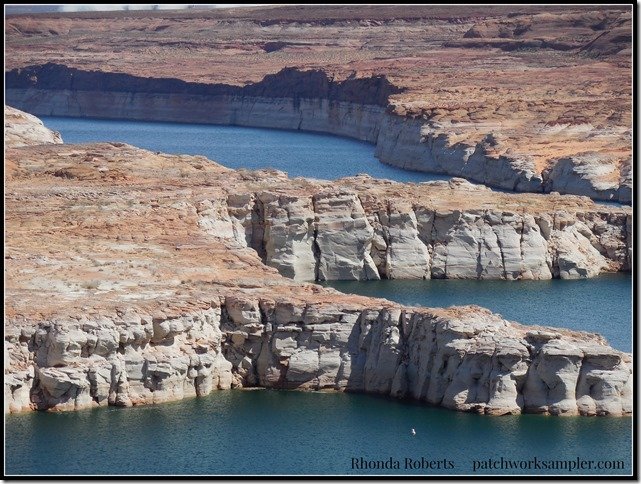 Our second stop was Horseshoe Bend.  This is what locals consider the very beginning of the Grand Canyon.  We walked to the overlook and what a view.  The Colorado River is 1000 feet below!  Of course I was terrified and took my photographs from a safe distance of about 8 feet from the edge.  Jim was more adventurous and went right to the edge so he could photograph the actual bend so the better picture is his!!
In the picture below you can just barely make out a boat in the lower left corner!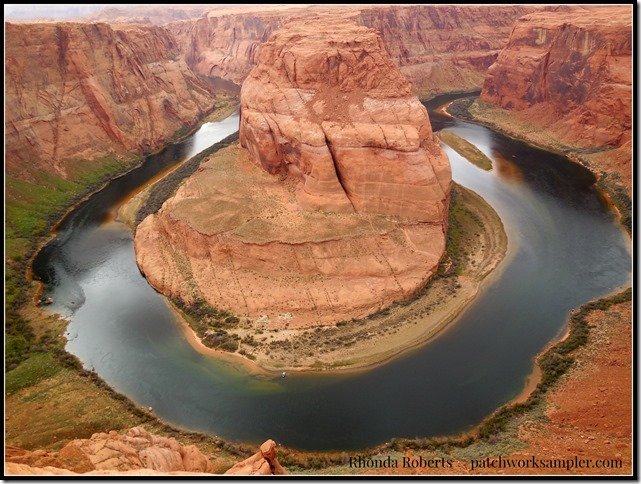 It was another amazing day of beautiful scenery.  Tomorrow there will be more after we visit Antelope Canyon!