Disclosure: Patchwork Sampler is a participant in the Amazon Services LLC Associates Program, an affiliate advertising program designed to provide a means to earn fees by linking to Amazon.com and affiliated sites. I personally use and endorse any linked product and may receive consideration for any product purchased through these links.
Weekly Sewing Machine Maintenance
When I get a few minutes to sew I like my machine to be ready to go, so on Sunday I try to perform weekly sewing machine maintenance. By setting a regular schedule, I don't think about when I last changed the needle or oiled the bobbin race. It's amazing, sometimes even disgusting at how much junk accumulates inside the sewing machine. Even with heavy sewing, though, weekly maintenance seems to be adequate.
First, I gather the simple supplies; thin screwdriver, stubby screwdriver, needles, cheap paintbrush, micro-tip brush, and sewing machine oil. The micro-tip brushes are just cheap make-up applicators I buy from Amazon here.
I remove the bobbin and bobbin case, then use the paintbrush to brush out any visible lint and thread that accumulates in this opening. I then use the long, thin screwdriver to remove the needle. Be sure to discard used needles in a safe manner. I collect them in a little tin, then throw them out when the tin gets full.
Next, I use the stubby screwdriver to remove the needle plate. Lint collects between the needle plate and feed dogs (arrow) and it's easier to clean that area without the needle plate.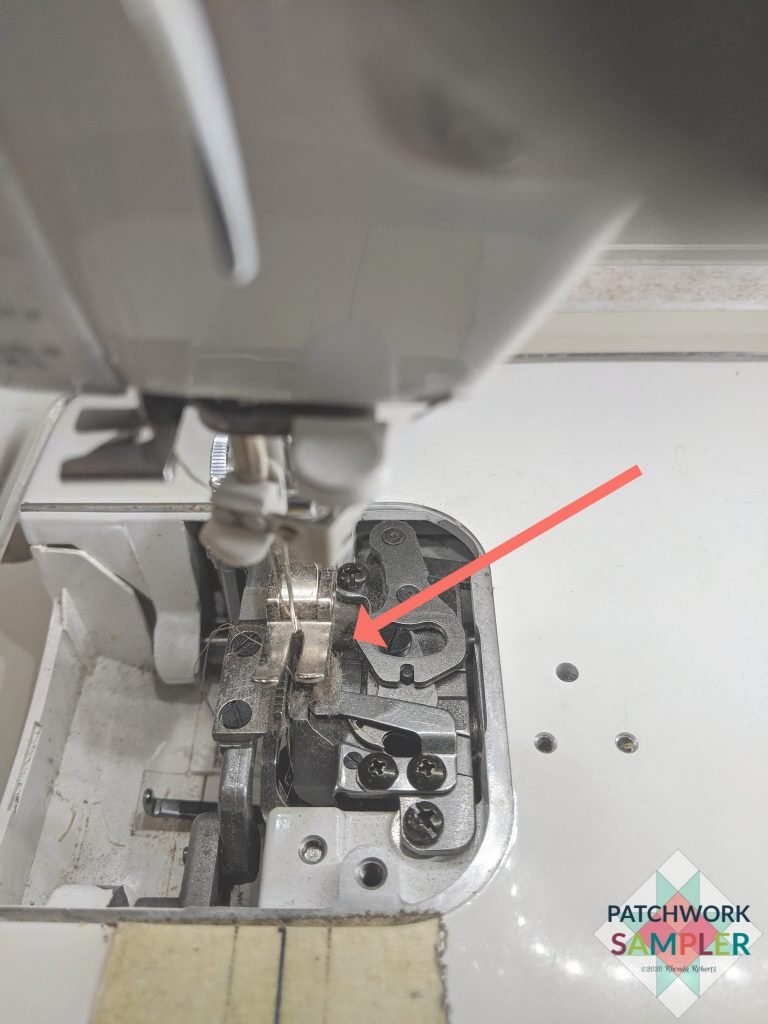 A micro-tip brush works great to clean that area and I use the same brush to remove any remaining lint around the bobbin area. Quilters tend to like or dislike thread depending on how much lint it creates. I find that fabric creates much more lint than thread so I'm not all that picky about thread. If my machines likes, I use it. For piecing I almost always us 100% cotton thread which inherently creates more lint.
Once all the lint is removed, I put the needle plate back. I add a couple of drops of oil on the bobbin race, then distribute the oil by running the machine for a few seconds without the needle or bobbin case. After that, I insert a new needle and click the bobbin case back in. Over the years I've heard that you should replace the sewing machine needle after every eight hours of sewing. I don't know of anyone who keeps a log of hours on each needle. I've also known people who have used the same needle for YEARS. I just take the in-between route and replace it once a week.
I also check the bobbin supply to make sure I always have a bobbins ready each week. For most piecing projects I use neutral thread so I try to have a half dozen each of off-white, cream, light and dark gray, taupe, navy and black. Usually I have a few random bobbins that I try to use up whenever I can. I used the round BobbinSaver for years, but recently discovered the BobbinSaver Squared. It is even better because it securely holds 84 L-sized bobbins and prevents a mess of tangled threads.
This is just one way I can make the most of my sewing time. Every week, my machine is clean and ready to go! With weekly sewing machine maintenance I also hope to avoid bigger problems down the road. Now that this is complete I hope to log several hours at the sewing machine this week.