The WIP I am currently working on is Be Attitudes by Nancy Halvorsen.
This book was published in 2007 so I am sure that is when I started these blocks. I am at my mom's this week and both time and space are limited here so I try to bring projects that don't require a lot of planning, cutting, or thinking. My original intent was to make the quilt, but after aging for over 15 years, I will turn the blocks into pillows. I simply don't need any more quilts!
Four blocks are pieced and fused and one is partially stitched. It has been years since I've done any applique and I hoped my machine was still in working order. Since I do mostly pieced quilts, my main machine is a straight-stitch-only Juki. This project, though, required my trusty old Bernina 1230. I inserted a new needle, wound a fresh bobbin, added a few drops of oil, and started stitching. Voila! It worked perfectly. What a workhorse. I was surprised (and relieved) that the tension and stitches looked great.
It took me a little longer to get back into the groove. There are tips and tricks to make the machine blanket stitch look better and I had to re-familiarize myself with them. To be honest, my more recent machine applique projects have been finished with matching thread and a tiny zigzag stitch rather than the more primitive look of black thread and blanket stitch. I prefer the look of zigzag, but since this was started with the blanket stitch, I continued it. Stitching on four of the twelve blocks is now completed.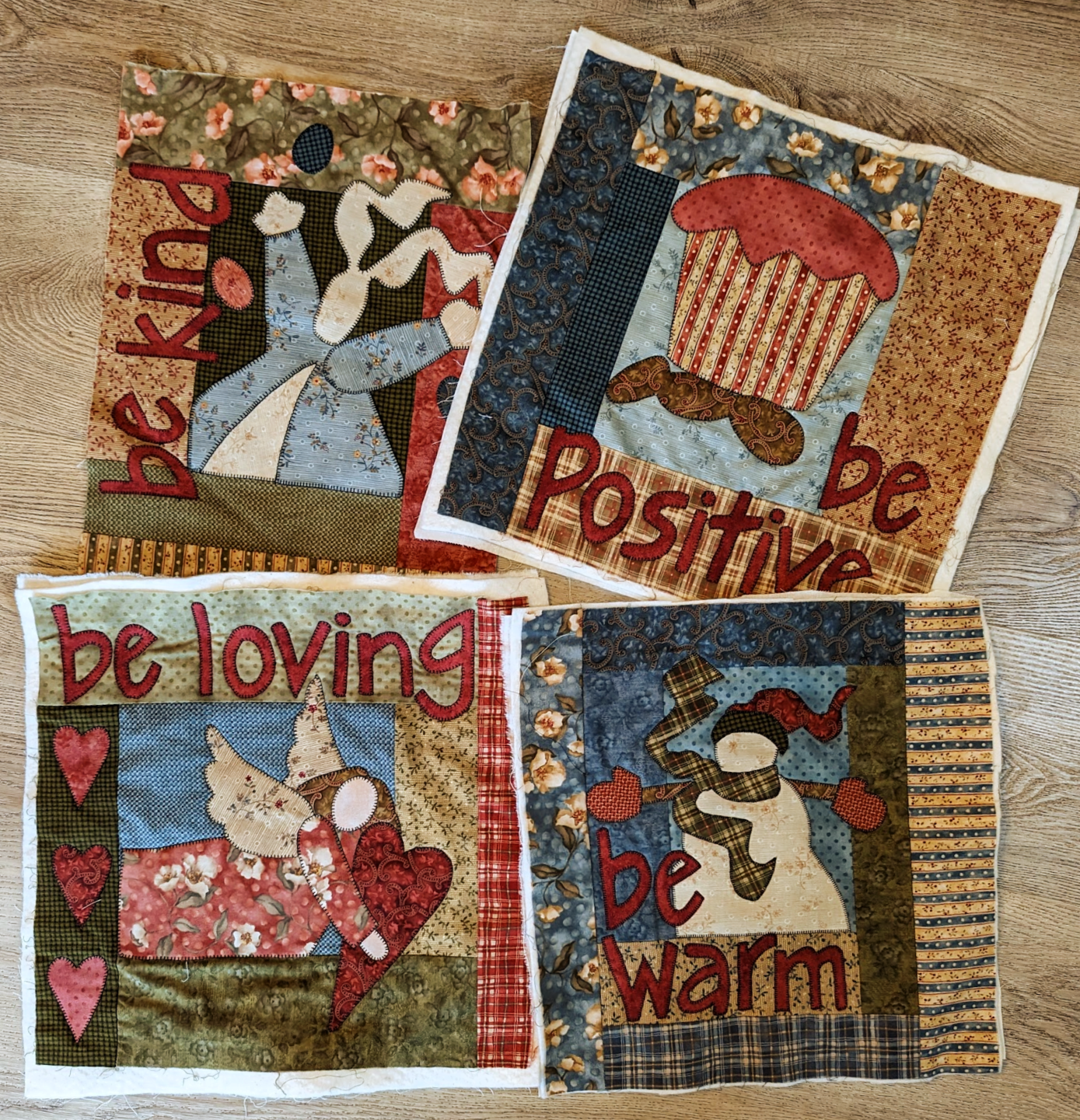 Since my original intent was to make the quilt, the first block is just stitched onto the background. I added batting and backing to the other three so they are appli-quilted and are ready for a little embroidery and embellishing before sewing onto the pillow back. Hopefully, getting this far will motivate me to do the embroidery. I am terrible at almost any kind of handwork but should be able to muddle through a few stitches and french knots.
Finding fabric for the pillow backs will be my next challenge…anyone have any Benartex William's Inn fabric from 2007 in their stash? Haha! I'm not that particular and am sure I have something in my deep stash that will work just fine!
What WIP are you moving forward this week?