It makes my heart sing when someone requests one of my quilts.  It is especially touching when it is a single guy making the request. So I was very happy to make a quilt for my daughter-in-law's brother when he mentioned to her that he would like a quilt. We perused Pinterest for some masculine quilt ideas.  My daughter-in-law liked the quilt Picnic in the Rockies on MMM Quilts blog. That quilt was based on a Moda Bake Shop project called Avignon Picnic by Andrea Harris.  Click the links to see how different the planned quilt looks versus the scrappy original one.
The original Avignon Picnic quilt uses a jelly roll and some background fabric.  My quilt has planned fabrics in masculine colors that loosely coordinate with University of Wisconsin's black and red.  By using planned colors I was also able to simplify the piecing by framing rectangles and sewing the top together in vertical columns.  It was a fast, fun quilt to make and I really like the way it turned out.  Even better, the recipient loved it!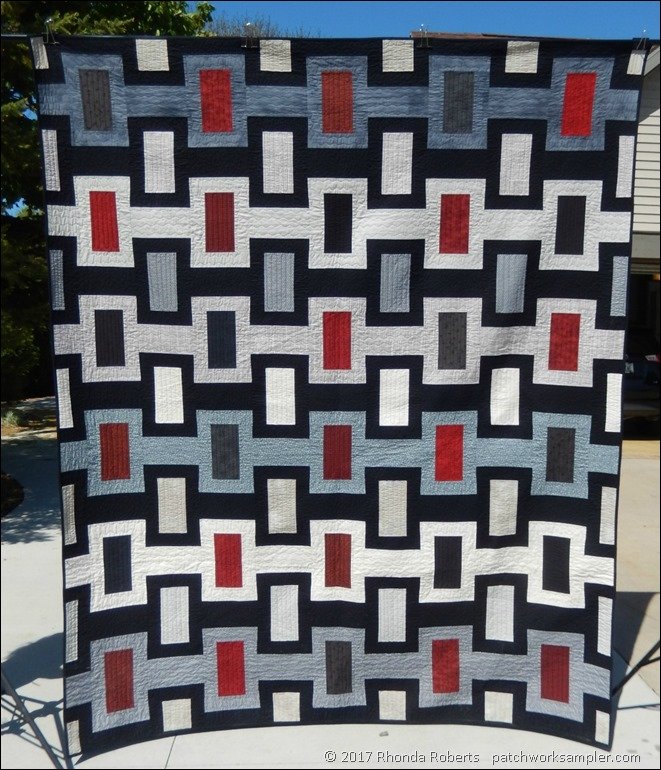 The quilting on the Picnic in the Rockies quilt is exquisite, but above my skill level. I kept it simple with some squiggly line variations.  Even though it isn't fancy, I think is looks very nice on the quilt.  Plus it is open enough to keep the quilt soft and snuggly.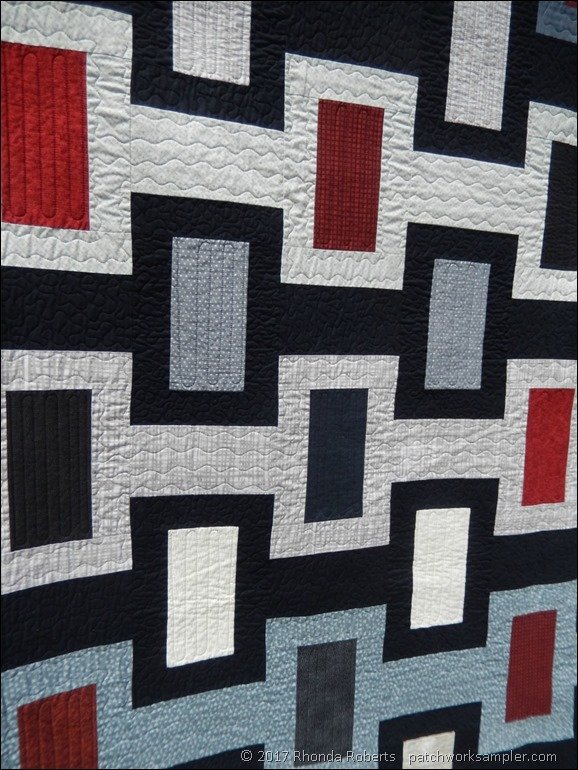 The back is a red and black flannel check sheet.  I really got lucky with that as I had it in my collection of backs and it coordinates beautifully.
This was a summer of travel for my husband and me with little time for sewing.  It was fun, though, and we saw a lot of family members and enjoyed the trips.  The little time at home was spent making this as well as a couple of wedding quilts. I will write about them over the next few days before Labor Day weekend and the unofficial end of summer.  We have a few more trips planned for fall, but it's been really nice to be back in my studio getting reacquainted with my fabric stash and sewing machine.