Do you need a little motivation to jump-start your sewing week? I have just the project–The Celebrate Quilt Block 3.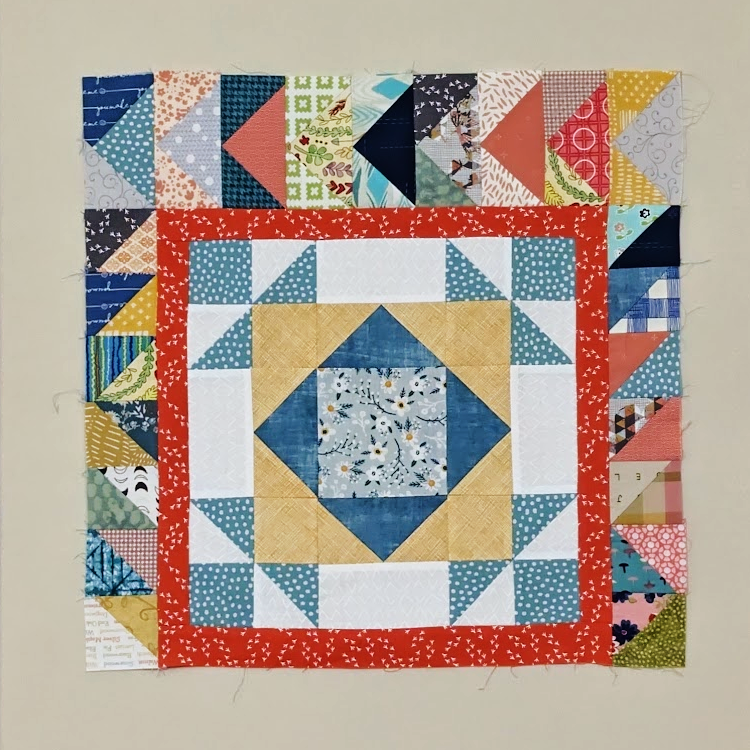 Feel free to customize your block any way you wish; switch up the units, change the colors, or make it less or more scrappy. This is your quilt, so do it the way that suits you best! The point is to have fun and use up some scraps or stash.
Here is a little tutorial on the block construction. First, you will need to download the instructions from the Free Resource Library.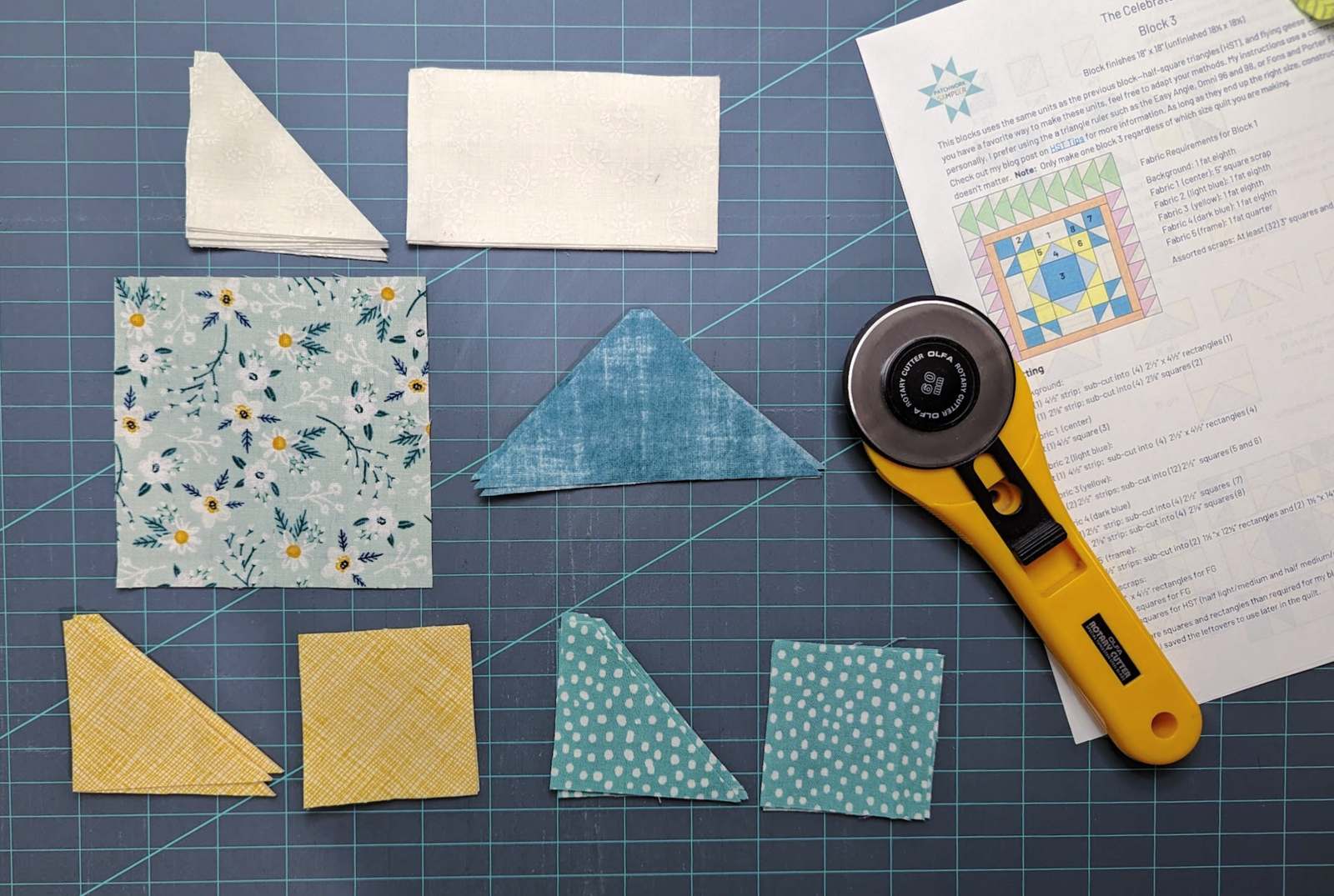 Follow the cutting instructions and cut all pieces required for the block. For this tutorial, I cut the half-square triangles and the flying geese units from specialty rulers, but the written instructions use common rulers that all quilters would have. Use whichever rulers you are most comfortable with.
Construct half-square triangles (HST)for the corner four-patch units from Background and Fabric 4.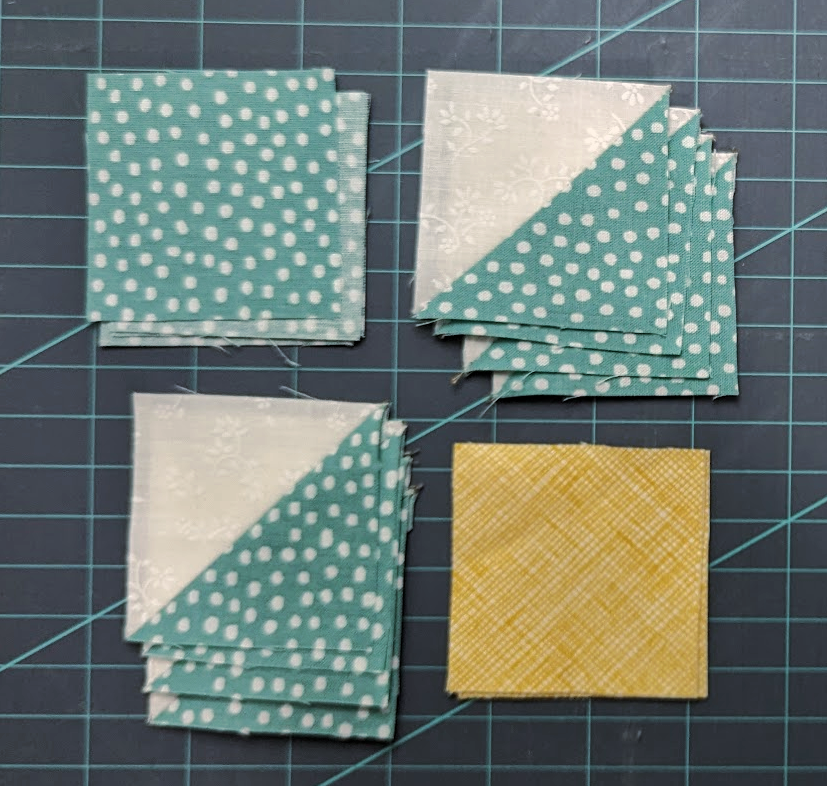 Collect four Fabric 3 squares and the Fabric four squares and lay them out with the HSTs to make four four-patch units. Check the HSTs to make sure they are turned in the right position.
Sew all four units the same. The instruction sheet gives pressing directions. If you press as indicated all the block seams will nest. If you prefer pressing the seams open, then use that option.
Make four flying geese units from Fabric 2 and Fabric 3.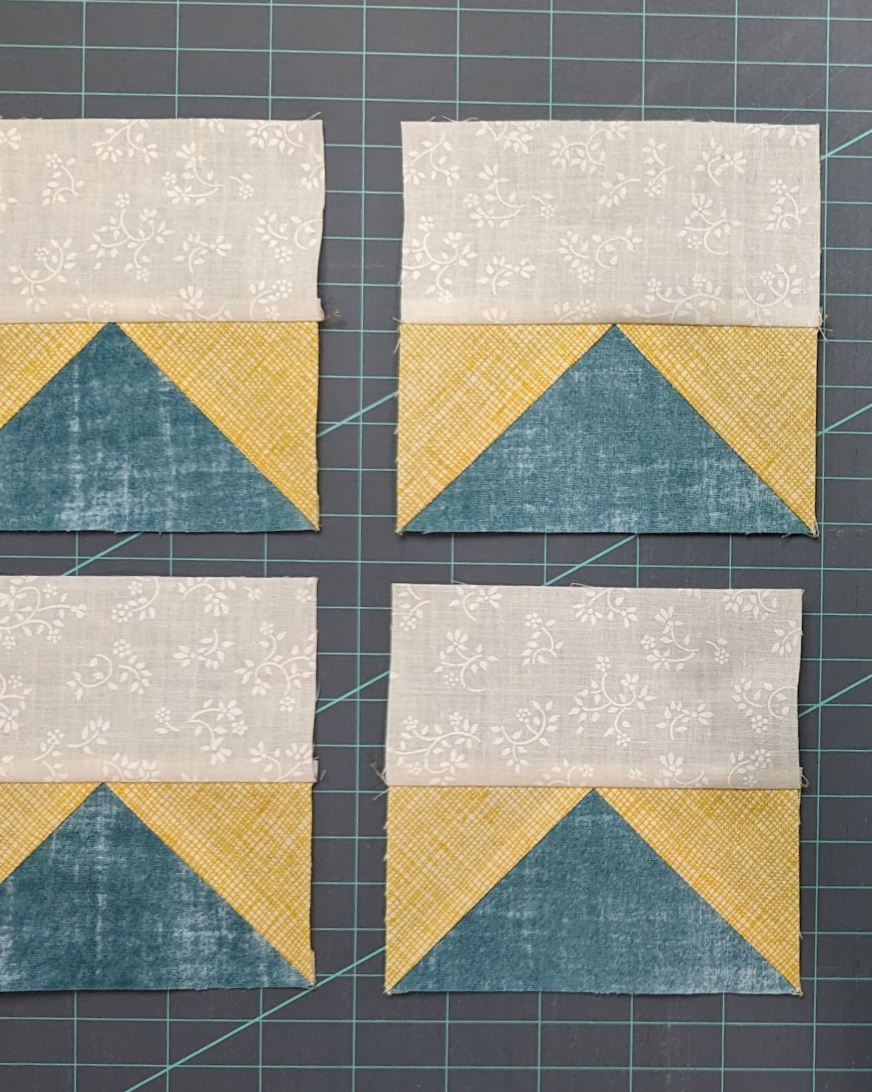 Then add the background rectangles to make the center units. Again, follow the pressing instructions if you want your seams to nest.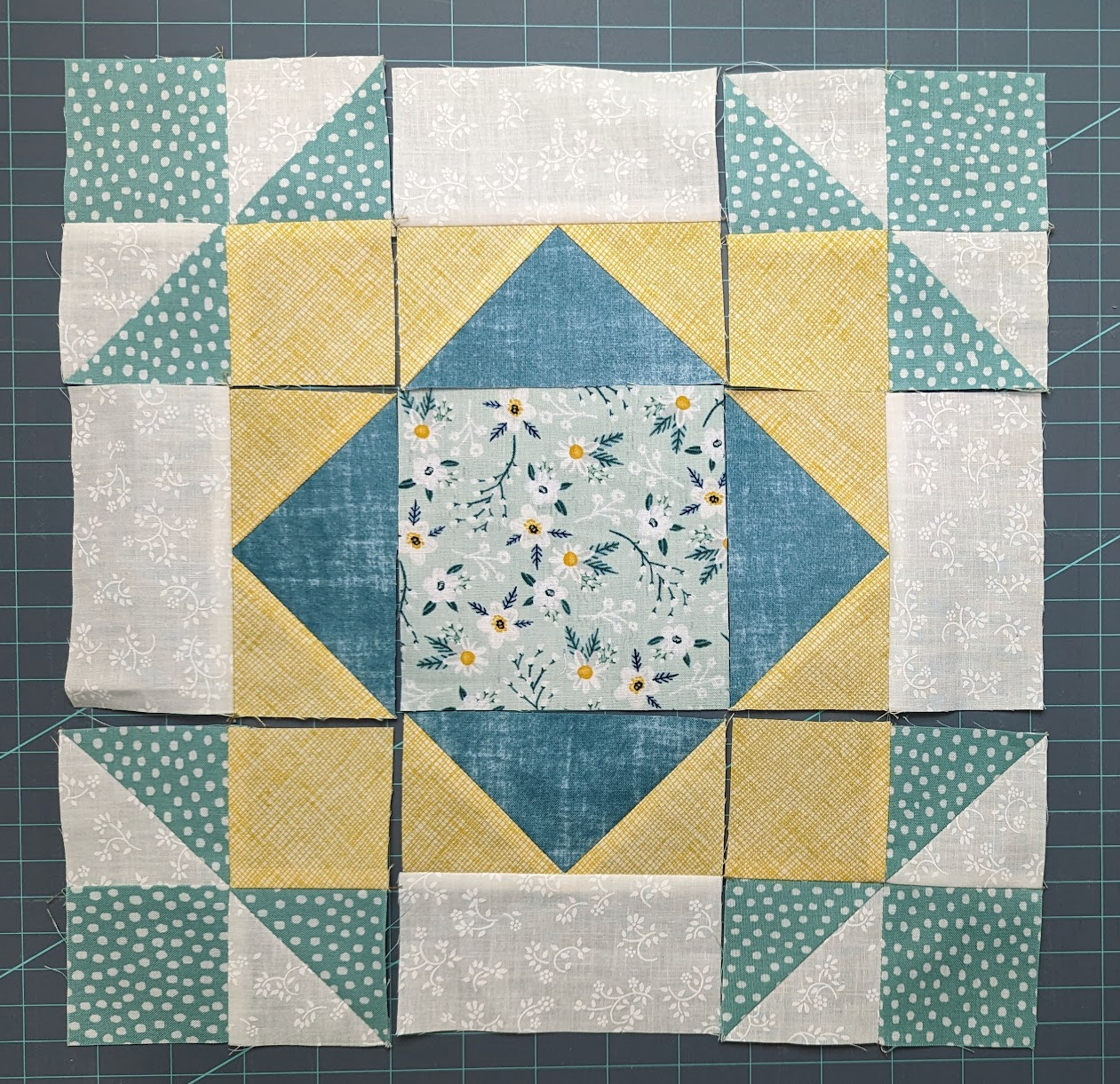 Hooray! All the sub-units are complete so it is time to lay out the block with the center square of Fabric 1.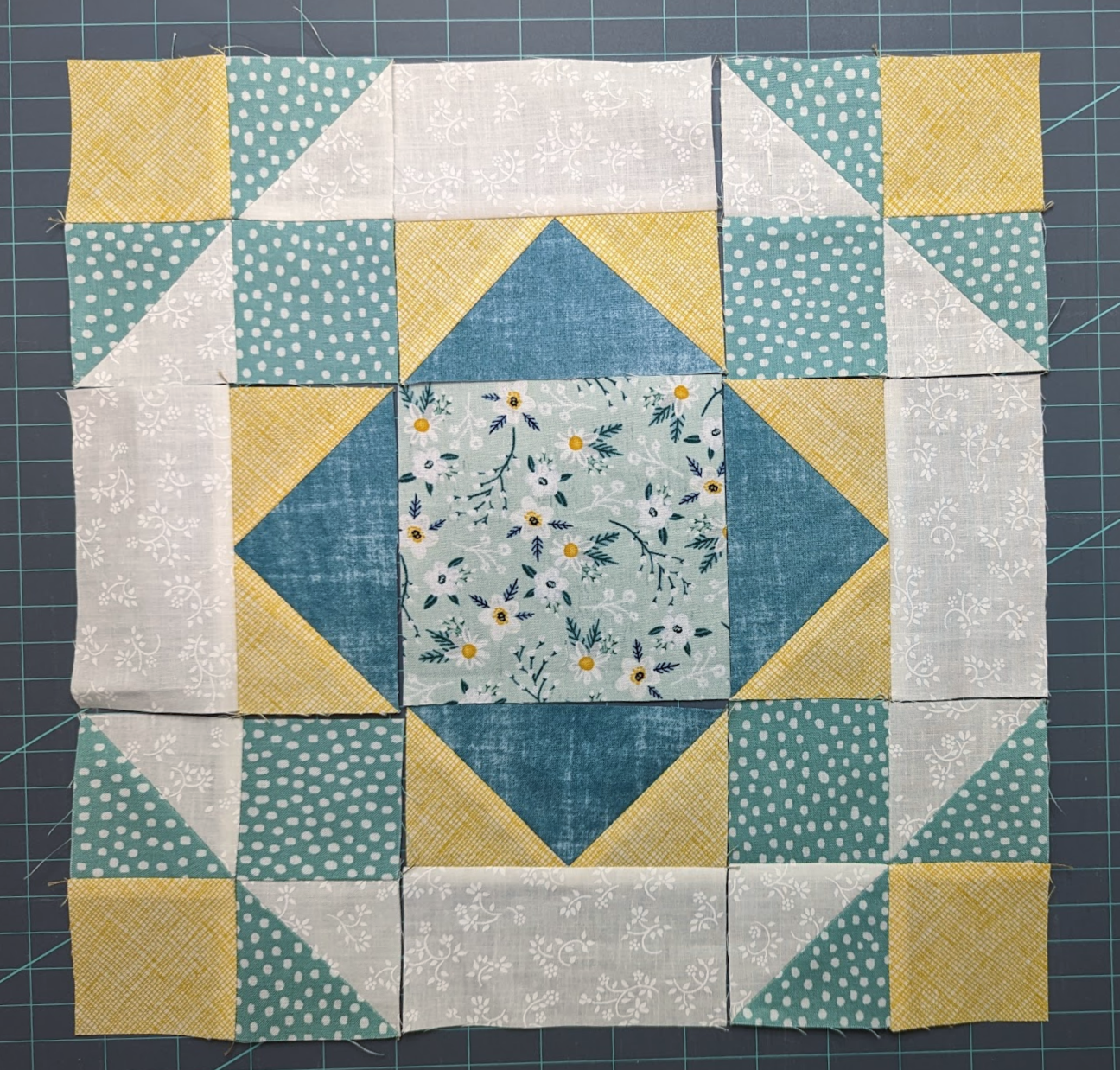 If you want a different look, you can turn the corner blocks 180 degrees.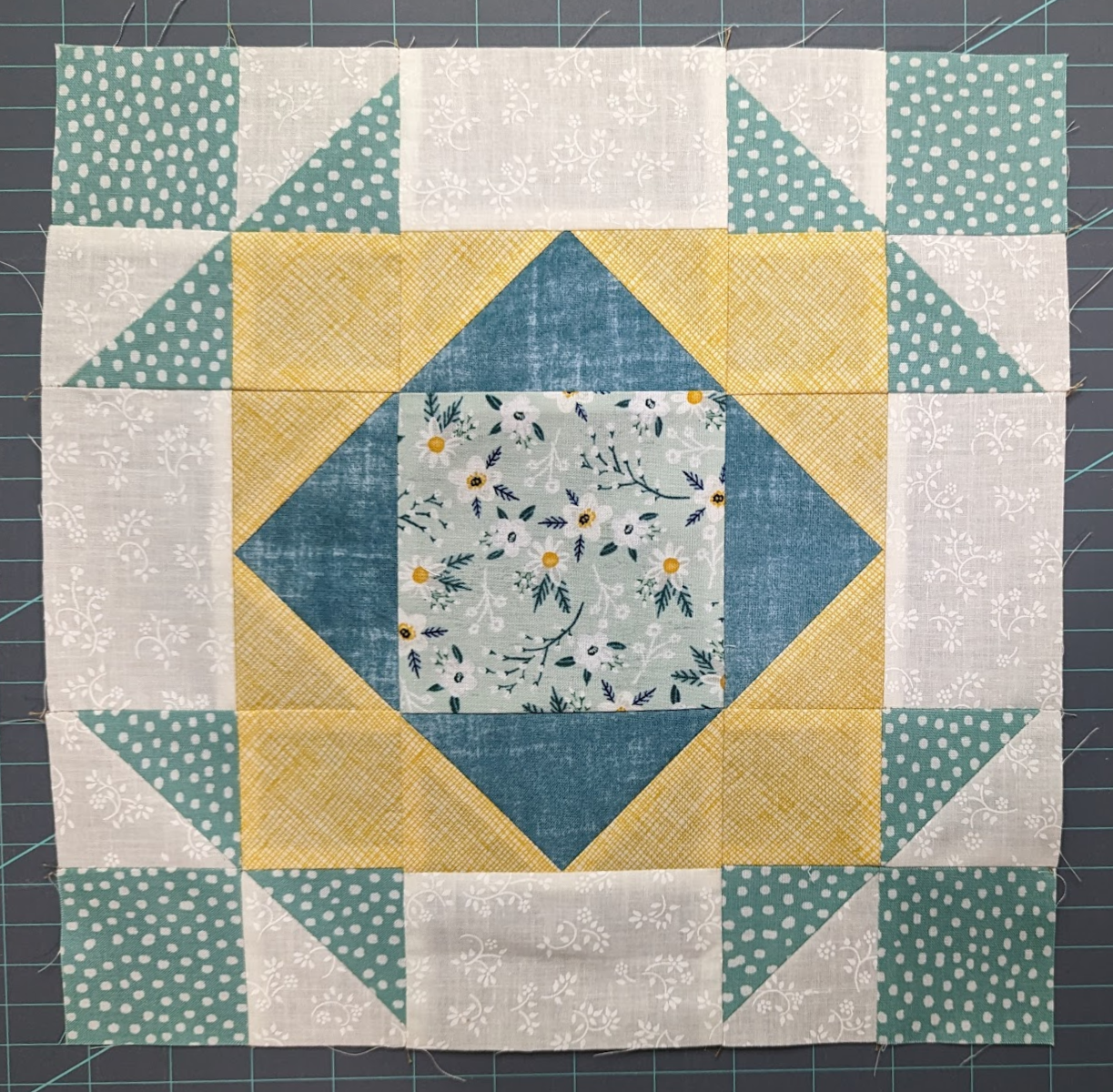 Once you have everything to your liking, sew the block together. First, sew into rows, then sew the rows together. Follow the pressing instructions, or press seams open. Now, the block is complete so it's time to add the extras.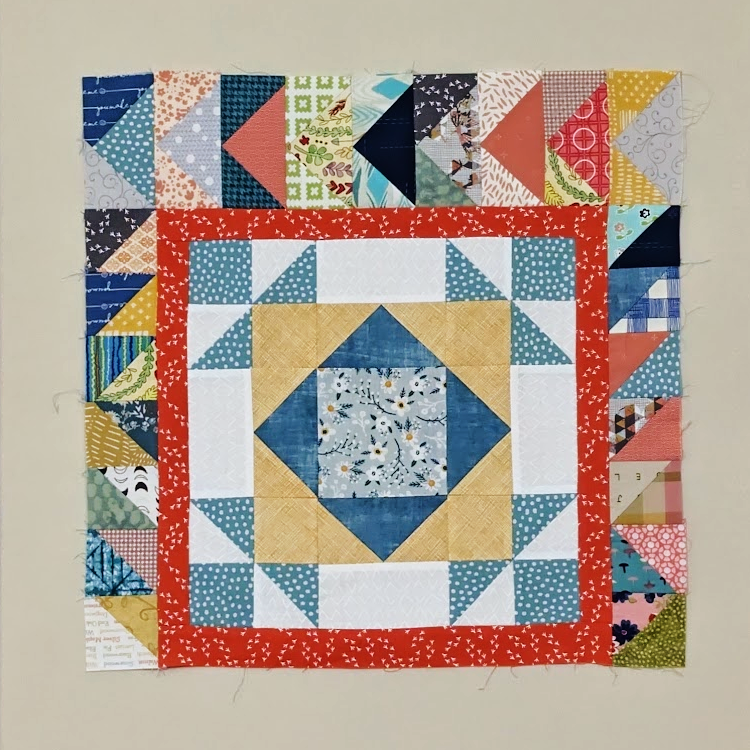 This month you will make 14 half-square triangles and nine flying geese units. Make these as scrappy or as controlled as you like. If you look at the picture of my block, there is no rhyme or reason for the HSTs. Some of my flying geese units have the same triangle (wing) fabric and some have different fabrics. I like things very scrappy, but if you prefer a more controlled look, use fewer fabrics. Every month I cut a few additional squares, rectangles, and triangles, then mix and match them. Any leftover units, I keep in a zip-top bag to use later in the quilt.
You have just completed The Celebrate Quilt Block 3. Look for instructions for Block 4 in your inbox on Thursday, June 8.
Now go out and celebrate!!