Long ago I stopped keeping track of UFOs and WIPs. Seldom do I make a quilt with a specific purpose in mind, so there is rarely a deadline. Most days I spend some time in the sewing room so I figure things will be finished…or they won't. It would be nice to finish all my old UFOs, but it is not a priority. The things that ignited my passion for quilting are still the things that keep me going: new fabric, new patterns, and new techniques. Did I mention new fabric? As long they keep making new fabric, I will make new quilts!
I really like the Tamara Taylor quote above, but I would replace "going" with "sewing!" With every quilt you make, you improve your skills and learn techniques that work for you. Most of the quilts I've made have been a learning experience of one kind or another. I like having a variety of techniques in my arsenal when I start a new quilt. Half-square triangles are a good example. When I open a pattern and see instructions for cutting oversized triangles and then trimming them down to size, I make the appropriate adjustments. My mantra is cut accurately, sew accurately, and be done with it. I do not have enough years left to justify trimming slivers off triangles. Because I've made about a billion HSTs, I know several techniques to construct them and I use various techniques depending on the project. The point is, just keep sewing! You will make progress on something and hone your skills in the process. That is success.
One thing that DOES keep me on track is a quilting diary. I was jotting down this information in a notebook but found I was flipping back and forth trying to find my notes. I needed this all in one place, so I created a little printable quilting diary that I can keep in a separate part of my planner binder. It works well for me, so I am sharing it with you. Download your copy here: Weekly Quilting Diary.
how to use this diary
This is just a simple diary that is easy to use. I just write down what I work on each day along with a few other weekly items. Here is a sample page that I made up.
Sometimes, if I am trying to compare techniques to see which is faster, I keep more detail, like how many units I make and how long it took to make them. If I have a deadline, like a quilt I'm gifting or one I'm pattern testing, I write it as a priority. Another priority may be advancing a project to a particular point. In the notes section, I write down if I'm changing the size of a project, the fabrics used in a quilt, or a particular technique I'm using–pretty much anything I need to remember about a project. In the accomplishments section, I write down quilts finished, tops complete, or whatever progress I've made on a quilt. Hopefully, you will find this useful and use it to gauge your overall progress.
my new quilt
I have been so excited about this reveal: The Reflection Quilt! It is my most recent finish and I will release the pattern very soon. Stay tuned for more details on this quilt.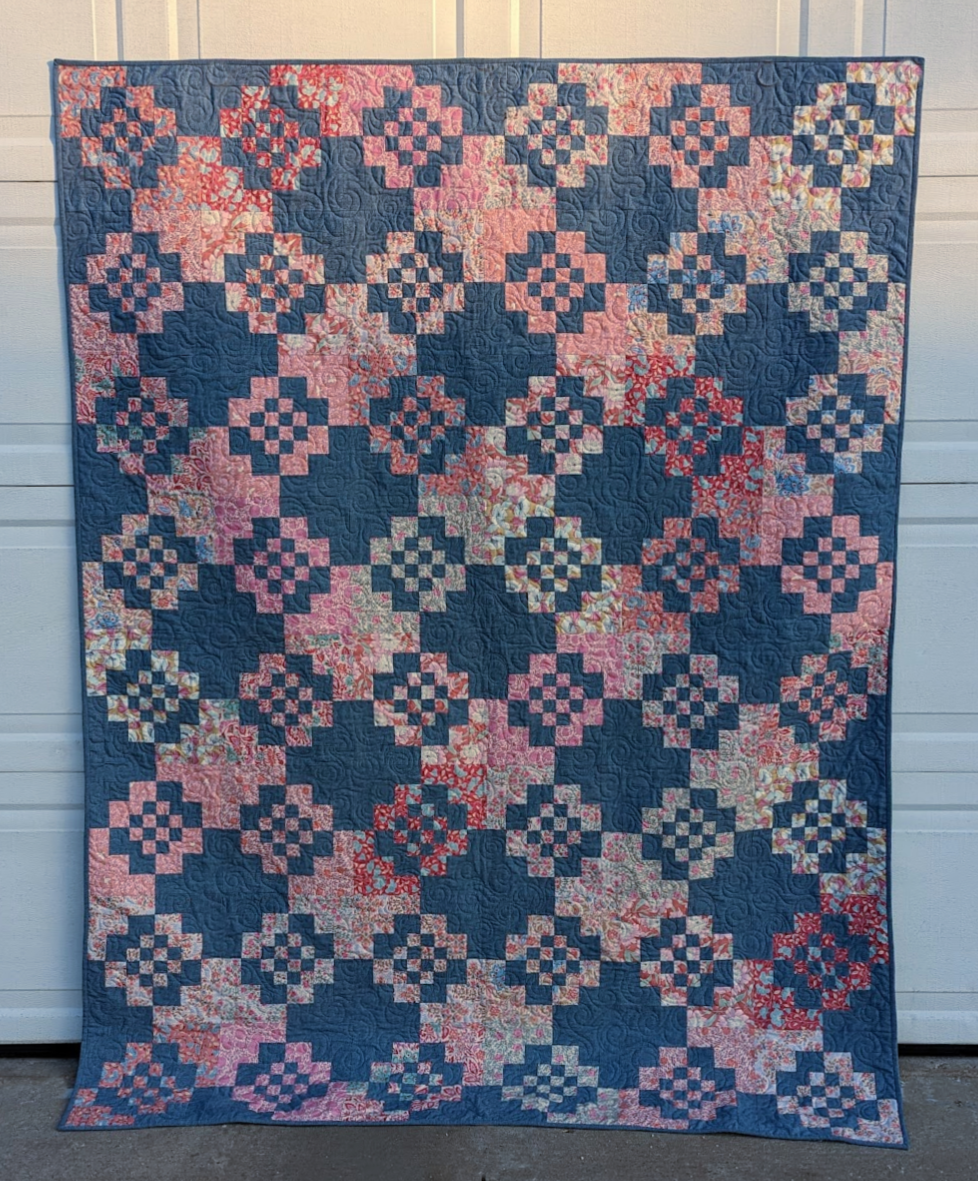 Until next time, keep sewing!