Today's post checks two boxes–completing the June Challenge and also a Friday Finish! The June Challenge was to finish a solid quilt or use some solid stash.
Remember this stack of Boundless fat quarters?
I turned it into a Reflection quilt. It worked fairly well, but some of the grays are almost black and others are almost white so the blocks have a lot of contrast. It also did not photograph well because of the hazy sky.
I used a pantograph called Fandango for the quilting. It is an easy design that quilts up quickly and looks good on geometric designs.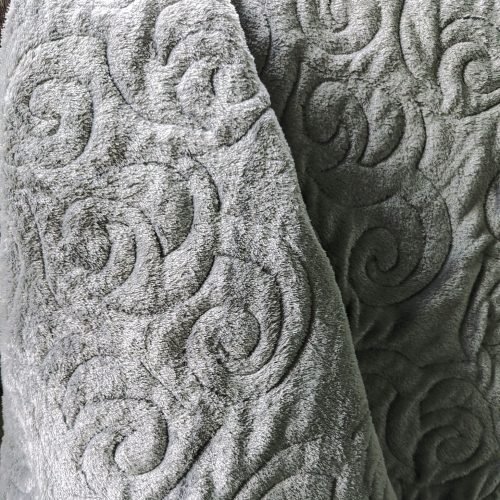 The back is a fleece blanket. Unfortunately, it is a velour fleece and is VERY stretchy. I added a thin batting in an effort to counteract the stretchiness but still had to be very careful to avoid quilting pleats on the back.
What I DID like working with were the Boundless solids. These were sold by Bluprint/Craftsy back when they carried fabric. These are hands down the nicest solids I have ever worked with. They are sturdy and, unlike most solids, barely fray. It is disappointing they are no longer available but fortunately, there is still plenty of other fabric in my stash!
How did you do with the solids challenge? I would love to hear if you made progress on a solid quilt in June!