It seems like most quilters have a favorite thimble.  For the past ten or twelve years this is the has been mine.  It worked for my needs but then I'm not very fussy.  My only requirements are that it stays on my finger and can push the needle through the fabric without the needle poking through the thimble.  The only downside is that it's not very comfortable.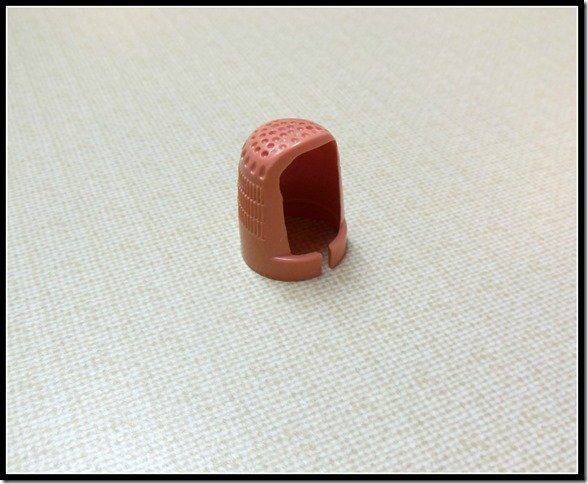 The main reason I've continued using it for so many years is that it stays on my finger while I sew.  I have accumulated quite a collection of metal thimbles but every one I try falls off my finger.  None of the common tricks—tape on the inside, glue stick on the top of the finger, water on the finger—works to keep it on.  Several leather thimbles are also in my collection but for various reasons I'm not crazy about them either. I don't have a Roxanne's thimble but know they are designed to stay on like my little plastic one.  They get rave reviews but I have a hard time justifying the expense since the ONLY hand sewing I do is binding.  Much of my binding is done during car rides or away from home and I would be afraid of losing it or leaving it somewhere. I also like to have a couple of extras stashed in various locations or in case one rolls under the sofa or falls in the cushions.
Recently I saw the Clover Grip and Protect thimble and decided to give it a try.  It has a scalloped soft rubber "skirt" on the bottom that hugs your finger.  The top is metal and is ridged and dimpled to help push the needle through.  So far it has worked great and is way more comfortable than my old one  Good thing since I still have miles of binding to sew!