This quilt has been waiting for a binding for a couple of months. Initially I couldn't find a big enough piece of a suitable fabric but came across one this week that was probably as good a match as I have in my stash.  I didn't want to risk having that fabric buried again so I moved the binding to the top of the priority list.
I could write a book on how NOT to make a quilt with this one.  The homespun plaids were a little stretchy for the curved piecing (or sometimes ideal because I could stretch them to fit!).  They were also a little bulky for that tiny center seam.  The pieces were cut with the Accuquilt Go so I didn't have step by step instructions for piecing the blocks together.  It was fairly easy to figure it out by the diagram but the pressing plan came about by trial and error.  After nearly all the blocks were pieced I decided to make it a little bigger so it would be a more appropriate size for donation.  Of course, by then I had used all of that collection of fabrics so I had to scrounge through the stash to find a few more fat quarters to use.  Not perfectly matched, but close enough. The back is a solid cream flannel that shows every quilting bobble.  I'm hoping that washing it will shrink it enough to minimize that problem.  My biggest concern came after quilting though.  The edges were supposed to be straight, but instead they pulled in on the curves so it looked like a scalloped edge.  I lamented not adding an outer border to make everything nice and square. 
After all this trouble, I wanted to cut my losses and machine bind it to just get it finished.  I'm never happy with my machine binding because the corners never turn out right.  I had an idea though and it worked pretty well.  After trimming the edges of the quilt and preparing the binding I sewed it to the back of the quilt.  Then I turned the binding to the front and hand stitched the corners.  I just took 3-4 stiches on both sides of the corner.  Then I went back to the machine and top stitched the binding all the way around the quilt.  Since the corners were already sewn, there was no fussing with them and they look nice.
Here's the front: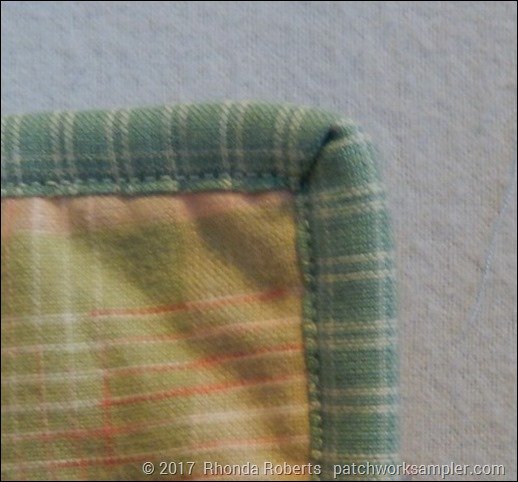 And what it looks like on the back.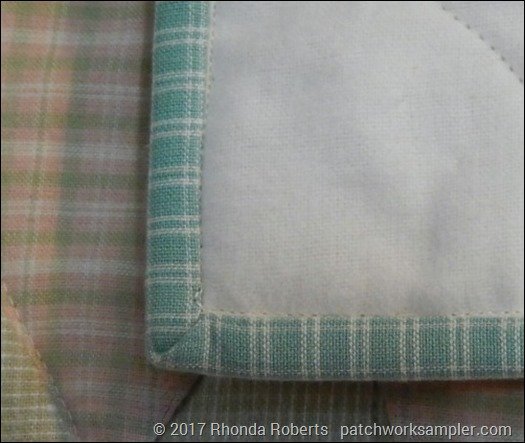 It's not perfect, but a whole lot better than what I've done in the past.  This is when I slapped my forehead and wondered why I hadn't thought of doing that before.  Am I the last quilter in the world to figure that out?
Anyway, the quilt is now finished and I'm pretty happy with the overall look.  Even the edges look pretty straight! 
It wasn't the easiest quilt I've ever made, but I love the pattern and see another one of these in my future.  This quilt epitomized why many of us keep quilting…it's a continual learning experience!
Linking up with Sarah at Confessions of a Fabric Addict for "Can I Get A Whoop-Whoop."  Check out the links to see what's getting other quilters excited this week!