For this Friday Finish I have three projects to share with you!
Number 1: Origins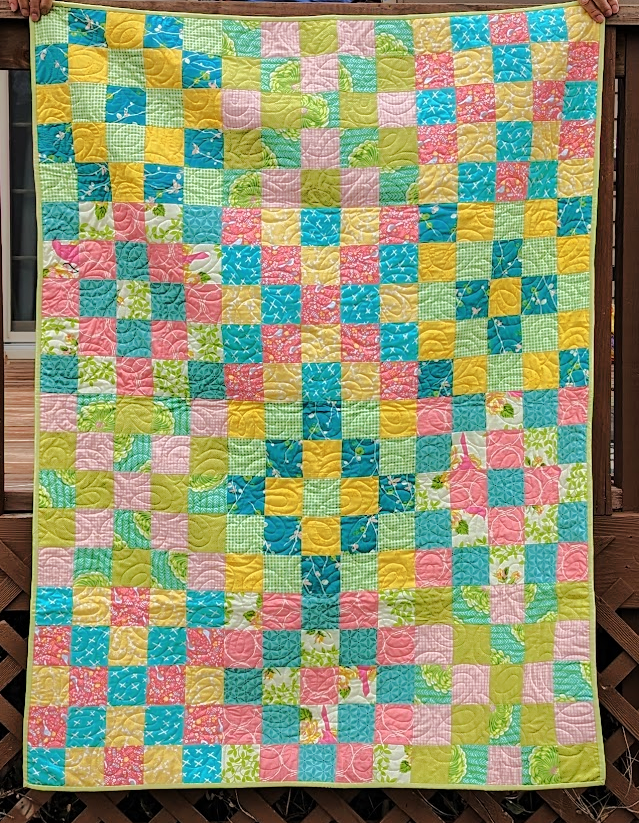 This is the finished quilt from the quilt along I started in January. The pattern is from Lifting Limits Quilting and is available here. I like the quilt because the construction is super simple and these were fun fabrics. The spring-like colors cheered me up over the winter. It is a very easy pattern with unique piecing instructions. Hint: when the directions say "label the strip sets," then be sure to label the strip sets. You will NOT remember which is which. Ask me how I know. Haha! The nice thing about this pattern is that it uses fat quarters and almost all of each fat quarter, so very little waste or scraps. This size (45″ x 60″) uses 12 fat quarters. All of these were from my stash and I should have picked a half-yard cut of one of them so the binding would have been a matching fabric. I wasn't smart, but luckily I found a solid that coordinated nicely so it worked out. It is quilted with the Knit 1 Purl 2 pantograph by Natalie Groman from Urban Elementz.
Number 2: Monorail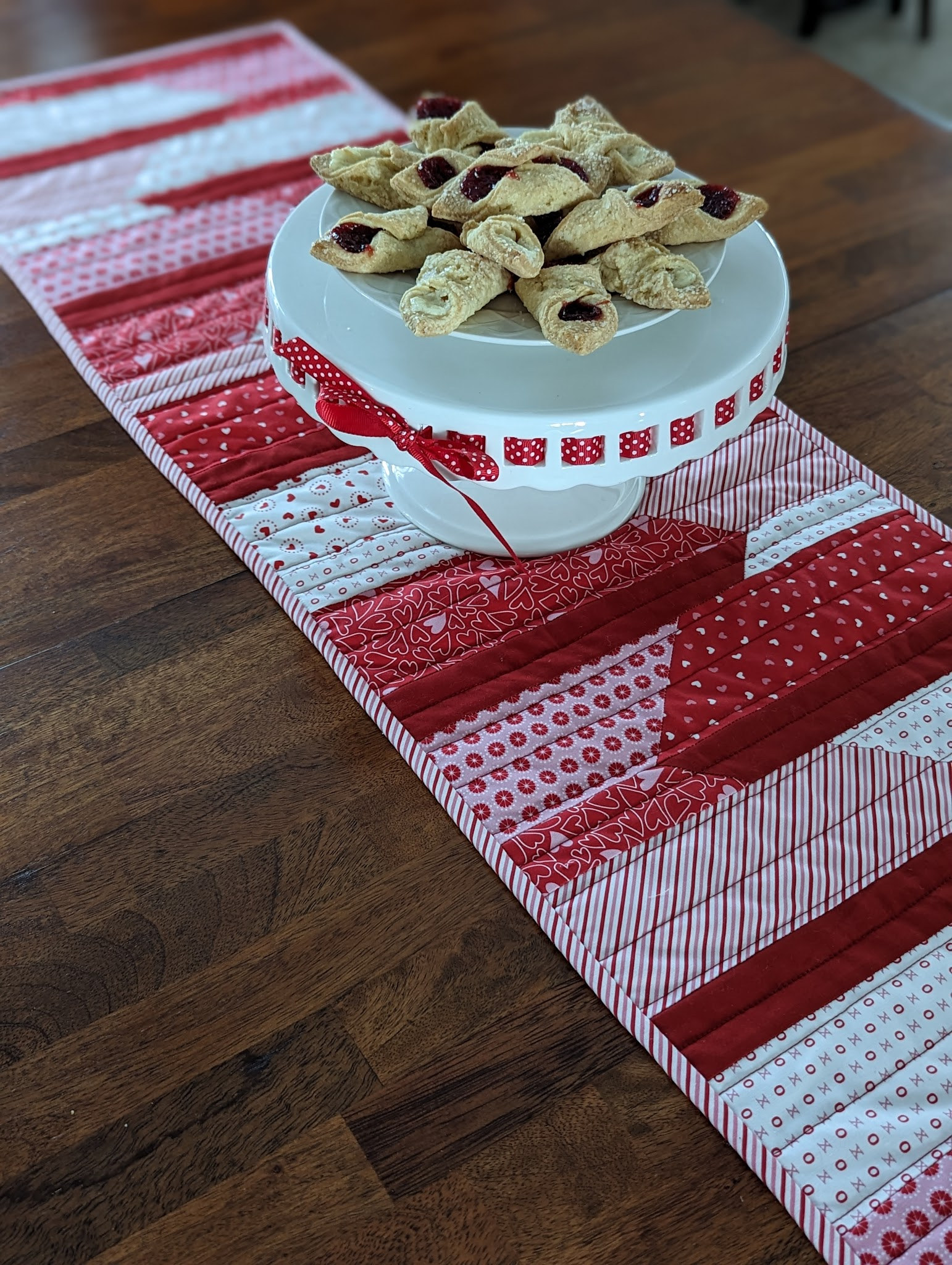 I can FINALLY show this table runner. Monorial is the newly released pattern from Atkinson Designs. It is another fat quarter project and I was so excited to use the Valentine's fat quarter bundle that has been aging in my stash for quite a while. I was a tester for this pattern and made it several months ago. Terry Atkinson has been one of my favorite designers since she released Yellow Brick Road many years ago. Her designs are unique and the instructions are always very clear and straightforward. In order to meet the testing deadline, I made the table runner, but the pattern also has baby, lap, twin, and queen sizes. I look forward to making this again.
Number 3: The Align Quilt
I designed this quilt last summer when I was in a mindless sewing phase. It is a great scrap buster since there are a lot of scrappy four-patches in it. For this version, I used a jelly roll of the Songbook: A New Page fabric from Moda. For some reason, this fabric just doesn't work. Part of the reason is that it's too matchy-matchy and the other is there is not enough contrast in the four-patch chain that runs down the center of the scrappy four-patches. I'm also just not crazy about the fabric. The dark green is supposed to be teal, but it just looks dark green to me.
It looks better close-up. The weather just isn't cooperating with my quilt photography though! I quilted it with a freehand swirls and feathers design. If there is any interest, I could write a pattern for this quilt because it checks all the boxes for my motto: Use fabric. Make quilts. Have fun.
Hope you have a Friday Finish to celebrate!