Many, many! years ago when I first started quilting I won a $100 gift certificate from my local quilt shop In Stitches in Ballwin, MO.  Back then, that bought a LOT of fabric and I didn't have much stash so I was over the moon.  Around that time Judy Martin's book The Rainbow Collection came out and it was filled with beautiful quilt projects all made from solid fabrics. I spent my whole gift certificate on solids from the Rainbow Collection.  Unfortunately, most of the quilts in the book were beyond my technical ability at that time so some of these fabrics are still in my stash.
When I bought them, I'm not sure if I was attracted to the solids themselves or if I just liked the rainbow effect because this was one of the very first quilts I ever made.
Shortly after this, we moved to Pennsylvania, near Amish country so you would think if anything would have inspired me to use solids that would have but no such luck.
Then we moved to Wisconsin and my friend Kim and I dyed lots of solid fabrics.  It was probably before we opened a quilt shop and had time for that kind of thing.  I still have yards and yards of these hand-dyed gradations.
Most of us who have been quilting for awhile know that color trends come and go and now "modern" quilters are into the solids that were popular 25 years ago.  It seems that color-wise I've come full circle in my quilting career because I recently bought this fat quarter pack.
I just love the ocean colors that are in this bundle.  A couple of the projects I've worked on lately have been very low-contrast so for these I simply made half-square triangles with white.  Lots and lots of triangles—this is just part of them!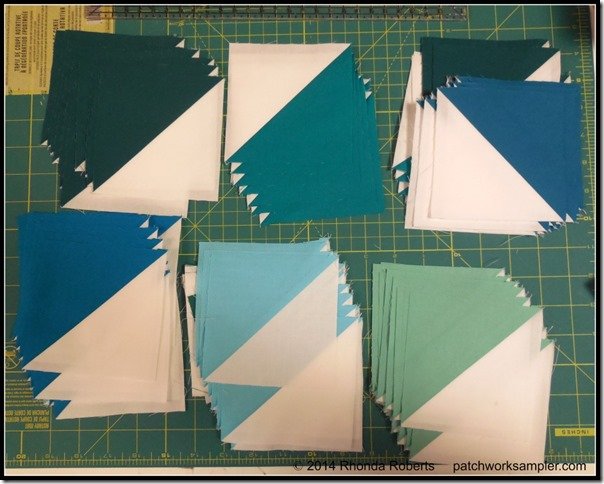 This is very much a work in progress but now I'm sewing the triangles in pairs.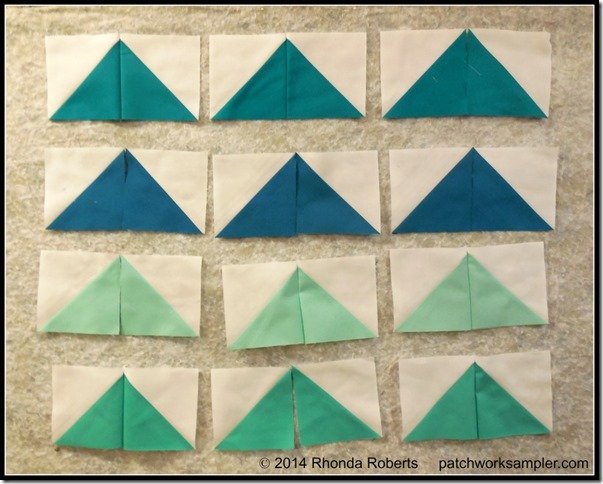 This will be a fun, kind of mindless project to work on.  I'm liking it because it looks so fresh with the white fabric.  Stay tuned to see the finished quilt later in the week.
See lots of other inspiring projects at Patchwork Times.