Probably every quilter on the planet knows that Bonnie Hunter from Quiltville hosts a free mystery quilt every year starting on Black Friday. The 2018 mystery was the Good Fortune Quilt. Since we host Thanksgiving, I usually don't participate. This year, I jumped in but didn't keep up. The quilt was revealed around the first of the year, but I was nowhere near ready to put it together. In fact, it wasn't until this past weekend, I pulled the parts out and made the center blocks.
I put them up on the design wall this morning and it was my first chance to see how well my colors worked. I used purple instead of red, coral instead of orange, aqua instead of green and all navy for the blue. It wasn't a huge divergence from Bonnie's colors, just a little lighter. It's okay but so, so very busy.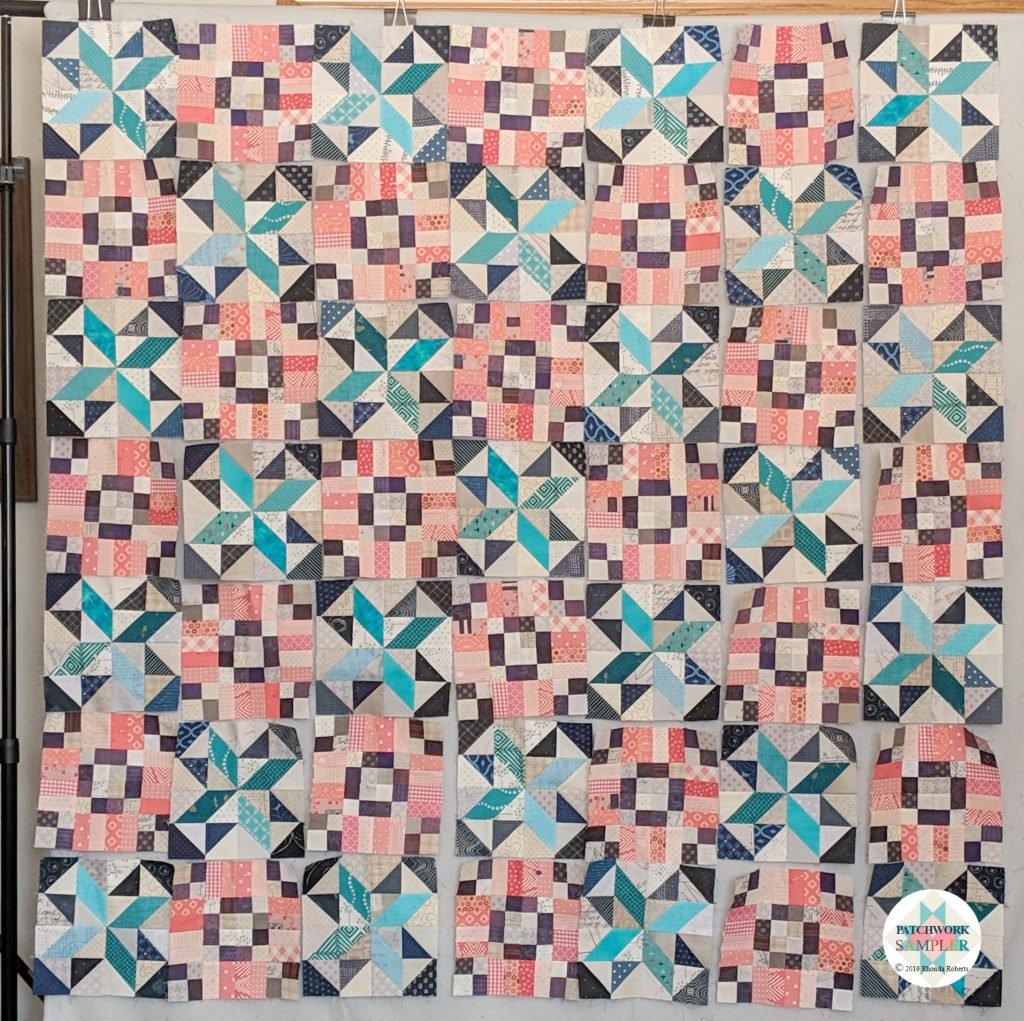 This week I plan to sew these center blocks together and then decide how to calm this thing down. With every part being so scrappy there is nowhere for the eyes to rest. The pattern shows four scrappy borders and I have all the parts sewn for these but I'm pretty sure I want to add a single fabric frame border instead of one of the pieced borders. Since the mystery is over, the pattern in no longer available for free on the Quiltville site. However you can purchase the pattern here and make your own Good Fortune Quilt.
It will be awhile before I have to make the border decision. A couple of higher priority projects are in the works and I have a few trips planned over the next couple of months. Unfortunately, this quilt will be put away once the center is pieced.
This week's goals:
Piece Good Fortune Center
Baste and quilt half of Ocean Waves Quilt (March OMG)
Piece donation quilt
Cut two projects for retreat
Sort out pieces for Home Sweet Home Log Cabin UFO (possible retreat project)
I'm linking up to these websites this week. Get your own Monday Motivation by checking out some of the great projects on these sites.
Design Wall Monday at Small Quilts and Doll Quilts
Monday Making at Love Laugh Quilt
Main Crush Monday at Cooking Up Quilts
Oh Scrap! at Quilting is More Fun than Housework
Moving it Forward at Em's Scrapbag