Happy Friday Friends!
I barely managed to finish a quilt before leaving on retreat this week. It is a scrappy version of The Align Quilt.
This is actually my test quilt; the first of these I pieced. Everything in this quilt is from my stash. When I make scrappy quilts, I like to show them in a variety of fabrics. That way, no matter what kind of fabrics and scraps you have in your stash, you know the quilt will "work." For this quilt, truly anything goes. The chain down the center of the blocks helps tie everything together. As soon as I finish writing the pattern, I will put it in the resource library and let you know it's there.
My much-anticipated retreat is finally here! There are fourteen dedicated quilters at this spacious retreat center and the room is filled with chatter and laughter along with the mountains of fabric, supplies, and equipment each of us brings along. Unfortunately, things got off to a bit of a rocky start when I pulled out my first project and realized that I did not bring the background fabric with me. I have plenty of other projects, so it isn't really a big deal.
This is Savannah Squares. The fabric is the oh, so beautiful Nantucket line by Camille Roskelley. I pieced everything I could before running out of fabric. I am going to love this quilt and look forward to finishing the last few blocks when I get home. This is a free pattern from Moda and you can get your own copy here.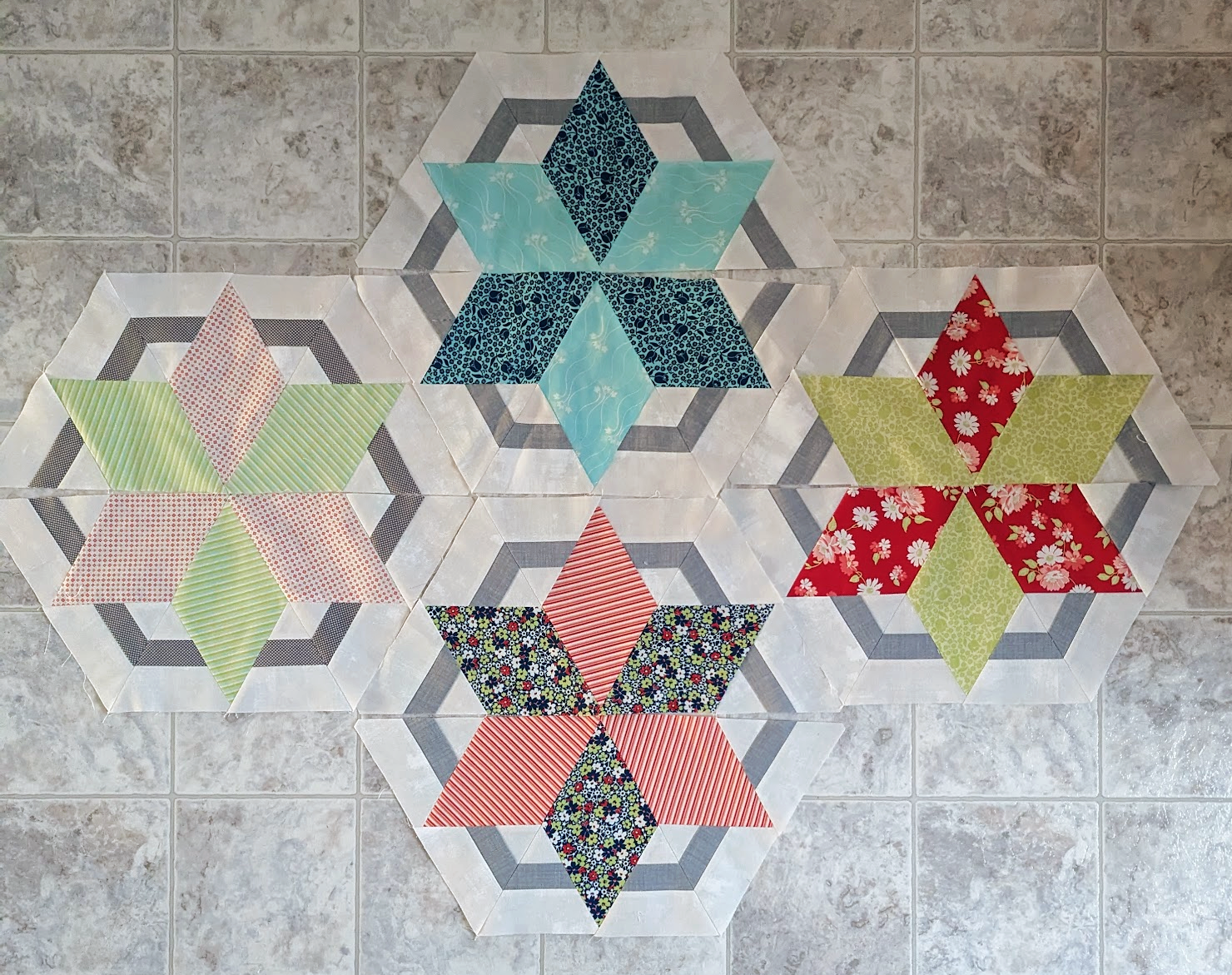 The second UFO project I am moving forward is Vintage Windmill by Krista Moser. This is another quilt I am going to love! I can't tell you how amazing the construction technique is for this quilt. It looks complicated but is really quite easy. The directions are very clear and almost goof-proof. Every time I sew a block together, I marvel at how the seams align. It is magic! I will be happy to get all these blocks pieced, then take them home to arrange on my design wall before sewing the top together. Vintage Windmill is available here (printed pattern) or here (digital download).
This morning those of us up early got a view of a spectacular sky reflecting a beautiful sunrise. I am filled with gratitude to be here in this lovely place with special friends, doing what I love to do