Like many people, I started quilting after a progression of several other crafts; knitting, crochet, needlepoint, cross-stitch, etc., etc.  Since I started quilting though, I can't get enough.  When a wide variety of techniques is combined with new ideas and fabrics it's hard to get bored.  Over the years I've tried many new rulers and gadgets and bought hundreds of yards of new fabric even though I have a basement full of beautiful fabric that I still love.  I'm always up for a new experience except when it comes to my sewing machines.  I know there are many people who collect lots of machines and can sit down at any one of them and happily sew a project but I'm not one of them.  I like the same experience every time I sit down to sew and the consistency and comfort that comes with spending hundreds of hours a year at a particular machine.
About 20 years ago I "splurged" on a Bernina 1230 and used it for everything; piecing, applique and quilting for over ten years.  Then I bought a Juki since it had a bigger harp that made it easier to quilt large quilts.  I loved it for piecing too so it became my main machine.  Then seven years ago I bought a Voyager with a Hinterberg frame for quilting.  These three machines have all been workhorses for the past few years and I still love sewing on all of them.  I know there are many, many new machines with all kinds of great features and bells and whistles, but I just don't want the steep learning curve of a new machine.  In fact, I have a newer Bernina with an embroidery module but the only thing I ever embroidered were some napkins.  I just don't have enough interest to learn how to use it.  It's bad enough when I upgrade a computer and have to learn new things (hello, Windows 8)!
But then I began seeing quilts on Pinterest, in blogs and at shows that have the most gorgeous quilting and started thinking that I might need a new longarm so I can up my game quilting-wise!  My Voyager is very basic–it doesn't have a stitch regulator or computer.  I've only ever quilted my own quilts so it is a little difficult to justify spending all that money on a new machine when I really like the one I have and it does a very nice job.  I went back and forth trying to make up my mind when disaster struck and I was forced into an immediate decision.  I was quilting away when the electronics went out (well, it was a little more involved than that, but this is the condensed version!) and I knew it was repair, upgrade or replace.
I made a few calls and ended up talking to Steve Dekker of Dekk't Out Quilting Supply.  Steve travels all over the US repairing and upgrading longarm machines.  It just so happened that he would be passing through Wisconsin between stops in Michigan and Iowa and could work me in right away.  I took that as a sign and decided to upgrade my current machine with all new electronics, including a stitch regulator!  When Steve diagnosed the problem, he determined that the electronics shorted out because I had damaged the power cord by running over it with the wheels on the track.  If I had examined the cord I could have avoided all of this with a new $5.00 cord!! It's really weird, but somehow, though, I think this all worked together to lead me to a decision I would be happy with.
When Steve left it was like a brand new machine and I was very excited to start quilting!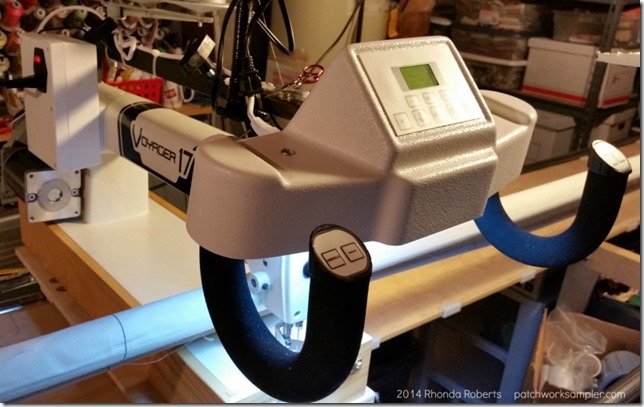 I was sure I just needed to load up a quilt and turn on the machine to be quilting show quality quilts!! Within a few inches though I realized the machine didn't glide on the track the same way it did before and knew from using other stitch regulated machines that it was the encoders creating a little drag on the carriage that I wasn't used to it.  So that means I'm practicing and learning and it gives me a whole new appreciation for all that beautiful quilting I see on the internet!
This is an older top and the fall colors made it timely to get it quilted.
I started with simple meandering in all the squares then practiced a little fine stitching by outlining the panel motifs.  By the end of the quilt, the outlining was way more intricate than it was in the beginning.  I know some quilters would probably by horrified by the inconsistency but this quilt will only be thrown over the back of the couch a couple of months of the year so I concentrated more on practicing a variety of techniques more than perfection!
Fortunately, I just received a box of tops to be quilted for Quilts Beyond Borders so there is a whole new stack of tops for practice.
Stop by Patchwork Times and check out the links for loads of inspiring Design Wall Monday projects.