I have lots of fall decorations–quilts, wall hangings, table runners and such, but hardly anything for Halloween.  The Black Cat Crossing line of fabric by Maywood selected for this blog hop was perfect for a couple of fun Halloween projects.  I love working with Maywood Fabrics—such great quality!
I LOVE curved piecing and have been wanting to make a quilt from the pattern Sweet Mint by Edyta Sitar of Laundry Basket Quilts.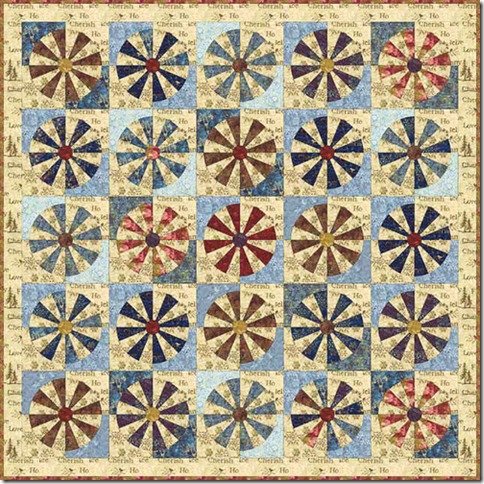 There is an optional template set to cut the blades and outer quadrants of the square which I purchased with the pattern. Whenever I use templates like this for the first time I  make a few sample blocks to test how it works.  Sometimes there is a learning curve and I like to work out all the kinks before starting on a big project.  Sometimes, too, I decide I don't like the process and can save a lot of time and frustration by simply moving on to another project.  This one worked out well, though and I was happy with the results. My three sample blocks became this table runner.
It turned out to be the perfect size for my coffee table.
The second project is the little wine glass lamp shades.  My friend Gill showed these at our small sewing group last week and everyone loved them.  They are just too cute and so simple to make with the Quiltsmart fusible interfacing panels.  You can place e a little flameless tealight "candle" in the bottom and use this for a nightlight or soft accent lighting.  If you want to some of these for yourself  just check with your local quilt shop to see if they carry this interfacing.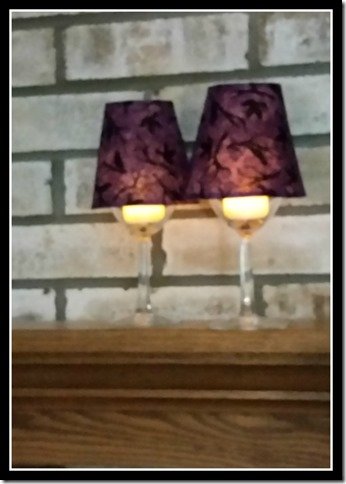 Thanks so much to Madame Samm at Sew We Quilt  for coordinating the hop and to Wicked Wendy at Why Knot Quilt for scheduling and cheerleading! To see other Wicked projects made from the Black Cat Crossing fabric, just click on the links below.  Today is the first day of the hop and it runs through the 31st so be sure to visit each blog on the appropriate day for lots of Halloween inspiration!
Monday, October 20
Why Knot Kwilt?
Lixie Makes It
Miss Priss Quilts
The Slow Quilter
Patchwork Sampler-you are here
Tuesday, October 21
Sew Incredibly Crazy
Coeur d'Alene Gifts
It Seams To Be Sew…
A Geeky Crafty Place
Wednesday, October 22
Creatin' in the Sticks
Living With Purpose
Moose Stash Quilting
The Quilted Cat
Caryn S. @ Why Knot Kwilt?
Thursday, October 23
VroomansQuilts
Lovelli Quilts
Pampered Pettit
TeaTimeCreations
Friday, October 24
Just Let Me Quilt
Buzzing and Bumbling
Thimblemouse & Spouse
krislovesfabric
Quilt Doodle Doodles
Monday, October 27
Ridge Top Quilts
Dancing Moon
Kwilt Krazy
Lydsfire Sewing
Grandmama's Stories
Tuesday, October 28
Selina Quilts
Jane's Quilting
Quilted Delights
Words & Stitches
Seams To Be Sew
Wednesday, October 29
That's Sew  Julie
Elizabeth Coughlin Designs
Quilting Queen Online
Sew Peace To Peace
A Stitch in Time
Thursday, October 30
On the Banks of Frog Creek
How Art You?
Cucki Stitching Cove
Dancing Moon Farmstead
Life in the Scrapatch
Friday, October 31
From My Carolina Home
Mammy Stitches
Bumbleberry Cottage
Just Because Quilts
Sew We Quilt