Wow!  The Baby Quilt Blitz started last Monday and we're not finished yet.  Today's quilt is a super simple design.  I've seen many variations and chevrons are everywhere but I still like the simplicity of it.
As it happened, the charm pack I used for this had two squares of every fabric except one so I was able to get four matching half square triangles from each fabric.  If you want to make a quilt just like this, get two charm packs so you will have twenty matching pairs of squares.  You can make the quilt larger or use the other charms for another quilt.
In addition to the 40 charm squares you will need 40 squares of background fabric (3/4 yard) and 1/2 yard of binding fabric.
Draw a line on the back of a background square.  Pair it with a charm square, right sides together and sew 1/4" seam on both sides of the drawn line.
Cut on the drawn line, open and press the half square triangle toward the charm square.  Repeat to make 80 half square triangles.
I think it's easier to make chevron blocks rather than set the triangles into rows so make 20 blocks like this: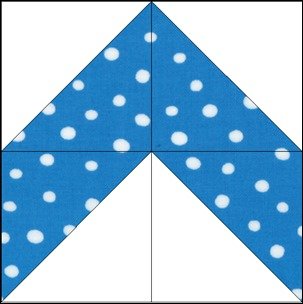 Now set the blocks into five rows of four blocks each like shown in the top picture.  Add borders if you like.  My quilt finished 36" x 45".
Since the quilt is so simple, I like to add a little custom quilting.  I did pebbles in the background and my standard up and down lines in the chevrons.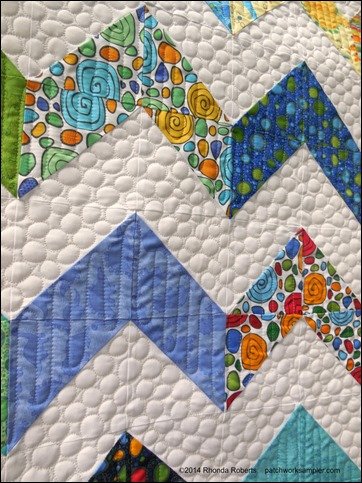 My quilt had a mistake that was caused by my inattention to what I was doing.  I didn't realize the error until I was laying out the triangles to make the chevrons.  Did you notice the mistake?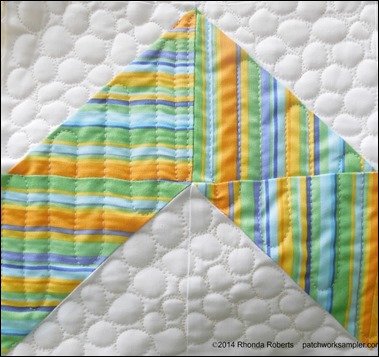 Not a huge error but more an aggravation because it could have easily been prevented. So here's your tip of the day:  if you are using a striped fabric to make a design using half-square triangles as mirror images sew one set of squares like this with the stripe running horizontally–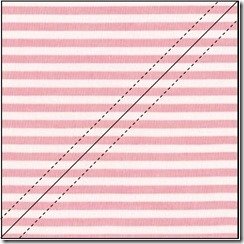 And the other with the stripes running vertically.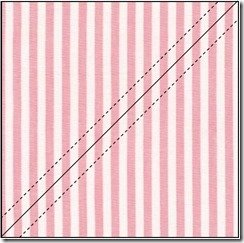 Just by making that simple change, all four of your stripes will be running the same way!  That means unlike me, you have to pay attention while you are sewing these!
Be sure to take a look at some of the other design wall projects using the links at Patchwork Times.  Also stop back here tomorrow for day 9 of Baby Quilt Blitz!!