My small quilting group met on Thursday and I was trying to get this quilt finished before our meeting but I didn't quite finish hand stitching the binding.  It was our April project so I'm only a month behind!  This one is Perpetual Motion from Scrap-Basket Beauties by Kim Brackett.  We are trying to work through the book but I don't think anyone has made all the quilts yet. 
I had a box of 2-1/2" strips of 30's reproduction fabrics and thought this quilt would use them up.  No such luck—I'm sure there's still enough strips for at least one more quilt!
The quilting in the center is a "dwirling" design that is on Dawn Ramirez's DVD The Pajama Quilter Reloaded. The border was something new I tried (with only moderate success) from the book Free Motion Quilting with Angela Walters.  I need to work a little more on that technique!
After the center was finished I realized I have no yardage of 30's fabric so finding a border was a challenge.  Fortunately there was this old Cranston print that worked pretty well.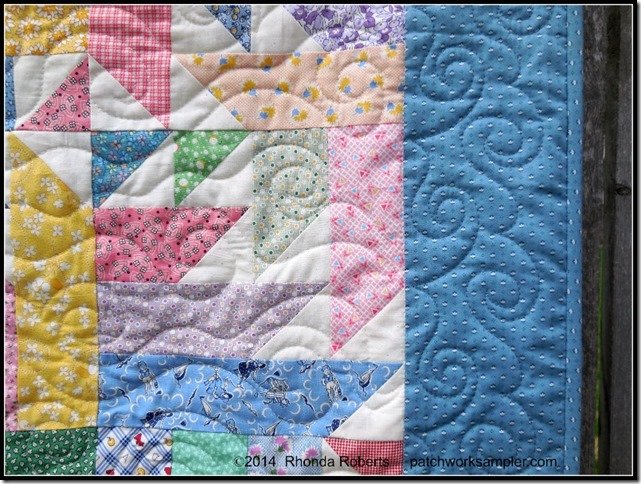 The backing was the next problem but I had several yards of this blue shirting that worked fine.  I'm really trying to only use stash for these quilts.  So far it's worked but I still haven't seen much reduction in the stash!
Now I've moved on to the next quilt in the book, Triple Star.  There are five weeks before our June meeting so I'm hoping to get caught up and finish both the May and June quilts by then.