An acquaintance recently inquired about purchasing one of my quilts as a gift to her mother for Mother's Day.  After a short discussion she decided against a quilt and asked if I could make a small family tree wall hanging.  Since I'm a girl who can't say "no" I told her I would do it even though I had no idea what she wanted, I can't draw worth a hoot and this negotiation was barely a week ago and I knew I would have very little sewing time this week.  She emphasized that she was just looking for something simple and drew a little sketch with her idea.
On Thursday she emailed to see if it would be finished in time for Mother's Day and I assured her it would be even though I really hadn't given it a thought since we'd spoken earlier.  So Friday morning after I'd lingered over my pot of coffee, I found a few fabrics, drew out a tree and started working.  It really didn't take very long and ended up being a pretty easy project.  Her only guidelines were to write names on leaves and put a heart on the tree with her parents' names.
This was the finished product: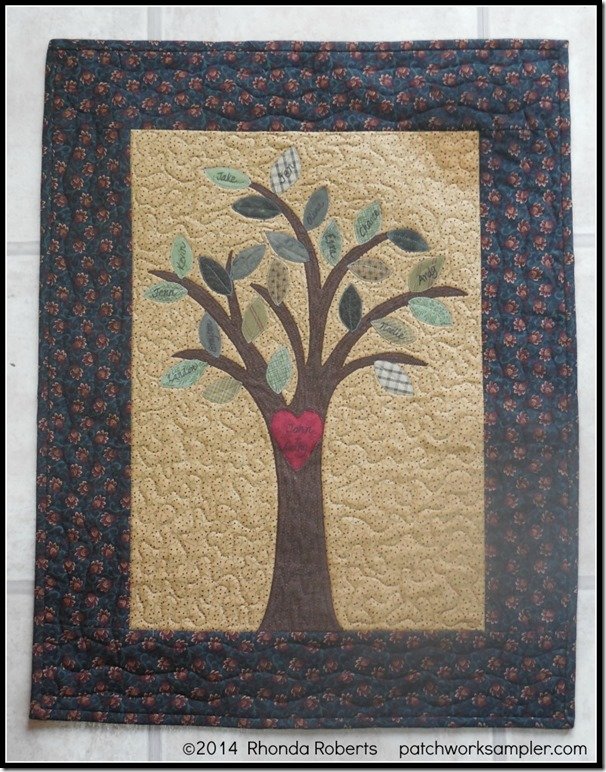 I had to use fairly light green fabrics for the leaves so the names would show up.  The applique edges were finished with a little zigzag stitch.
It was quilted with meandering in the background and wavy lines in the border.  I quilted a little bit of texture on the tree.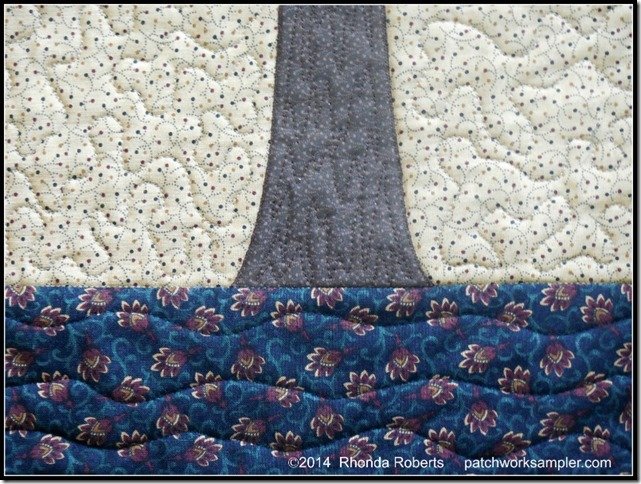 There are probably some things I would have done differently if there had not been a time constraint (drawn a better tree, added more leaves), but when she picked it up Friday afternoon she was very happy with it and said it turned out better than she imagined.  I just hope her mother is as pleased as she was!