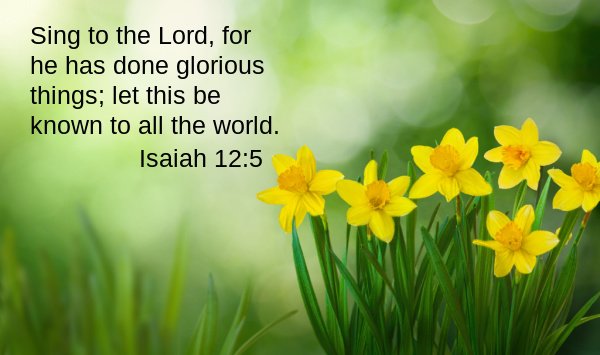 The Sunday Meditation topic for April is praise. There are many ways to praise God and I will touch on a few of them over the next three weeks. First of all, what is praise? Dictionary.com defines praise as "the expression of approval or admiration for someone or something." When we praise God, we exalt him for his character and who he is. We express adoration and wonder for all he created. We thank him for bringing calm in the midst of chaos.  We glorify his name.
One of the easiest ways to praise God is through prayer. Often we pray with thanksgiving, but there is a difference between praise and gratitude. Gratitude is being thankful for what God has done for us, while praise is worshiping God for who he is. We should pray with gratitude AND praise.
It is easiest for me to praise God when I am in nature. Witnessing some of the wonders in this world gives me a sense they could only be created by a perfect God. Two instances, in particular, have been so powerful they took my breath away. The first is the California redwoods. The first time I saw them was on a visit to Muir Woods while on our honeymoon. I remember just being incredulous at the size of those trees. We've been back a few times over the years and every time I feel a closeness to God just looking at those magnificent trees.
Another time nature's beauty overwhelmed me was at Bryce Canyon. As you drive through the park, you do not see the canyon. I remember parking, walking to the edge, then turning away after glimpsing the canyon because the beauty was overwhelming.
Pictures don't do it justice. If you've never seen the hoodoos at Bryce Canyon, I highly recommend a visit. Living in the midwest, the landscape and national parks of southern Utah is like another world. So beautiful. These were times when it was easy to praise God. Other times, it is more difficult and instead of praising God, we complain and ask, "why me?" Try to make it a habit to look for simple blessings and praise God. Spring, the time of rebirth and renewal is perfect for finding little praise-worthy moments.
Women of the Bible Blocks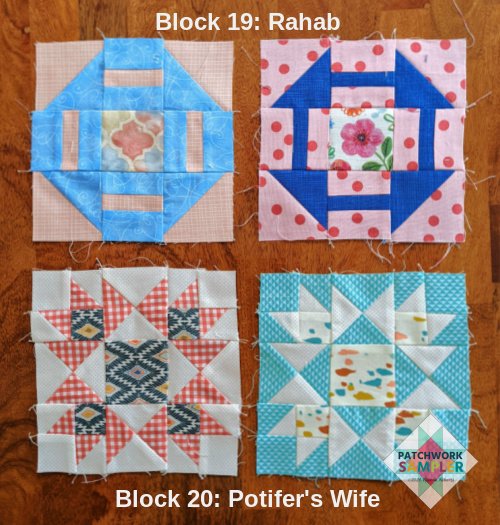 This week Block 19 honors Rahab, who was an ancestor of Jesus. You can read about her in the book of Matthew.
Block 20 represents Potipher's Wife. She was perhaps not the most upstanding person in the Bible. The story of Joseph and her is in Genesis 39.
Have a peaceful Sunday and I will see you back here tomorrow for a little Monday Motivation!