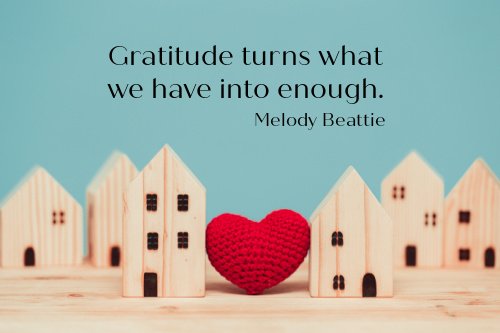 Recently, my husband and I were having a discussion where I was laying out all the reasons we should sell our house and move. I pointed out all the things I don't like about the house;  the rooms are too small, there's no wall space, the kitchen is dated, the dining room is wasted space, this needs to be replaced, that needs to be fixed…you get the picture, and how it would be impossible to fix all these flaws to make it my dream home. After a few minutes, Jim stopped me and said, "You are not grateful."
Let me tell you, that stopped me right in my tracks. Of course I'm grateful! What is he even talking about? I've kept a gratitude journal for years. Several times a day I thank God. But Jim's comment made me think about whether I am truly grateful or simply checking a box of things to do each day.
The Bible encourages us to be grateful. The Psalms are filled with prayers and songs of thankfulness. In the New Testament, Paul writes extensively about the importance of being thankful. Here are two favorite passages that stress the importance of being grateful. 
Let the peace of Christ rule in your hearts, since as members of one body you were called to peace. And be thankful. Let the message of Christ dwell among you richly as you teach and admonish one another with all wisdom through psalms, hymns, and songs from the spirit, singing to God with gratitude in your hearts. And whatever you do, whether in word or deed, do it all in the name of the Lord Jesus, giving thanks to God the Father through him.
                                                                                               Colossians 3: 15-17 
Make sure that nobody pays back wrong for wrong, but always strive to do what is good for each other and for everyone else. Rejoice always, pray continually, give thanks in all circumstances; for this is God's will for you in Christ Jesus.
                                                                                                I Thessalonians 5: 15-18 
Many secular studies also show the importance of practicing gratitude and how it affects a person's happiness. According to an article published by Harvard Health, gratitude is "strongly and consistently associated with greater happiness." The article goes on to say, "Gratitude helps people feel more positive emotions, relish good experiences, improve their health, deal with adversity, and build strong relationships."
Since the day Jim called me out on my ungratefulness, I have made a concerted effort to turn my thinking around and find the good in things. Instead of looking at the faults in this house, I am grateful for the spaciousness, for our peaceful neighborhood, for our wonderful neighbors, and while it still may not be my dream home, for the lovely home that it is.
Women of the Bible Blocks
Even though this is a busy summer with very little sewing, I am keeping up with making these blocks every week. I have just been bad about posting them. Here are blocks 31-36. Only two more weeks and then I will put the top together. I am excited to see this quilt to completion!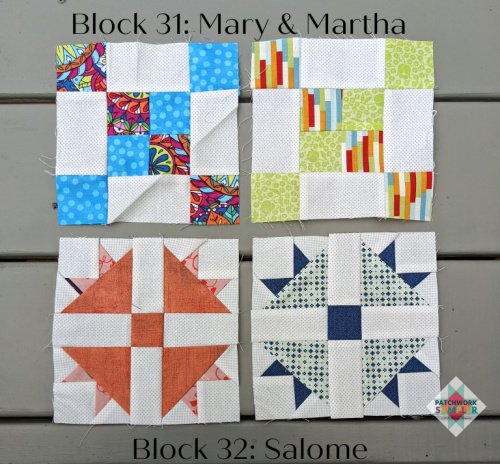 Bible Study Blocks
I was thinking about what to after this quilt is finished when a wonderful opportunity appeared. Stitchin' Tree, who published Women of the Bible, has several other faith-based patterns. It is their 15th anniversary and they are giving away the 80 Bible Study blocks as a free daily download. Simply go to their Facebook page every day and get the code to download that day's block for free. Since I am currently OBSESSED with six-inch quilt blocks, I'm excited to start this. I plan to make the bed runner size.