This past week I visited my mother in person for the first time in 15 months. Talk about a happy mother's day! It was a joy-filled day, indeed, even though we celebrated a week earlier than the actual Mother's Day. We had a wonderful reunion even though the few days we spend there didn't make up for the lost time.
My mom is such a blessing to everyone with whom she has contact. She is selfless and helps everyone in any way she can. One of my mom's most remarkable traits is that she never speaks an unkind word about anyone. She set an example of loving-kindness for others that is hard to uphold. She taught my sisters and me to love others and to treat everyone with respect. It would be a different world if everyone had a mother with the wisdom and kindness that mine has.
I know that Mother's Day can be a difficult day for many people; those whose mother is no longer living, those who did not have a kind mother, and those who long to be a mother. My prayers are with all of you and I hope the Lord's peace is upon you regardless of the circumstance.
Women of the Bible Blocks 25 and 26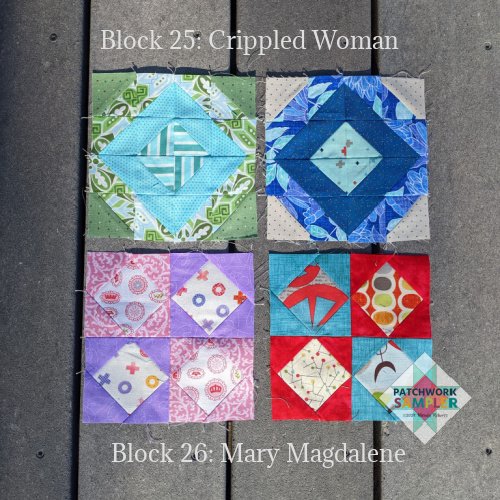 Block 25 represents the woman Jesus healed from the crippling spirit that inhabited her body. Her healing created a conflict between Jesus and the leader of the synagogue because it took place on the Sabbath. This story is told in Luke 13. Block 26 represents Mary Magdalene who was among the group of women who traveled with Jesus and the disciples. She was with Jesus throughout the final days of his life and was the first person to witness his resurrection. The pattern for this quilt is from Stitchin' Tree Quilts and can be purchased here.
I hope you have a joyful Sunday and a happy Mother's Day to all the moms!