Sadly, these hot days of summer are coming to an end and I won't be spending as much time outside.  I LOVE warm weather, sunshine and long days and really try to take advantage of it during the very short time it lasts here in northeast Wisconsin.  In order to make the most of the little time I spend quilting in the summer, I try to stay focused and the best way for me to do that is to make short task lists.  I've always been a list maker, but since I started keeping these targeted little lists several years ago, it's become an effective way for me to finish a lot of quilts.  When I have just a few minutes to spend, I am able to move a project a little further along instead of thinking about what I should be doing next or even worse, getting sidetracked into something else.
Usually, I have five things on the list and must complete those five things before moving on.  I am so susceptible to the magpie syndrome and will start almost ANY new project I see online, in a magazine or at show and tell.  Staying focused in this way has also helped me complete a couple of UFO's each month while still making new projects. 
This past weekend I had these five tasks on my list:
#1:  Machine stitch the binding to the granny square quilt.  This is my OMG (One Monthly Goal) for August  so became the top priority in order to give myself enough time to hand stitch the binding by the end of the month.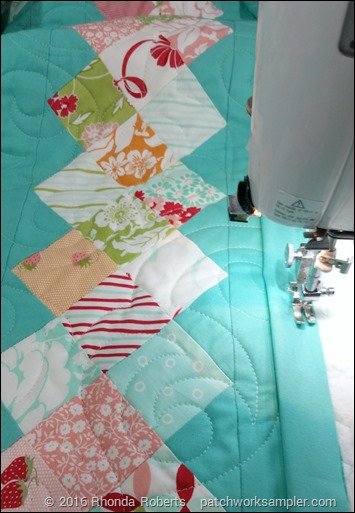 #2: Machine stitch the binding on the flannel Island Chain quilt.  This is a bonus UFO finish and we will be driving down to Milwaukee next week so I want to have a couple of bindings ready to hand stitch in the car.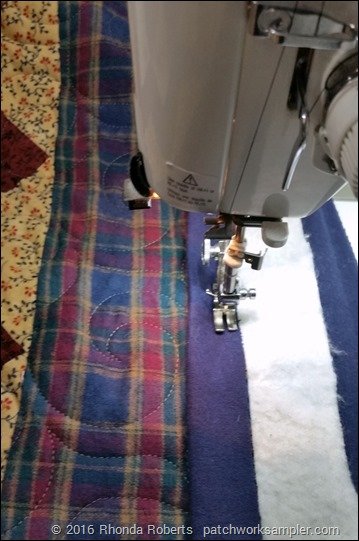 #3:  Layout the scrappy Lemon Pepper blocks.  This quilt came about as a challenge to use stash fat quarters on the Stashbusters Yahoo group.
#4:  Load the Double Chocolat UFO on the frame.  Thread is selected and bobbins wound.  This will be another bonus UFO finish.
#5:  Get Winding Ways prepped for quilting—back pieced, batting cut, thread selected and bobbins ready to wind.  Ugh!  This was my OMG for July and it STILL isn't finished.  Finishing this quilt has become my nemesis, but I'm determined to get it done.  The whole time I was piecing it, I said to myself, "I'll never do this again," but now that that it's a top, I'm thinking I would like to make another one…just not in stretchy homespun plaids.  I like to have another quilt ready to load on the frame as soon as I take the current one off.  My approach to finishing quilts is the same as winning in baseball; just keep the line moving.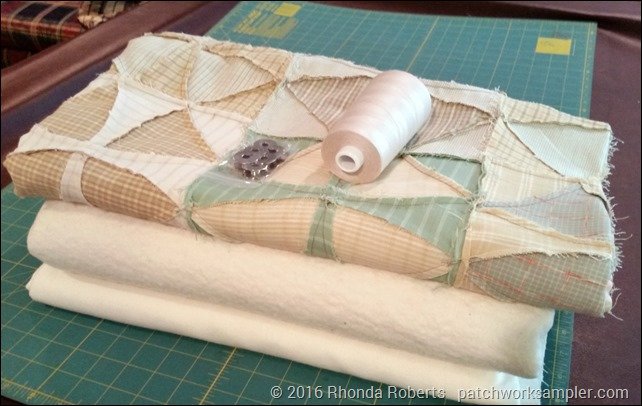 Each little task took under an hour to complete but seems like real progress for each project.  With everything on my list checked off, I took a little detour and cut a super simple quilt that has been in the back of my mind.  It will only take a couple of hours to piece and should make a cute baby quilt.
The best thing?  I get to pick five more tasks for the new list!
Coincidentally, this article recently showed up in my Pocket feed so I guess I'm not the first person to discover the effectiveness of short, focused to-do lists!