The year started well, but predictably quilt finishes really dropped off in the last couple of months.  This was my December finish, the last one of the year.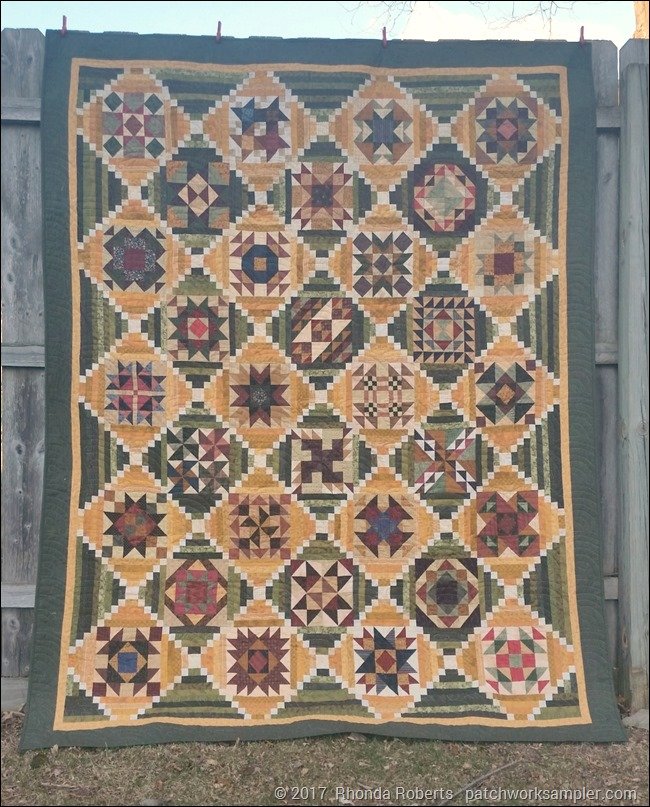 The pattern is Golden Memories by Lori Smith of from my heart to your hands.  Over the years, I've made a number of Lori's patterns and I just love all of them.  She has a great sense of design and scale and each of her quilts are gorgeous.
This quilt has a LOT of seams and I didn't want the quilting to detract from the billion hours of piecing so I used and overall Baptist fan pantograph (Continuous Baptist Fans by Urban Elementz).  I'm very happy with the way it turned out.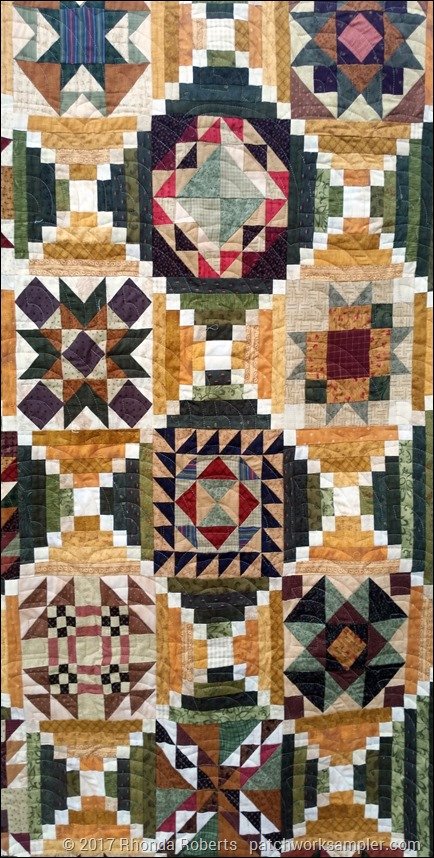 At least I was until I spotted THIS when I edited the picture.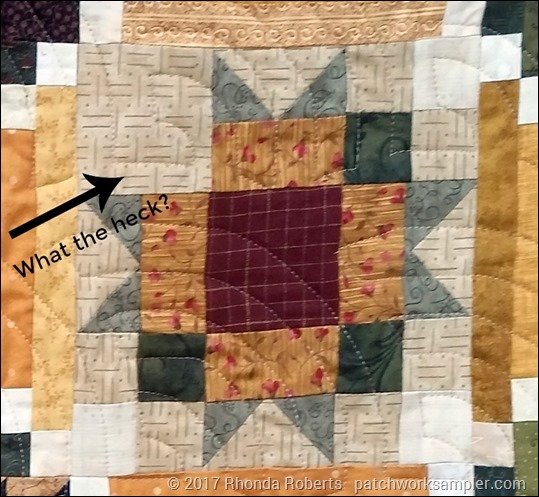 How could I make a mistake like this?  And then not see it at any time during the piecing, pressing or quilting process? Wanting to reassure myself that I didn't just wake up one morning and decide I simply could not piece one more four patch,  I looked at the pattern again. This is supposed to be a leaf block and a little stem should be appliqued in the solid square.  So technically, I guess this quilt still isn't finished.  I'm pretty sure, though, that this is as finished as it will ever get!
2016 Stats
Number of quilts started:  29
Number of quilts finishes:  35
Number of quilts started in 2016 that were finished in 2016: 18
Number of UFO's finished:  17
Number of 2016 projects carried over to 2017: 11
I am happy that I finished more UFO's than I created in 2016.  However, at that pace and using a conservative estimate of 500 UFO's going into 2016, I will need to live another 83 years to finish them.  Here's to a more productive 2017!!
Linking up with Sarah at Confessions of a Fabric Addict for Friday "Can I Get a Whoop-Whoop."