During a recent trip to the Twin Cities I saw a fun quilt hanging in a shop. It had the sentiment "She was a nice girl until she took up quilting." At the time I didn't think much about it, but then realized it would be a great quilt for my bed at retreat. I did a quick Google search which revealed it is from the book "Quilt Talk: Paper Pieced Alphabet with Symbols and Numbers." Bummer, I avoid paper piecing if at all possible. I knew I wouldn't make THAT quilt. It continued to be in the back of my mind, so I finally caved and designed something else. I used a slightly different sentiment since it is a pet peeve of mine for women to call themselves "girls" and I still think of myself as "nice." The center of my quilt looks like this:
Last summer I went to a Bonnie Hunter retreat in Oelwein, Iowa and didn't know anyone there. I sat with a group of women who had been on many retreats together. We had a great time and quickly became friends. Near the end of the retreat, one of the women said, "At first I though you were prim and proper, but you fit right in." Thus a quilt was born.
The original version was just letters on a solid background, but I wanted something colorful. I came up with this.
The fabric is from Craftsy. I ordered this kit that had jelly rolls and a background, then repurposed the fabric. I love the blue floral that's on the back.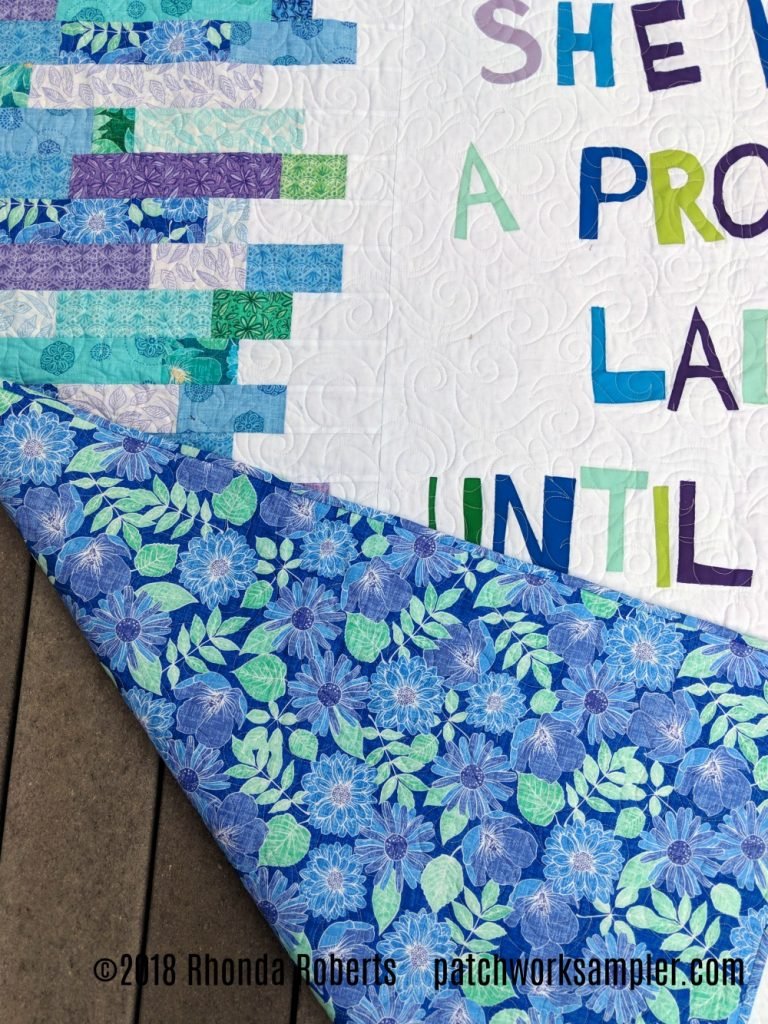 It was fun to make and fun to have a special retreat quilt.