A few years ago someone connected with me through my Etsy shop and asked if I would be willing to make a memory quilt for her.  That's not the kind of quilt I usually make and my experience working with t-shirts and other clothing was pretty limited.  It was a very meaningful project to memorialize her sister and after some discussion about her expectations I agreed to give it a try.  She sent loads of memorabilia and somehow it all came together into a quilt that she loved.  Fast forward to this past fall when she contacted me again and asked if I could make quilts for both her and her daughter and again, I agreed. 
She sent the items for her daughter first and when I opened the box I knew I was in for a challenge.  She wanted the quilt to be double bed sized and clothes for little girls are, well, little.  Once I cut things apart and stabilized them I realized there weren't enough items to make a quilt that large.  I decided to turn each item into a 12" block and add sashing.  Her daughter is young and loves Disney's Frozen so I went with Michael Miller's Fairy Frost in powder blue for sashing and borders (and back).  The light blue with silver "frost" worked perfectly.
The client had also requested that her daughter's name be prominently on the quilt so I added a wide sashing strip and appliqued her name in big purple letters.  Everything came together; it was the right size and I was happy with the way it looked so I quilted it, stitched on the binding and sent pictures for her approval.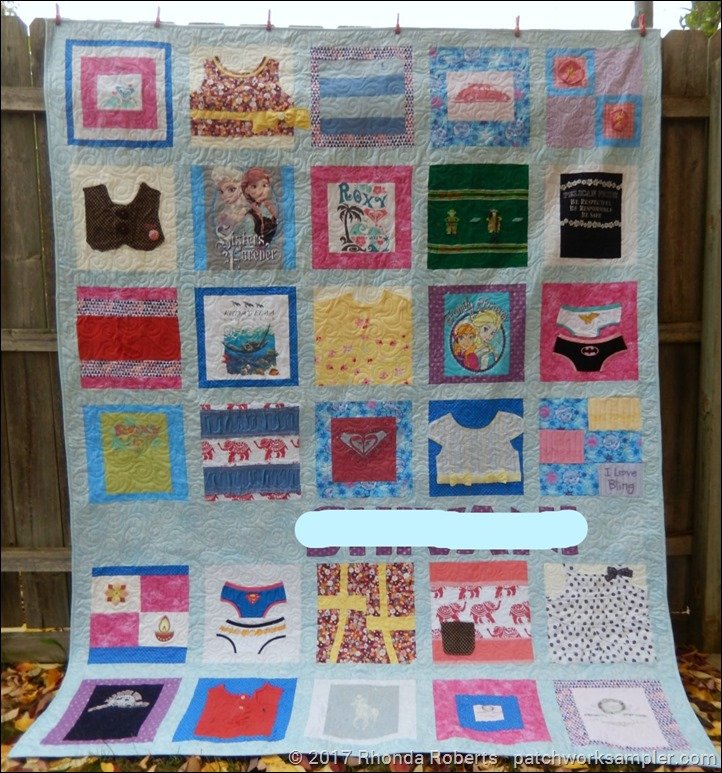 She emailed back that both she and her daughter loved the quilt, but…..she had some additional items that were very sentimental and would I be able to add them to the quilt. I had to think about that for awhile and came up with a solution.  I just finished the quilt and am happy with it (again).  This afternoon I'll take some pictures, so come back tomorrow and see how it turned out.