Before quilting the Sanctuary quilt I had never had much luck when I tried to quilt continuous curves on the frame.  I loaded this blue and yellow nine patch and planned to just quilt straight lines through the yellow blocks.  After that was finished I realized it really needed more quilting so I jumped right in with the continuous curves again.  I worried a little bit about using navy thread in the lighter blue blocks but now I like how it stands out a little bit.  By using the same thread in all the blue blocks I was able to travel all the way across the quilt and back without a break so it went pretty fast.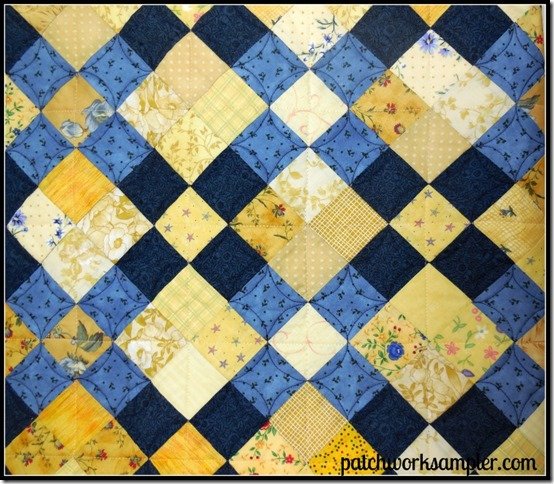 The back looks much nicer too.  Now I just have to finish the binding.  I didn't really have a plan for this quilt but when I was making the bed in Jen's room the other day I was thinking that she needed a quilt.  The colors are a pretty good match so it just might have found a new home!
I have SO many quilting projects right now.  I've been piecing like crazy the past few days but tomorrow I'll have to tidy everything up to get ready for our guests this weekend.  I'm so excited for the next clue in the Quiltville mystery. I have all the pieces cut for the first step but haven't gotten them all sewn.  340 tri-recs units is A LOT!!