Have you seen the Quick Curve Ruler by Sew Kind of Wonderful?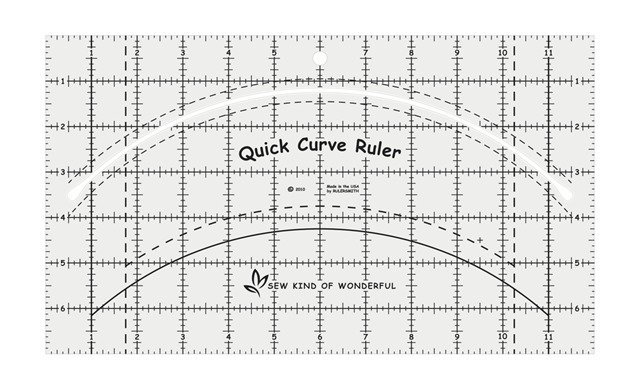 It is designed to make cutting and piecing curved blocks easier.  I love curved piecing and have made a number of quilts using circle templates so this looked like a fun way to expand my repertoire.  Sew Kind of Wonderful offers many patterns that use the Quick Curve Ruler and what makes these quilts so attractive is the GORGEOUS quilting by Jenny Pedigo.  Each pattern cover looks like a work of art.
The criteria I use when testing a new ruler or template is pretty simple.  It has to be easy to use and it has to make the job easier.  That's why I don't own a Square in a Square ruler.  It isn't hard to piece those units and I could not wrap my head around all the options to make this simple block.  I also didn't like that you ended up throwing away more fabric than you kept and every outside edge ended up on the bias.  That just didn't make sense to me.  But I digress—THIS ruler worked like a charm.  For my test I started with what looked like the easiest pattern to make (Metro Waves) and used some old fabric.
As I read through the instructions, I didn't really understand how it worked, but once I started cutting using the step-by-step instructions is was easy and crystal clear.  It didn't take long at all to cut all the pieces for my quilt top.  Best of all, there was no wasted fabric.  Sew Kind of Wonderful also has YouTube videos showing how to use the ruler.
The next challenge was sewing the blocks together.  This too, was very simple using the pattern directions.  The pattern was well written and easy to understand.  I was quite pleased with the results.  So happy, in fact, that I wish I'd used prettier fabric.  My quilt turned out okay—it kind of has a shabby chic look.
One thing I would do differently is not use stripes.  The way the blocks are put together make it difficult to match the stripes. This fabric had small, subtle stripes so it's not too offensive, but I won't use them next time.
Of course, my quilting isn't anything like the original.  It's just an edge to edge pantograph called Tickle Too.
This was a fun quilt to make and I'm looking forward to using the Quick Curve Ruler again.
Linking up with Can I Get A Whoop Whoop with Sarah at Confessions of a Fabric Addict so be sure to check out the other projects!