This series of quilts is truly a case of one thing leading to another and it came from two directions.  First, I somehow ended up with several charm packs of juvenile fabric and then my small quilting group chose baby quilts as a theme for our upcoming (July 10) Backyard Quilt Show.  I don't make many baby quilts and those I do are typically for gifts or donations and are gone about as quickly as they are finished.  This presented the perfect challenge for using those charm packs!
My first thought for using a charm pack was a Disappearing Nine Patch quilt.  Since each charm pack has 42 squares I would have only gotten four blocks from each pack and that would not make a very big quilt!  So I decided to make this block that looks like a D9P and use the same fabric for the sides and corner.
The sizes shown on the block are the CUT sizes and the block finishes at 6-1/2" squares.  If you are using a charm pack, you will have 42 charm squares and will need to cut (84) 5" x 2.5" rectangles (my green) and (42) 2.5" corner squares (my white).  Since I was using the same green and white fabric throughout it was easier for me to cut all the pieces to size and then chain-piece them rather than make the nine patches and cut those apart as you would a Disappearing Nine Patch.
Once I had all the blocks sewn and pressed, I set them together in seven rows of six blocks each.  I rotated the blocks randomly so I rarely had to worry about matching seams.
I quilted straight lines spaced at random widths apart.
This particular charm pack was flannel and I found a great flannel chevron fabric for the back.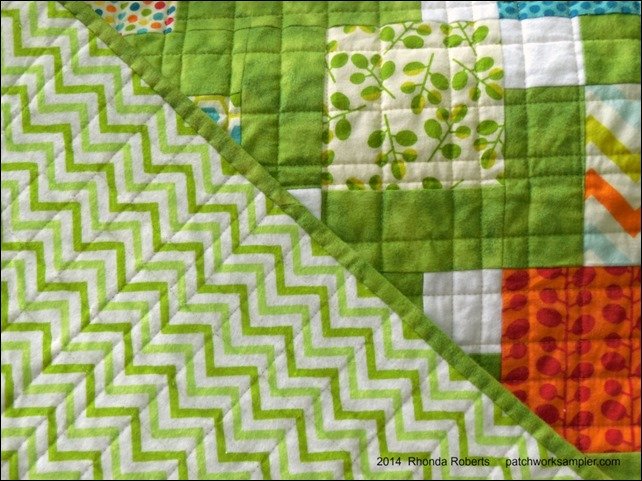 Without borders this quilt measures about 41" x 47".  It only took a few hours to make and I think it turned out pretty well!
Be sure to stop back tomorrow for Day 2 of Baby Quilt Blitz with another charm pack baby quilt.  Today, stop over at Patchwork Times and check out the Design Wall Monday links for other inspiring projects.