While digging through some fabric the other day I came across a jelly roll from the April Showers line by Bonne and Camille.
I'm a big fan of their fabric so I opened up the jelly roll and immediately got the itch to make something with it.  A couple of years ago I made an easy jelly roll dorm quilt for my daughter using the pattern Garden Trellis from the book Jelly Roll Quilts by Pam and Nicky Lintott . I thought that would be a nice pattern for this fabric so I started sewing.
This particular jelly roll didn't have equal numbers of light and dark fabric and some fabrics could be used either as a light or a dark depending on the fabric it was paired with so I didn't bother with sewing a light strip with a dark strip.  I just picked up two contrasting strips and sewed them together, then selected two more to make a set of four strips.  The way this quilt is constructed is not my favorite—the strips are sewn into a tube and then cut into squares so EVERY edge is bias.  The good thing with bias though, you can stretch it a bit so all the seams nestle together!!
Once the top was together I debated whether or not to add a border.  It looked nice without it but again, since the outside edges are bias, I went ahead and added one so it didn't stretch out of shape.  The border really changed the look of the quilt.  Now it looks really old-fashioned.  I guess it's the gingham.
This close-up gives a little better picture of the fabrics and design.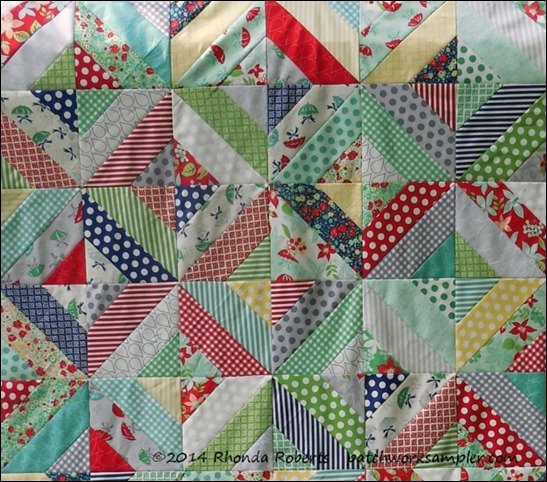 Of course it will look better once it's quilted so hopefully I can load it on the frame today and get started!
Be sure to check out other design wall projects with the links at Patchwork Times.
Note:  there was a little glitch with the blog when I was on vacation last week (well, to be honest, operator error) so posts weren't uploaded.  There were a couple more baby quilts for the blitz and another post or two.  I'll get that fixed so the Baby Quilt Blitz is complete.  The good news it the post from Day 5 is now recovered and the pattern is on the blog.  You can find it here.