It must be my accounting background but I love numbers and have been keeping spreadsheets of my works in progress for several years.  Recently I found an app called MPS TimeLog Pro and now I can not only track how much time I spend sewing but also break it down by project or activity.  For me it is interesting to see how much time it actually takes to make a quilt start to finish.  It also motivates me to stay on task.
Both this week and next will not have many sewing hours because I'm in Kansas City visiting my family.  I almost always bring projects with me but this time I only brought one small quilt to bind.  We have lots of activities planned so for once I was realistic about how much time I would have to sew while I'm here.
Last week I worked on three projects for a total of 10 hours and 43 minutes.  45 minutes were spent piecing the Fancy Fox blocks.  I finished piecing these blocks and now someone else will piece the top.  There are 20 blocks and it only took 3 hours and 35 minutes to cut and piece them (most of that time was last week).  I did a little quilting my Mint Condition top and the rest of my time this week was spent on a baby quilt called Chevron Candy.  I hope to finish the binding today and post pictures of it tomorrow.
Unfortunately, I didn't finish anything so there were no subtractions for my stash report.  There were a few additions however, as I continue to freshen up my stash and add some modern prints.
I've always loved background fabrics with text and they are very popular now so I bought a couple of yards of this print:
It is an Andover fabric in the Sun Print line by Alison Glass.
I can never have enough background fabrics so I ordered this fat quarter pack of grays.
This collection also had some text prints so that was a fun bonus!
I also added this group of fat quarters.  They are from the Homebody collection by Kimberly Kight for Cotton + Steel. All of the Cotton + Steel fabrics work well together so I've really been having fun collecting them.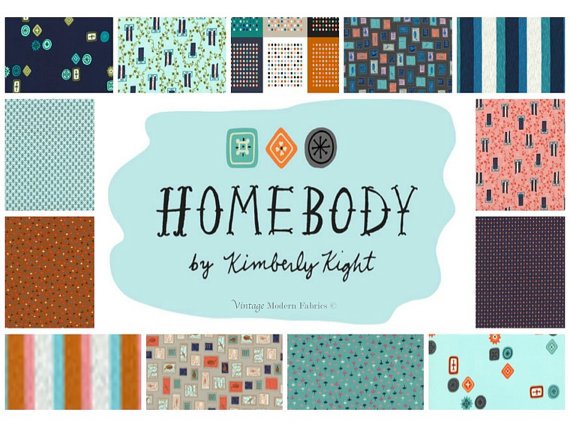 The total stash added this week was was 11-3/4 yards and nothing out.  The good news is that I should finish at least two projects next week and don't plan to add anything (even though Missouri Star Quilt Company is only 45 minutes away from my mom's house and I can hear it calling me!!).
Catch up with other stash reports here at Patchwork Times.