What do you do when you are buried under a mountain of sewing projects? Why, you start another one, of course. My friend, Carrie at Lifting Limits Quilting, recently published a new pattern and she's hosting the Origins Quilt Along. It is a super simple quilt that requires just 12 fat quarters so I quickly pulled together a stack and joined the fun.
I haven't been keeping strict track, but we've maybe had a total of 4 hours of sunshine since Christmas here in northeast Wisconsin. It has been GRAY! These fabrics are out of my comfort zone, but they are bright and cheerful. Just what I need!
The assignment this week is to select the fabric and cut strips. So far I am on schedule. Haha!
Who else has joined a quilt along and forgotten who's hosting, what is the current step, and where are you supposed to post to be eligible for prizes? Just me? With other works in progress, I have found it easy to fall behind and let the project fall by the wayside. To motivate myself and stay on track, I created The Quilt Along Planner. You can see my planner page for the Origins Quilt Along below.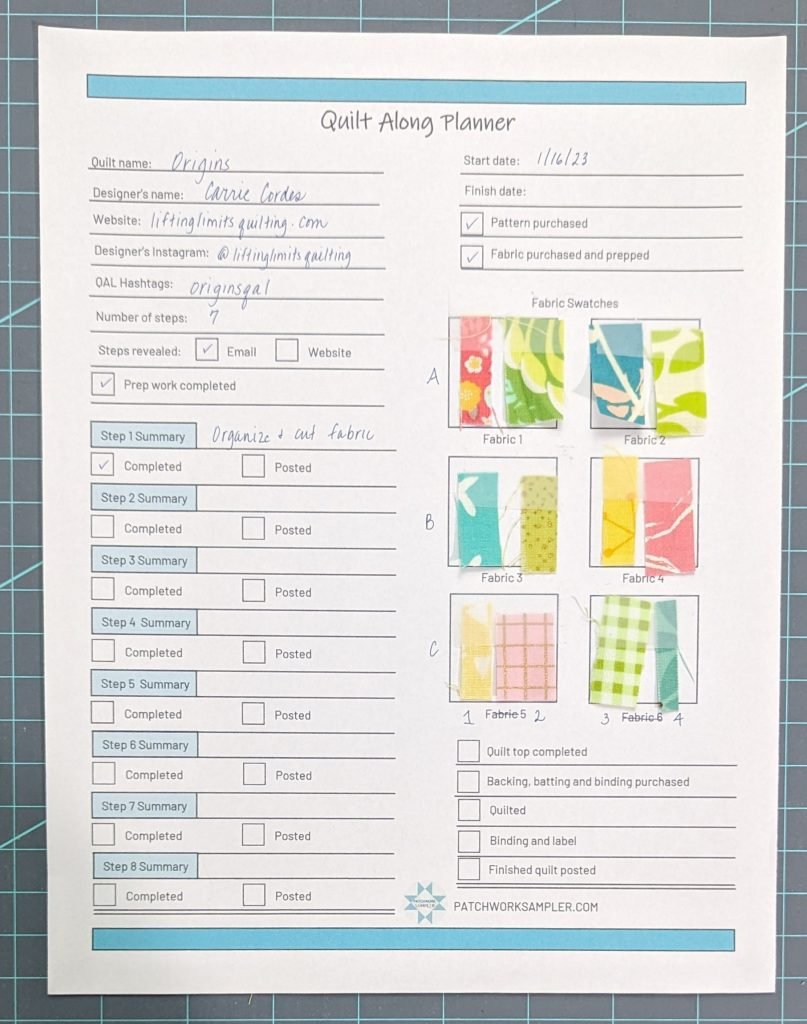 The Quilt Along Planner keeps all the pertinent information in one place. You can easily see which step you're on, the fabrics you're using, the designer's website, and quilt along hashtags. You can keep the page with the project, in your quilting binder, or on a bulletin board as I do. Seeing the page regularly reminds me to look for the next step when it comes.
Right now there are hundreds of quilt alongs in progress. If you are participating in one and need a little help staying on schedule, click here to get your own printable copy of the Quilt Along Planner. If you use it, let me know how it works for you.