Very little sewing happened at my house in September and the outlook for October isn't much better.  I didn't start a single new quilt and finished two.  You would think that would translate into a reduction in stash, but I did a little shopping so actually added a little this month.  The new fabric will be used in a couple of commission quilts that are currently in progress so it will go right back out. 
Part of the shopping was here:
In case you don't recognize the picture, it is a mural on the side of one of the buildings of Missouri Star Quilt Company.  Hamilton, MO is only about 45 minutes from my mom's house so I usually like to take a little side trip when I'm in town. They have moved some things around and added a few buildings since my last visit and now have even more quilty goodness.  It's always fun and inspirational to walk around and see the town that quilting built!
So now, the September totals:
Purchased this month: 28 yards
Purchased YTD: 136 yards
Used this month: 18 yards
Used YTD: 191 yards
Net Out of Stash: 55 yards
Of the two quilts I finished this month, one was a UFO and one was started this year. I'm happy to continue working through the UFO pile so picked another one for October. It is a Christmas quilt I started a couple years ago from the pattern Key to my Heart by Sweet Jane.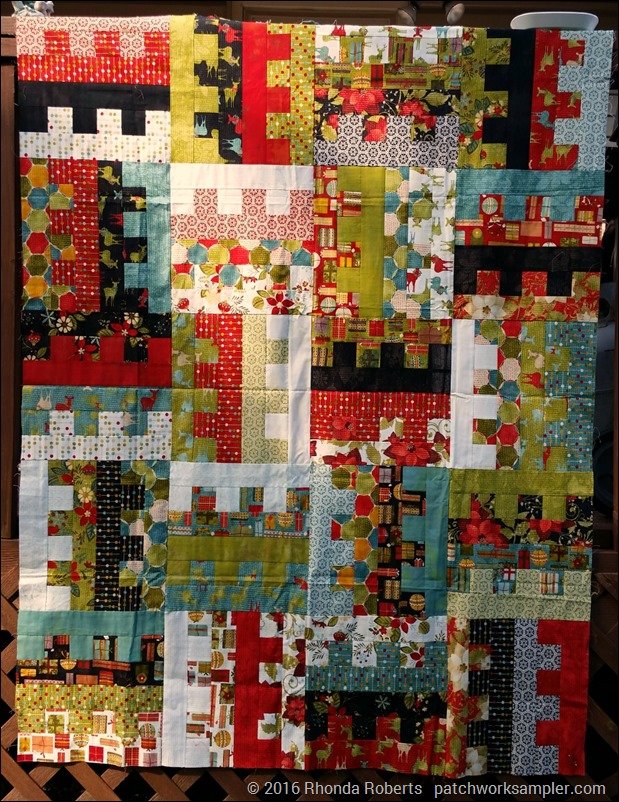 All that's left on this quilt is borders, quilting and binding.  It should be an easy finish.