By now, almost everyone in Wisconsin has had it with winter.  I've spent so much time inside this winter I'm going stir crazy so when I heard about the  new exhibit at the Milwaukee Art Museum called Uncommon Folk: Traditions in American Art I got busy planning a trip to Milwaukee. 
It was a serendipitous coincidence that there was a quilt show in West Bend last Saturday so we left early enough to stop there on our way down to the museum.  We took a couple of hours to see all the beautiful quilts and make a quick trip through the vendors' booths.  I didn't make any major purchases—just a few fat quarters but after test driving the Handi Quilter Avante I was sorely tempted.  I took a lot of pictures at the show but won't post them because of copyright issues and I don't want to ruffle any feathers.
After the quilt show, we wanted to do a little shopping at places we don't have in Appleton (but we wish we did).  First was REI where Jim looked at biking gear and I longingly wandered through the hiking and camping aisles. 
My one and only resolution this year was to sleep outside more, but this winter weather is making it very difficult.  So far this year every night has been inside–under an electric blanket.  Next we had a quick lunch at Firehouse Subs before stopping at Trader Joe's (pretty please TJ's—a store in the Appleton/Green Bay area would be so nice).  We quickly stocked up on a few favorites before heading over to the museum.
The Milwaukee Art Museum is beautiful from the outside.  It sits right on Lake Michigan and the distinctive architecture makes a lovely silhouette against the backdrop of the lake.  Since our time was limited (and we had recently spent a day at the museum) we focused only on the American art exhibit.  It was a good thing because there was so much to see.  The exhibit is billed as the work of American folk and self-taught artists and features nearly 600 items.  I found it fascinating to see the both the variety of mediums that artists use to express themselves as well as the many sources of inspiration. 
The exhibit is broken down into categories such as Toys, Advertising, Religion, Found Objects, Patriotism and Decoys and several items are displayed within each category.  This working puppet show theater is one of the first things you see when you enter the exhibit and it just keeps getting better from there.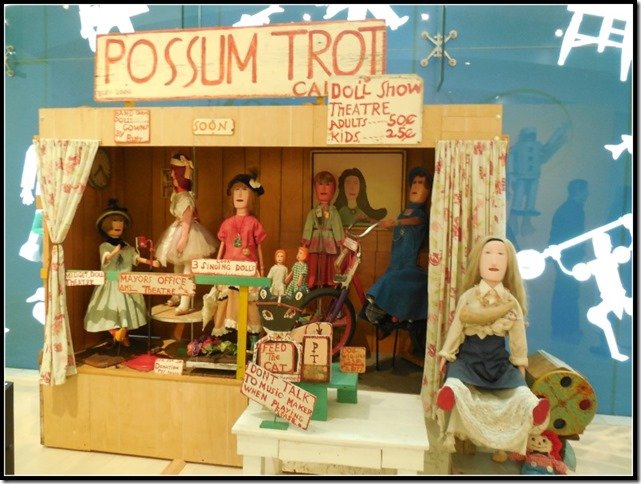 Here are a few pictures of some of the items I found interesting in the exhibit.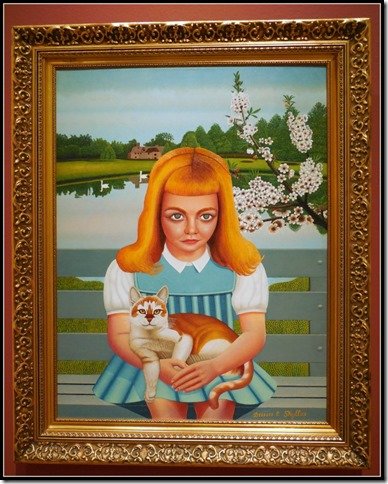 I don't know why I liked this picture. The girl's eyes are really creepy and it has a paint-by-number look to it but for some reason it is appealing.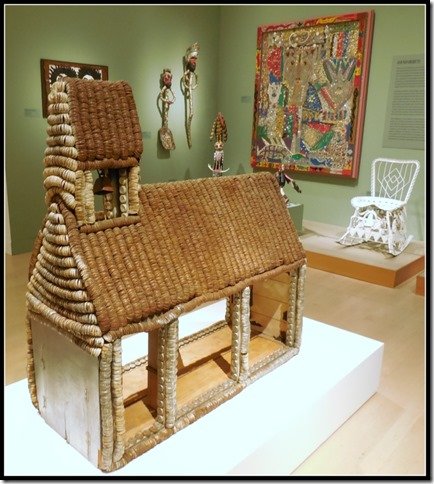 This schoolhouse is in the "Found Objects" collection and is made from bottle caps.  Everyone knows that Milwaukee is a brewing town but that represents a lot of opened bottles!
One of the more varied collections was religious art which includes sketches, sculpture, paintings and the amazing eight-foot-tall drawing The Crucifixion of Christ by Charles Steffen (just a portion of it shown here).
The collection of items by West Allis baker-by-day and artist-by-night Eugene von Bruenchienhein was amazing.  Throughout his life he worked in many different mediums and dozens of his creations are on exhibit, from almost voyeuristic photographs of his wife, Marie to bright, surreal paintings to sculpture made from everyday objects like the turkey and chicken bone chair shown here.
Of course, no American folk art exhibit would be complete without quilts.  This exhibit shows both the exquisite side with an album style "fancy" quilt to the functional quilts made by the Gee's Bend Quilters.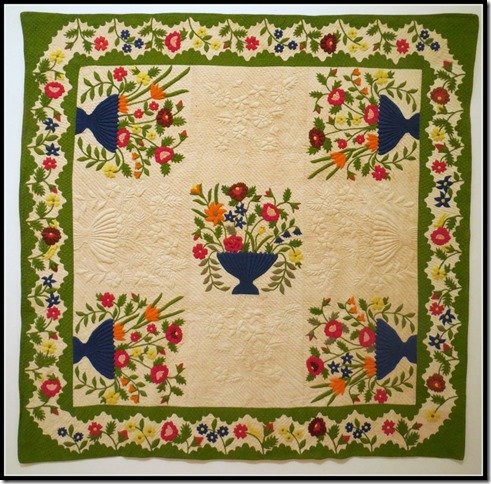 This was a great way to spend an afternoon.  It looks like winter isn't leaving any time soon so if you are looking for an indoor activity, I highly recommend this exhibit.  Of particular note to quilters, there will be a quilting workshop at the museum on Saturday, March 8 from noon-4 pm.  Contact the museum at 414-224-3840 for more information.
The Milwaukee Art Museum is located at 700 North Art Museum Drive and is open Tuesday-Sunday 10-5.  Uncommon Folk runs through May 4, 2014.
Disclaimer:  I received complimentary tickets to the museum to view this exhibit but all opinions are my own.