This week I finished quilting the Sanctuary quilt and got the binding sewn on.  Last night I finished hand stitching the binding so it is now FINISHED.  This isn't my favorite quilt, but it turned out okay.  The fabric I used for the chain matches the other fabrics too well and doesn't give the contrast it needs.  Oh well—I've already moved on to the next project!
Pictures are so dependent on weather now that there are fewer sunny days.  I took these before I have the binding finished.
This was the first time I quilted continuous curves on my Voyager—not perfect, but acceptable.  The open areas are quilted with an overall teardrop "paisley" design.
And the border has a simple feather.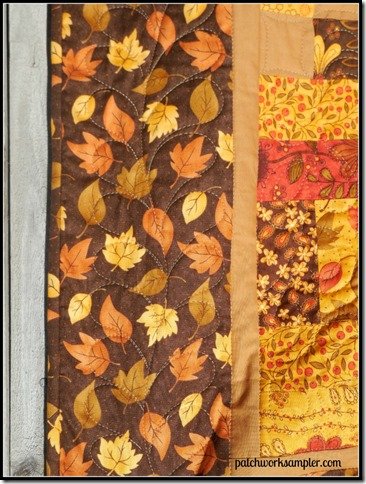 The pattern for this quilt is from the book Scrap-Basket Beauties by Kim Brackett.  Kim called the quilt Sanctuary because that's the name of the line of fabric she used.  My quilt is made from a stack of fat quarters I had from the line Phenomenal Fall by Sandy Gervais.  I always love her fall lines!