Yesterday I finished another little quilt for Quilts Beyond Borders.  It was pieced with simple squares so I did simple quilting.
Then, much of the afternoon and all evening was spent at the annual gala for the Emergency Shelter of the Fox Valley.  It's their major fundraiser and I saw this much of the event: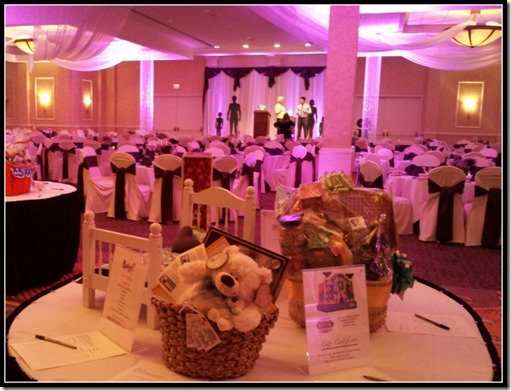 Yep, just a quick peek in the ballroom before things got started.  I coordinate the computer end of things—guest registration, entering bids and items sold, then check-out at the end.  We stay really busy "behind the scenes" but it's still a fun night and a worthy cause.
The best part for me, though, is the person I work with at the shelter on Wednesdays was going to be gone today so she gave me the day off too.  Woo hoo—a free day to sew so I am spending it working on the Poinsettia quilt.  As I predicted, once the top was sewn together, I found a sashing strip turned so I had to do a tiny bit of ripping.  It's fixed now and I found a border fabric that looks great. I'm really hoping to be able to reveal the top tomorrow!