This quilt may not actually be my final finish for May.  I still have binding on a couple of donation quilts for the Hands2Help Charity Quilt Challenge that Sarah runs at Confessions of a Fabric Addict but whether I finish them today depends on how tired I am after dinner!
Jim and I took a drive up to Door County last weekend and I worked on this binding in the car.  The picture was taken when we got home and there was still one side left to stitch down.  Now it's complete and sitting in the BIG pile o' quilts in the living room.  I'm not sure what I'll do with this one.  Believe it or not, I don't have many Christmas quilts so I may hang onto it for awhile.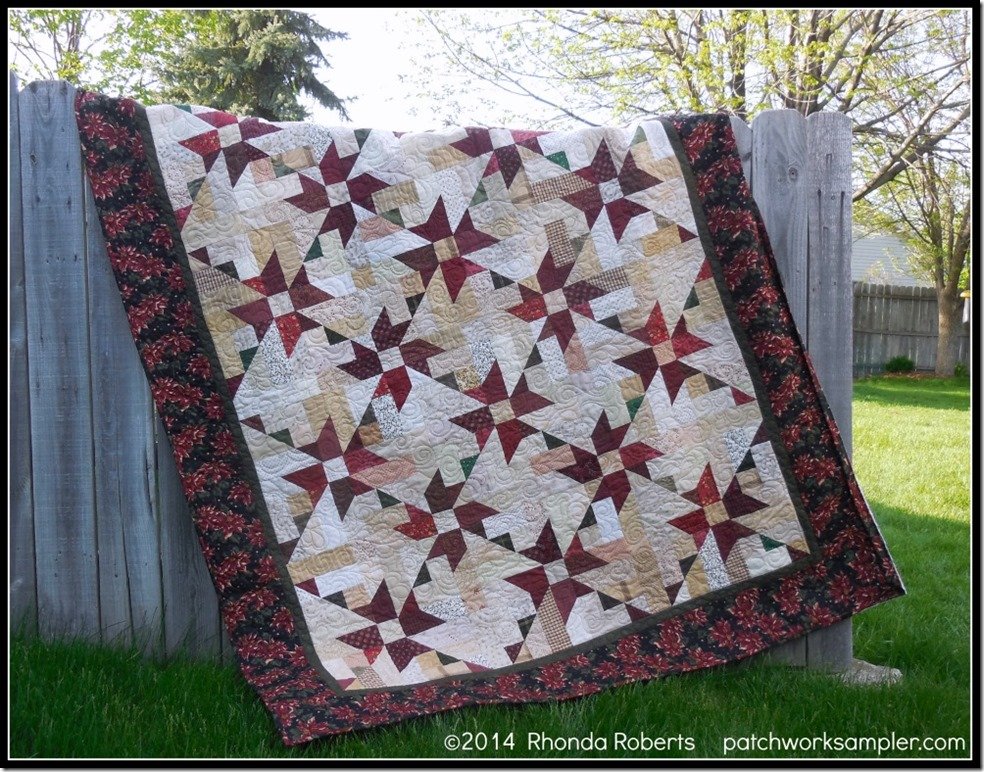 This quilt is called "Poinsettia" and is another one from Kim Brackett's book Scrap-Basket Beauties.  The only thing I changed from the book is the size.  Many of the quilts in this book are square and I'm just not a big fan of square quilts so I usually add a row or two.  Everyone else in the group made bigger changes so mine was the most boring of the bunch.  If you want to add some punch with very little effort, make the center squares in the poinsettia blocks dark.  It really makes them look more like flowers.
I just cut the next quilt our small group is doing from this book and I have to say I'm really getting tired of making connector corner blocks.  While the quilts all look different, the repetitive construction is getting a little boring.  Fortunately I have PLENTY of other projects to break up the monotony!